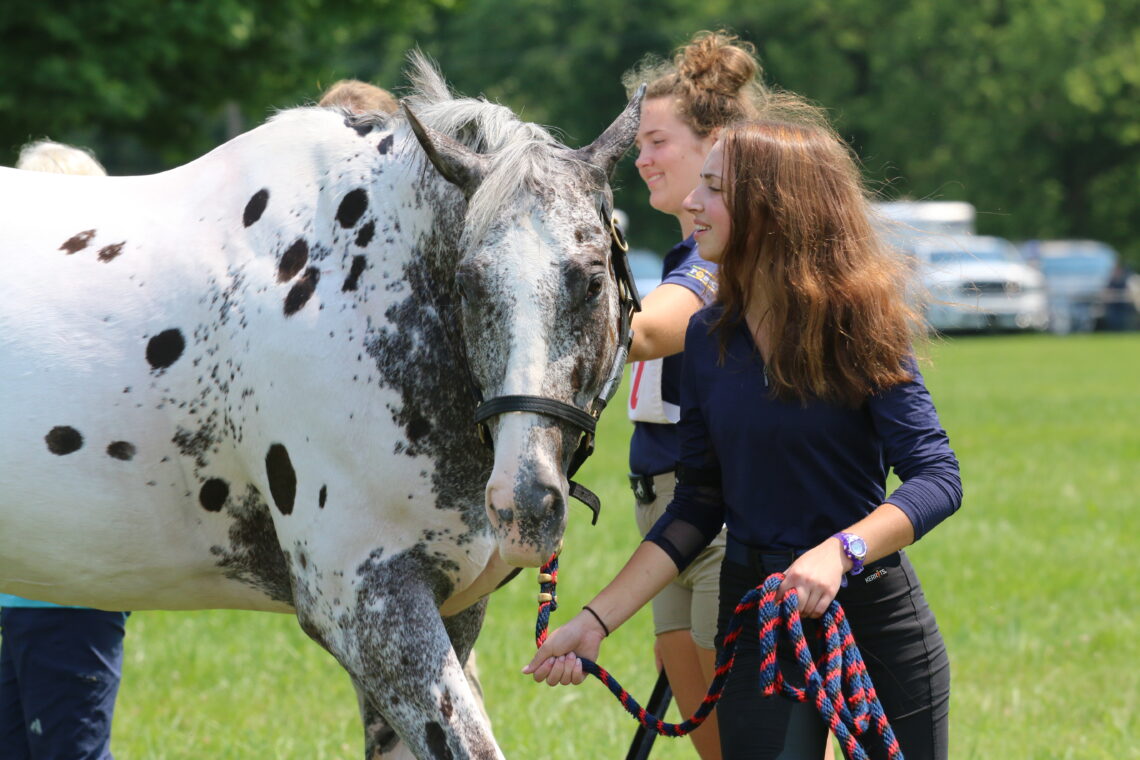 Earn Your H-B & H-A: In Good Company
By Kim Lowman Vollmer
The H-A certification puts fear in people and is not for the weak, but let me share some amazing accomplishment and positive attitude from those who have successfully climbed that mountain! The H-B is the horse management part of the C-3 and B level. The H-A is the horse management part of the A level. Both of these certifications ask you to demonstrate exemplary care and handling of a variety of horses, including knowledge of nutrition, shoeing choices, understanding how to provide optimal health care, and much more.
The H-B and H-A certifications are recognized and respected by equestrians around the world. Accomplishing the H-B or H-A means that you have achieved an exceptionally high standard. Candidates at these levels demonstrate an advanced level of theory and skills through their discussion, hands-on application and teaching.
As a national examiner I know people have struggled to master the H-B or H-A levels so I went to the source to learn more—those who have recently earned their H-B and HA certifications. These Pony Club members offered many great practical suggestions, and shared how this experience had changed their lives. It warmed my heart to read what they wrote and I would like to share some of their responses.
Don't go it alone was their best advice. These equestrians emphasized that the key to accomplishing these levels is not on your own, but with the help of many talented people, resources, clinics, preps, peers and more.
"I worked with a group of four other candidates to achieve my H-A. We all passed with no retests and our group work truly made it an ideal experience."—Evelyn J.
"It certainly takes a village! I have several people to credit for helping me succeed." —Kaylee V.
"I did a lot of hands-on learning. I worked at multiple vet hospitals, worked alongside my farriers and was a working student for many high-end equestrians. I worked in different disciplines including polo, barrels, eventing and dressage. I am an active learner and very hands-on so this approach worked well for me. I did crack open books and made some games to remember things but I definitely benefited from all the hands-on learning I was able to do." —Micaela F. 
"I was very lucky in that I had a lot of support from my family, my vet, and my Pony Club friends." —Jocelyn E.
"Working with peers: a group from my region spent several days together leading up to the H to collaborate and test each other's knowledge. It gave us a chance to practice verbalizing our answers, learn from each other's strengths and grow our weak areas. Working together made it feel far more attainable than working alone and kept it fun! —Colleen M.
The members also appreciated the help that they received from clubs and regions.
"My club and region are really supportive and hosted preps throughout the winter with vets and vet students who taught us a lot of practical knowledge." —Micaela F. 
"Thankfully, I had so much support during the process. It's hard to pick which of these were the most important, but I think that the mentorship from national examiners might have been the most important for me. I passed my longeing, bandaging and teaching on the first go-around. Longeing and teaching classes taught by national examiners at Festival and regional preps with upper-level members really helped me." —Elizabeth L.
"By far the most useful experience for me was my region's upper level camp. Having sessions on each different section and having multiple national examiners available for information (as well as other candidates, all with different levels of expertise) was really helpful to me. Other than that, reading mostly got me through it." —Julia M.
The takeaway from this is that you need a study buddy or two, whether virtual or in person. You need to gain hands-on instruction and skills from knowledgeable people, including vets, farriers, instructors, and other experts. Participating in club and/or regional prep clinics of various types also helps ensure success.
Pony Club members like these accomplished candidates enjoy and sharing their knowledge and helping others learn, so don't be shy about reaching out for assistance on your H-B or H-A journey. If you are contemplating either of these certifications, start your preparations a year in advance. There's a lot to learn, but you won't be in it alone.
Kim Lowman Vollmer is a national examiner and the current National Testing Curriculum Committee chair. She will be presenting "Prepare, Paperwork and Pass (the H-B and H-A)" at the 2022 USPC Convention.
Read more about national-level certifications on the Pony Club Blog:
National Level Certifications in Pony Club
How to Pursue a National Level Certification in Pony Club