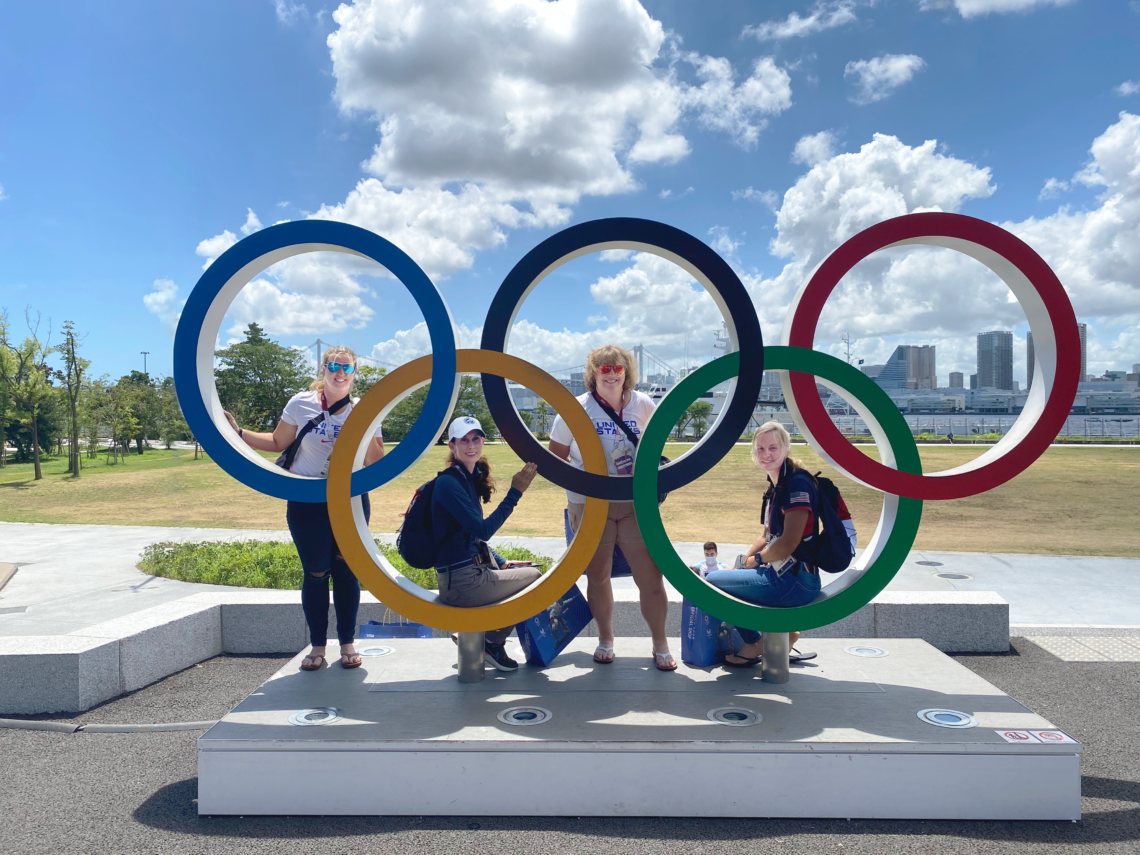 By Emma Ford
Brought to you by Shapley's Grooming Products, the Official Grooming Products Sponsor of USPC
This summer marked my fourth Olympics as groom to Team USA eventing rider Phillip Dutton (Nyngan Pony Club, New South Wales – Pony Club Australia) and his mount Z. Although we were away for five weeks, between doing the mandatory quarantine in Germany and spending 16 days in Japan, the time flew by.
As a team, we were all disappointed we didn't do better although we did finish sixth to improve on our highest Olympic team placing since 2008. Witnessing how hard the riders, ground staff, farriers, therapists, coaches and team leaders all work to try and gain the best end result is a great and humbling experience and one that I always learn and grow from.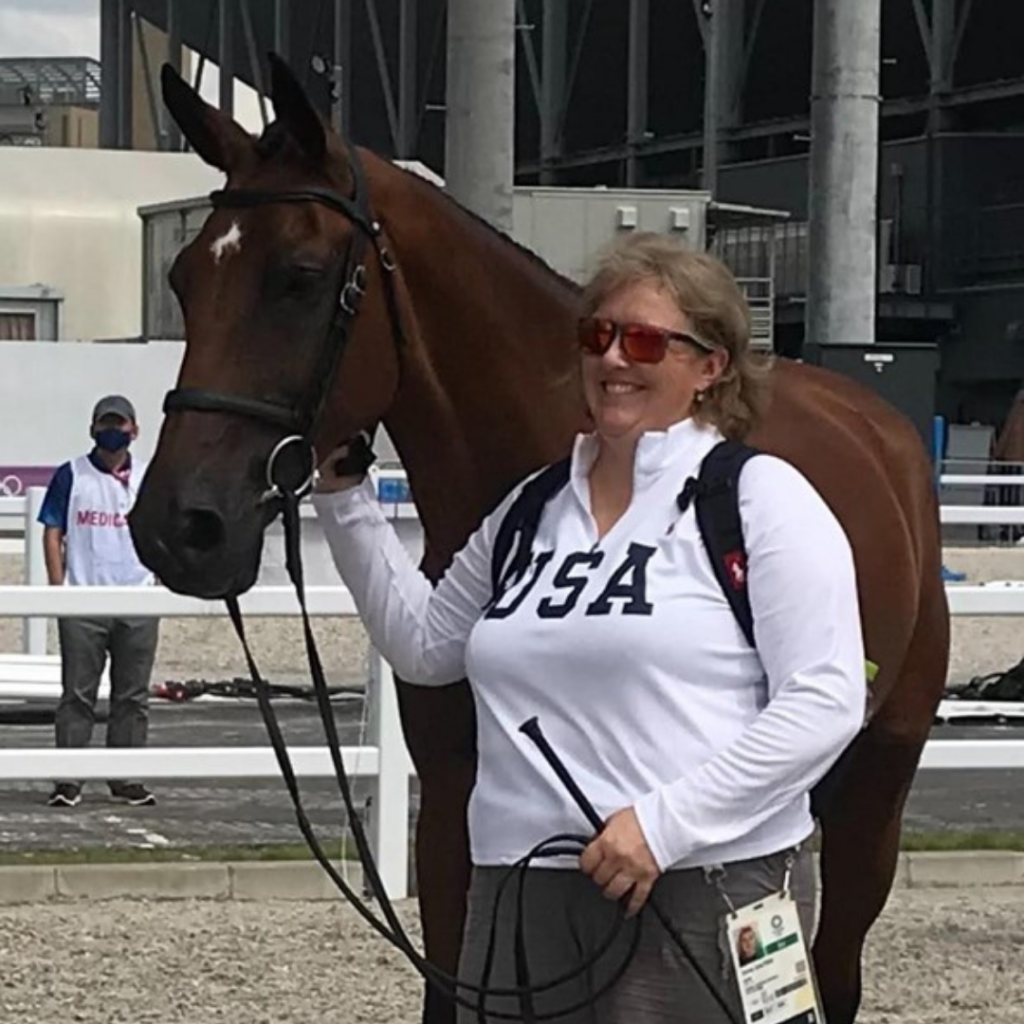 ously big. Some horses thrived without the audiences, while the ones that like to show off missed having that truly electric atmosphere. However, spectators or not, the horses still needed to look and feel their best.
For me, my Olympic preparations are an everyday occurrence. The same standard of care has to be maintained to ensure horses arrive at the competition feeling their best. What made the Tokyo Olympics different from others were the Covid regulations, packing logistics and over 24 hours of shipping for horses just to get to Japan.
Pictured: Emma with Z after the first jog. Photo by Dr. Susan Johns.
International Transport
Shipping horses to Japan (via Germany) was no easy feat. You have to remember these are horses that are used to being out of their stalls anywhere from three to 24 hours a day. Now we had to pack them into a container with jet stalls for many hours where they have to stand still and cannot put their heads down, which is not best for their airways.
Prepping horses for flight at this level usually starts with administering IV fluids to ensure the horses are well hydrated before starting the trip. Hand walking before getting on the flight is a priority to help keep muscles relaxed. During the flight we use tried and tested Pony Club methods to encourage horses to drink. From feeding sloppy mashes, carrots in water or soaking alfalfa cubes, it's essential to use whatever method helps water intake for each individual horse. For the 19-hour flight to Tokyo, we opened up stall fronts so horses could get their heads down a little, but safety measures are always top priority. Knowing your horse is key to determine the best management strategy. Does your horse paw? If so, low hanging hay nets are a no. Is he normally a good eater? Or does he eat slowly over time? Paying attention to these individual details can make a difference in how well your horse travels.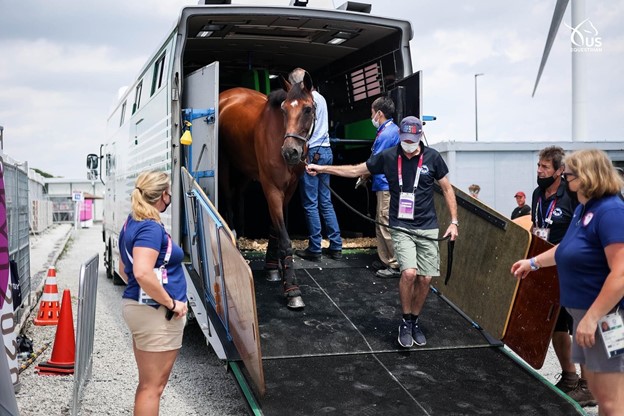 Taking Good Care in Tokyo
On arrival in Japan, regular temperature checks were the basis to get ahead of any signs of shipping fever. Hand walking was a priority to get circulation flowing and loosen stiff muscles. Taking notes on stall behavior, regular drinking and eating habits, any irregular soreness, sensitivity to grooming or unusual attitude were all absolute musts throughout the Games. Sometimes it can be the difference from starting the competition or being put on the sidelines.
Each discipline has their own vet that travels with the team. At the Olympics there is a full veterinary care facility in place. We use this for administering minor injections, such as Adequan and Legend, or running bloodwork to ensure all relevant levels, including red cell count, white cell count and hydration, are normal. Should there be a serious injury or illness such as colic, the vet clinic can handle it.
The heat played a big role in Tokyo. The horses were not allowed out of the barns between 11a.m. and
3 p.m. All competition ran either in the morning or evening to reduce the stress of heat. Veterinary protocols were in place to always be monitoring the horses' welfare. At each arena vets with thermographic cameras would monitor horses. If a horse's temperature rose above 40 degrees Celsius (104 Fahrenheit), then riders were expected to go to the cooling tents where the horses could be washed down with iced water and stand in front of misting fans. Prior to cross-country, temperature checks were repeated, and horses were not allowed to start cross-country if their temperature was above 38 degrees Celsius (100.4 F).
This is only a small insight to how good stable management practices follow us no matter what level of competition. My Pony Club foundation has taken me to groom at the top of the level of eventing and for that I am forever grateful.
Emma Ford has groomed at almost every five-star event in the world and has been a member of the U.S. eventing team at multiple Olympics and World Equestrian Games as well as upper level show-jumping and dressage competitions. She is the co-author of the best-selling equestrian book World Class Grooming along with Cat Hill, and together they have a business teaching grooming clinics. Emma came up through Pony Club in England and earned her B level certification.
---
About Shapley's — Official USPC Grooming Product Sponsor
Shapley's has been producing superior equine grooming products for over 85 years, and top riders and horsemen trust Shapley's for their horse's health and shine. Learn more at Shapleys.com
---
Read this story and more in the Fall/Winter 2021 issue of Discover USPC magazine.