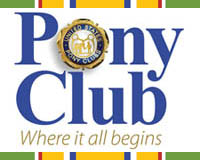 The United States Pony Clubs (USPC) was founded in 1954 as a nonprofit national youth horsemanship organization. Pony Club has over 600 Clubs and Centers nationwide, including Alaska and Hawaii, 10,000 youth members and thousands of dedicated volunteers. USPC members range in age from as young as 4 to age 25. The local club is the heart of the organization offering activities to best meet the needs of members. The national organization is based in Lexington, Ky.
Through the Pony Club formal instructional program, members learn about horses and their care. Horse Management is continually evaluated throughout all riding activities, which include Dressage, Eventing, Mounted Games, Polocrosse, Show Jumping, and Tetrathlon. Vaulting, Polo, and Foxhunting are other activities. Although Pony Club emphasizes instruction over competition, members actively compete at club, regional, and national rallies.
Pony Club members progress through a standard rating system that guides them into learning more about horses while becoming increasingly accomplished riders. The Pony Club member who achieves the "A" rating – reached only by a small percentage of all members – is a highly competent and knowledgeable horseperson.