Pony Club is the largest equestrian educational organization in the world. This is where it all begins! The cornerstones of our foundation are education, safety, sportsmanship, stewardship and FUN. Members learn riding and the care of horses through mounted sports. The skills, habits, and values instilled through horsemanship will apply to every part of a member's life.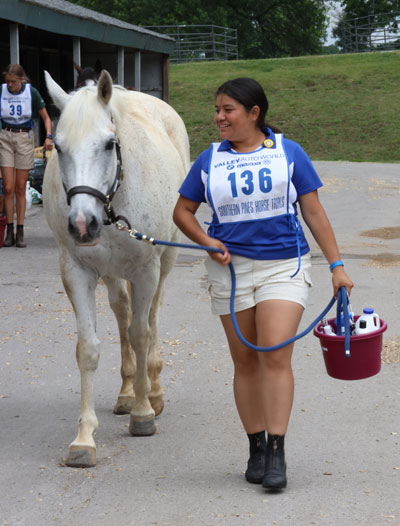 Participating members have access to the Pony Club online community, sponsor discounts, educational standards and achievements, a Pony Club Pin, and the chance to participate in activities such as lessons and certifications, rallies and competitions, Championships and Pony Club Festival. A host of additional programs such as international exchanges, special opportunities, the National Youth Board, National Youth Congress, scholarships, and the Visiting Instructors Program are available to members who develop and progress through Pony Club. Many of our graduates feel that Pony Club helped shape their character and the choices they have made as adults.
Pony Club memberships are open to all ages and experience levels – whether you are a parent looking for an equine program that teaches the basics for your horse-crazy child, an adult looking to fulfill a childhood dream of learning to ride, or an equine professional wishing to expand their knowledge and continue their equine education, a Pony Club membership has something for everyone!
What will I do in Pony Club?
Learn: Members of Pony Club attend mounted and unmounted meetings facilitated by their local club or center. These meetings are often held monthly and may be entirely mounted, where members of similar skill levels work on improving their riding abilities, unmounted allowing members to gain knowledge and skills for horse care and cover topics such as feeding, veterinary care, longing, or equine anatomy, or meetings may be a combination of both with a mounted portion followed by unmounted education.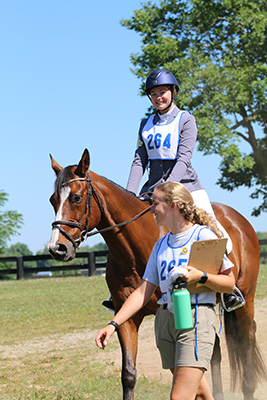 Grow: Everyone begins Pony Club at the same level. As members learn new riding skills and gain more horse management knowledge, they have the opportunity to progress through the Pony Club Certification system. Achieving new, higher-level certifications shows a member's progress through the Pony Club program. Certifications begin at the D-level which lays the foundation of good, solid horsemanship skills, and progresses through the A-level. Members who achieve an A-level certification are considered distinguished horsemen and women, showing years of time and dedication to the equine disciplines.
Demonstrate: Throughout the year, Pony Club regions also host rallies. Rallies are team competitions centered around members showcasing their knowledge of both a chosen equestrian sport and their horse management skills. Team competition is a fun and important part of Pony Club education; members of all ages and skill levels are encouraged to compete. Regional rallies can include EBTH (Everything But The Horse) rallies, where members use model horses to learn the ropes of team competition without the added stress of an equine partner; Quiz rallies, where members use their horse management knowledge to compete in a battle of the brains on all-things horsey; and mounted rallies in the competitive Pony Club disciplines – Dressage, Eventing, Gymkhana, Mounted Games, Polocrosse, Show Jumping, Tetrathlon, Western Dressage, and Trail.
How do I become a member?
Do you or your child wish to ride and take part in the fun and educational offerings of clubs or centers? A participating membership with a club or center local to you is the best fit! Visit the Find a Club or Center page and enter your location to get started. Contact a club or center leader close to you to begin your Pony Club journey today!
Interested in the equine educational offerings of Pony Club but not quite ready to jump in with both feet? New to horses and don't know where to start? Want to stay connected to the Pony Club family but are no longer riding? Check out our online, e-membership options! Visit the Membership page to learn more about all our membership opportunities!