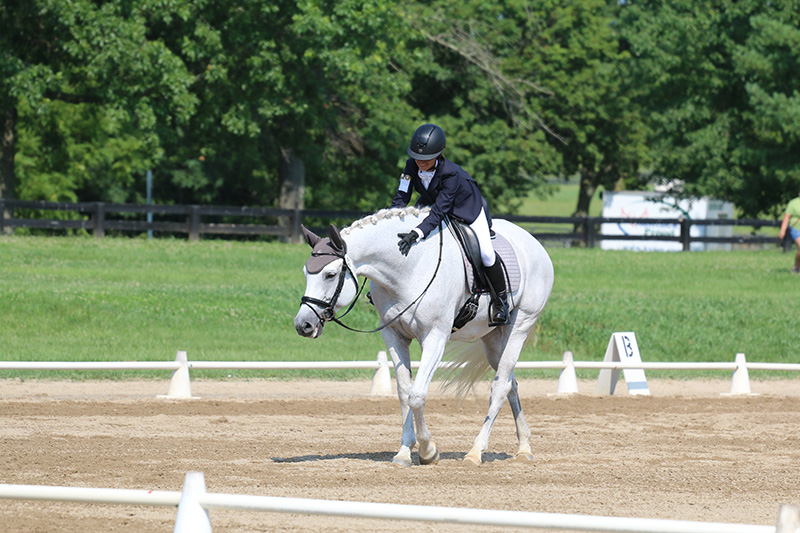 Good Grooming Goals: Get Your Horse Ready for a Rally or Horse Show
Brought to you by Shapley's Grooming Products, the Official Grooming Products Sponsor of USPC.
By Liv Gude
The secret to grooming for a horse show, clinic, or Pony Club rally is to have a daily grooming routine that focuses on your horse's health and shine. When it's time to show, you only need to add some braids and hoof polish, and you are ready to wow the judges. 
Daily Grooming 
During your daily grooming routine, pay attention to all aspects of your horse. Consider grooming for your horse's health as the top priority. Put effort into the grooming routine and add horse-safe equine grooming products as needed.
Start with your horse's hooves. Picking the feet several times a day gives you the chance to find loose shoes, pick out rocks, and check for thrush. You may also discover small cracks, minor cuts on the coronary band, and maybe the beginnings of mud fever, which is evident with scabs and sores on the heels and pastern. Treat any problems early for maximum hoof health.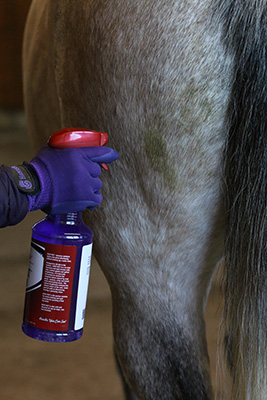 Continue with your currycomb and brushes. The more you curry and brush, the more you are helping your horse's natural oil— called sebum— to coat the hair. Sebum is an antimicrobial oil made in your horse's skin that creates shine, provides waterproofing, and fights bacteria and fungus. It is also a stain repellent, which is handy for gray horses.
Address any manure, grass, or urine stains with an equine spot treatment product, such as a dry shampoo. After currying, spray your spot treatment on any stains. Let this deodorizing spray sit for a few minutes before rubbing it off with a dry cloth.
For the mane and tail, pick or comb daily. Tangles and wind knots won't have a chance to take hold if you tend to your horse's hair every day. Tails and manes benefit from products to help keep the hair smooth and tangle-free. A spray-in shine product keeps tails slick and easy to manage. If your horse's tail is dry, you can use a little bit of grooming oil in your palm to smooth and condition the tail. This conditioning treatment can also help prevent staining.
Horse Bathing Tips 
Before a horse show or rally, you will want to bathe your horse. For tough stains, especially on gray horses, use your equine spot treatment product on dry hair before bathing. This jumpstarts the stain removal process. Let the product penetrate the stains for five minutes or so.
Then, use a mild equine shampoo for the bath. A gentle shampoo will not strip any sebum from your horse, and it adds a bit of shiny sparkle, too.
You can clean your horse and also add color simultaneously. Color-enhancing shampoos are designed to enhance coats in every color, including chestnut, black, bay, palomino, and pinto. Leave these on your horse for five to 10 minutes before rinsing.
Boost Your Horse's Shine
Getting that show-ring shine on some horses is a bit tricky. While currying your horse is the top priority for a shiny coat, you can boost your horse's shine a few ways. A hair polish spray shines on horses during summer when the coat is short.
For conditioning, shine, stain repelling and help with waterproofing, try a grooming oil. A technique called oil buffing is the best way to use these products. Add several capfuls of your grooming oil to a gallon of water and massage onto your horse with a sponge. Use the sponge or cloth in a circular motion as you would a currycomb so your horse isn't dripping wet. Most horses can benefit from a weekly oil buffing treatment.
For Show Day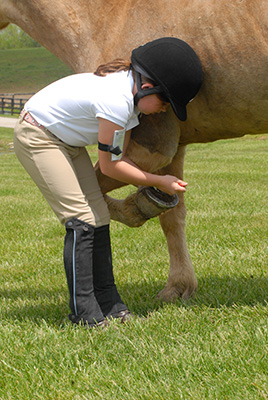 If you keep your horse clean, shiny, and tangle-free, getting ready for a rally or show is easy. You may only need to add a few things to your grooming routine.
Braids are traditional in many disciplines and show the judge that you honor your sport. It takes some practice to create gorgeous braids, but there is help! Braiding products tame fly-away hairs and smooth the mane down for easy braiding.
By now, your horse should already be shiny from all your day-to-day grooming. Add the final touches of gloss to his coat with a finishing spray. This can also be used as a hoof dressing for the show ring. It's transparent, so your horse's hooves will look healthy and natural.
To make your horse's chrome legs pop, use white touch-up spray made for horses. This is a spray pigment that lasts for days, even if your horse gets wet.
With your rally day grooming so streamlined, you will now have more time to watch, learn, and hang out with your friends. Happy horse showing!
Check out all of the Shapley's Superior Equine Grooming Products at your local tack store or online retailer to help you prepare for your next horse show, and visit www.shapleys.com for more expert grooming advice.
This article about grooming for a horse show or Pony Club rally was originally published in the Summer 2022 issue of Discover USPC magazine. Read more content from that issue.
---
About Shapley's — Official USPC Grooming Product Sponsor
Shapley's has been producing superior equine grooming products for over 85 years, and top riders and horsemen trust Shapley's for their horse's health and shine. Learn more at Shapleys.com
---