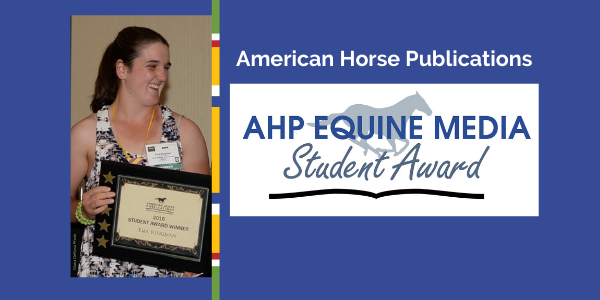 Make Your Dream Career a Reality with the AHP Student Media Award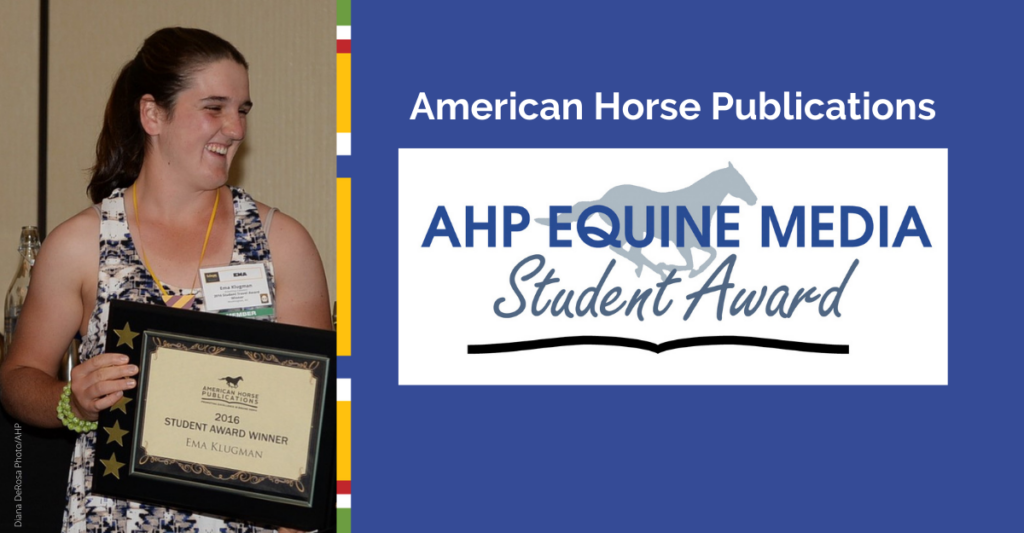 For aspiring journalists who love horses, American Horse Publications (AHP) offers a leg up on a career in equine media through the AHP Student Award Program.
"Attracting young people with a passion for horses and media is important to sustain the equine media industry," says AHP Executive Director Chris Brune. "Not only does it offer students a chance to learn about a career they may be passionate about, but it has also given equine media a long list of talented young people."
AHP began offering the award in 1993 to help build awareness of careers in equine media. Applications for the 2021 award are now available online, and entries are due Jan. 22, 2021.
USPC member Ema Klugman (Seneca Valley Pony Club, Capital Region) won the award in 2016. Ema, who became Pony Club's second "triple A" member in 2019, holds A certifications in Eventing, Show Jumping and Dressage. She feels that the communication skills she learned in Pony Club were a big help in applying for the student award program, which includes an interview as part of the process for finalists.
"My Pony Club background really made me a good communicator," says Ema. "Those skills you learn in the upper level ratings—how to explain what you're doing and why to an examiner—serve you well in any career. Writing is just another form of communication, so being confident in that skill has served me well."
Ema, 23, is a recent graduate of Duke University, where she majored in public policy. In addition to working in the horse industry, where she teaches many Pony Club members, she also holds an academic job and is the editor of the website Jumper Nation.
The 2021 AHP Equine Media Student Award Contest recognizes student talent by providing travel awards for up to three finalists to attend the AHP annual conference, scheduled to be held in Irving, Texas on May 20-22, 2021. Travel award winners have the opportunity to network with leading equine media professionals and attend educational sessions at the event. One winner will be selected as the 2021 AHP Equine Media Student Award winner and receive a cash award of $1,000.
Reflecting back on the opportunity, Ema says it was a great way to meet people and to learn more about the organization and the variety of equine publications out there.
"My advice would be to put your best foot forward," she says. "Be honest about what you have done and where you'd like to go." Even if you don't exactly know what you want your path to be, Ema recommends letting your genuine interest and curiosity in the industry, and horses in general, shine through.
To learn more about the AHP Equine Media Student Award visit https://www.americanhorsepubs.org/equine-media-student-award/
About American Horse Publications AHP is a professional membership association for equine media, professionals, related businesses and associations. Opportunities for students under the age of 25 include the AHP Equine Media Student Award, student membership and a college internship program.