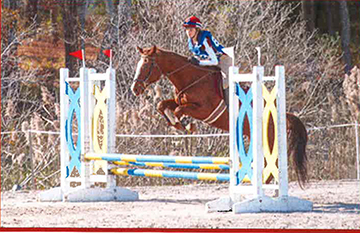 How Teamwork Saved the Day


D-3 Traditional member, Emerson Bergan of Cranberry Country Pony Club in the Southeastern New England Region sent in this fantastic story about her clubs teamwork. This story was a finalist for the Flash Teamwork Award presented each year to a region, club, center, outstanding person, team, or horse to recognize the teamwork Pony Club values so highly. Read along as Emerson shares her story:
For months I have been working towards competing at my first 3-phase. I joined Pony Club last year because I'd heard they taught you about Eventing and that's what I want to do. I was so excited when I found out I could be part of a team at this year's Eventing Rally. Three weeks before the event my horse got hurt. She tried to kick another horse and tore all of the skin off her back leg. I couldn't rider her for two weeks, but she was sound so I still planned on riding at the rally. My horse came up sore in her hoof a week before the rally so I couldn't ride with my trainer. It made me worried that I was unprepared, but I didn't want to let down my team so I decided to ride anyway. The Monday before the rally our truck stopped working. It was the transmission and it would take two weeks before it could be fixed. A friend of my parents let us borrow her truck so I was on my way. Well, sort of.
On our way to my firs Eventing Rally the truck we borrowed to pull our trailer died on the side of the road, 4 miles from the Event. I started to get upset, but my Mom told me not to worry, our Pony Club friends would help. That the beginning of how teamwork saved the day!
My Mom called my Pony Club leader and she told us not to worry. She asked my teammate Bella's Mom to come and get me, my horse, and my equipment. My Mom had to stay with the truck and trailer until they could get towed so I had to go to my first Event without her. I wasn't alone, I have my Pony Club team.
By the time I got to the event grounds I was running late. Our team's Stable Manager, Colleen was so great and helped me get my equipment organized and my horse tacked up. My teammates Lily, Bella, and Shelby all helped me get to my dressage test on time. Even though I had to rush I wasn't nervous because my teammates had all done this before and helped me a lot. As a team we walked my first cross-country course and all of my teammates gave me great advice.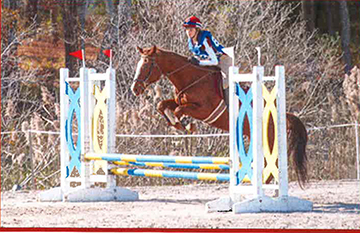 Just before my stadium jumping time my Mom made it back and got to see me jump. She said she couldn't find me at first, but my teammate Bella made sure she knew where to go so she wouldn't miss my ride. Being part of a team really made the whole day better, especially since it was my first event and all the stuff that happened before I even got there.
After I finished my cross-country course we had to figure out a way to get my horse home. We live over an hour away from the event and everyone else on my team lives in the opposite direction. Even though it was a long drive, two of my teammates and their mothers offered to drive my horse home. We had to leave the event early to deal with out trailer and all my teammates helped me pack up my equipment and get my horse ready to go.
Pony Club is new to me, but I can't express how happy I am to have joined Cranberry Country Pony Club. I'm truly part of a team and learning so much about a sport I love. If it wasn't for my teams' help I may never have made it to my first Event. I am so glad I did because I have found my true passion.