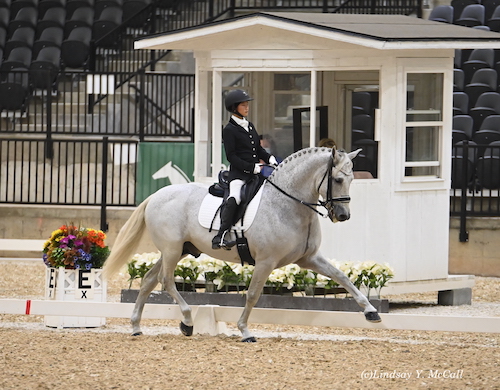 Pony Club Leads Andie Sue Roth to Paralympic Dreams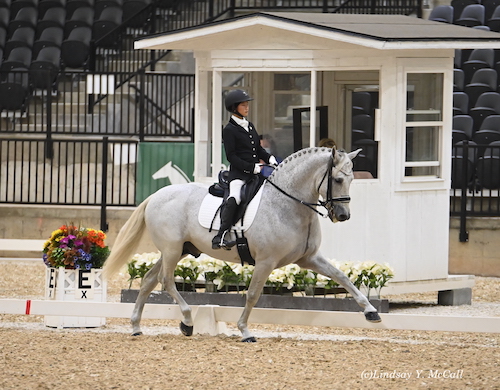 By Lindsay Y. McCall / United States Para-Equestrian Association
Fifteen year-old United States Pony Club member Andie Sue Roth from Alamo, California, has already experienced a pinnacle moment in her young equestrian career. On October 22-25, 2020, at the Tryon International Equestrian Center in Mill Spring, NC, she competed in the 2020 Para Dressage Emerging Athlete Competition held in conjunction with the USEF Para Dressage National Championship Award. She received top scores in front of international para-dressage judges riding the beautiful PRE stallion Centeno XII, owned by Barbara Bonk Matson. Andie Sue competed alongside Paralympic and World Equestrian Games athletes aiming for the rescheduled Tokyo Paralympics. She has been a United States Pony Club member since she was 7 years old and currently holds a C-2 certification in Horse Management, Dressage, Eventing and Western. Andie Sue is a member of In the Irons Pony Club in the Middle California Region.
Finding a Place in Pony Club
When she was 2 years old Andie Sue had an amputation of her right leg due to a birth defect, but that didn't stop her from getting in the saddle at the age of 3. When Andie Sue was first interested in riding, her mom Barbie Roth, an experienced Pony Club B-level graduate, knew what an asset Pony Club would be for her daughters and thought about having Andie Sue and her sister join Pony Club. Her mom, Barbie, recalled that Pony Club was structured differently when she was a member, and was almost entirely based on eventing. So when she looked into Pony Club for Andie Sue, she was concerned that there would not be a place for her as a disabled rider. She was thrilled to find that Pony Club had changed so that the Horse Management (unmounted knowledge) sections were separated out from the riding sections so that equestrians could continue to be certified in their horse knowledge even beyond their ability to meet the actual riding standards at the same level. 
"This truly exemplifies the goal of Pony Club," said Barbie. "The primary focus of the program is to support good horse management as the gold standard. There are many reasons why an athlete might not be able to meet the corresponding riding level. It could be because the rider is between horses, has a mount that is not able to perform at that level or that the rider has a disability that prevents meeting the mounted certification standards. But the veterinary knowledge, safety practices and general horse care learning does not have to stop." She believes the switch to the current model of certifications was a positive change reflecting the heart of Pony Club as inclusive and diverse.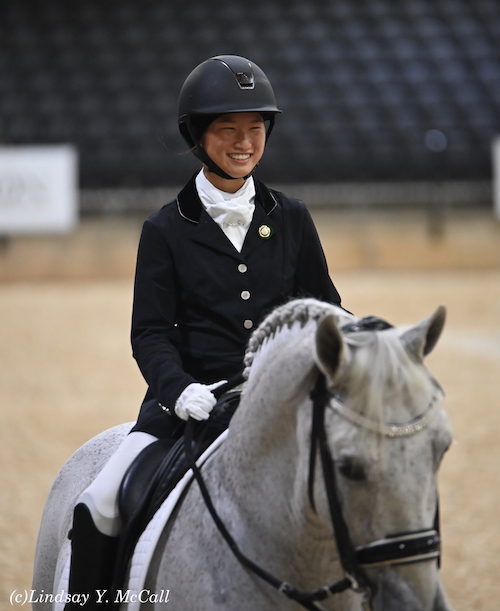 Prepared to Succeed
Andie Sue Roth's experience in Pony Club helped to match her with a top-level dressage horse and propel her to the international stage where she competed in October 2020. Prior to competition she trained for the week at Cross Creek Farms, owned by Katherine Pfaff, just a few minutes from Tryon International Equestrian Center.
"This has been the most incredible experience," Andie Sue expressed. "The minute I walked into the barn at Cross Creek Farms I felt at home. Pony Club rallies have given me the knowledge necessary to come into an unfamiliar place and figure out how to find what I need to take care of the mount in my charge. The beautiful Cross Creek Farm could not have been a better place to train the week before the USEF Para Dressage National Championship and 2020 Para Dressage Emerging Athlete Competition for future Paralympic athletes."
During the week at Cross Creek Farms, Andie Sue had the PRE stallion Centeno XII stabled there in her care for the week. She recalled, "At first, the owner, Barbara Bonk Matson, was hesitant about allowing me to care for Centeno on my own but once she found out I was a Pony Club kid, she was visibly relieved. She was able to show me his individual needs but knew that all the general horse care was well within my competency as a C-2. The United States Pony Clubs (USPC) provided the experience and knowledge I needed for that. All the safety, bandaging, trailering, feeding and rally knowledge taught in USPC was exactly what I needed to make an impression at Cross Creek Farm. I am so grateful to USPC, Middle California Region and my local club, In the Irons, for giving me the necessary tools to be in that situation with confidence."
Andie Sue successfully competed in the United States Equestrian Federation Dressage National Championships for Emerging Paralympic Athletes, winning both of her Grade V classes with scores from three international judges. "It was the most enjoyable experience to meet all the other Para Dressage Athletes and feel the energy of the competition," she reflected. "I can't wait to do it all again."
Parallel Plans
Along with Paralympic dreams, Pony Club is still a big part of Andie Sue's plans. She has participated and placed in many USPC rallies in various disciplines, including Tetrathlon, Games, Eventing and Quiz. She hopes to qualify in Dressage to ride at the USPC Festival 2021 sponsored by SSG Riding Gloves and presented by State Line Tack, scheduled to be held July 19-26, 2021, in Lexington, KY, at the Kentucky Horse Park.
Andie Sue has reached the highest level offered for USPC Western riding and plans to continue to the next Horse Management level of H-B and the Dressage C-3 while she is continuing to look toward more Paralympic development opportunities on the international stage.
To learn more about para dressage and para equestrian competition, visit the United States Para-Equestrian Association.