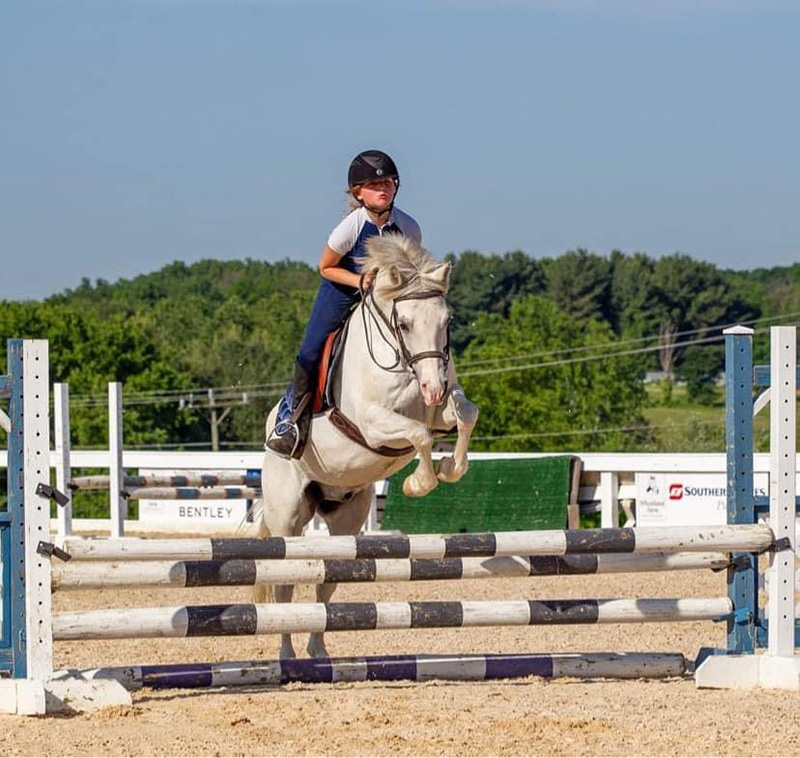 Member Spotlight: Evie M.
Age: 10
Club/Region: River Bend Pony Club, Virginia Region
Years in Pony Club: 2.5
Current certification (and/or certification currently working on): D-2 EV and working on D-3 HM and SJ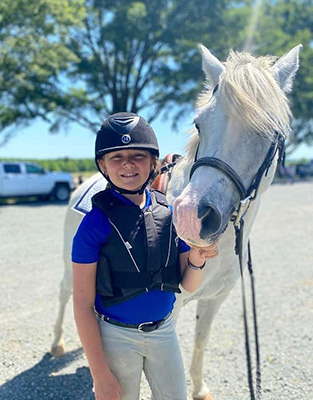 What disciplines and/or activities are you involved in? Dressage, Show Jumping, Hunter Seat Equitation, Horse Management, Quiz
Tell us about your current mount(s) and what you do with them: My current pony is Silver Lining ("Maddox"). He's a 13.3-hand Welsh/Arabian-cross pony. He has an "in-your-pocket" personality and loves to jump! I compete with him in local and rated hunt seat/equitation divisions in Virginia, go on lots of cantering jaunts in the Manassas Battlefield, and we are currently working on our D-3 certification in Show Jumping.
Tell us about your goals (with Pony Club, with riding, life): I aspire, one day, to earn my HB or A certification! My dream is to ride and compete in Show Jumping and Hunt Seat/Equitation in college and one day be a Show Jumper competing nationally. Horses will always be a huge part of my life.
What is your favorite thing about Pony Club? I love mounted lessons with amazing professionals and the opportunities to attend clinics and lesson series. I am so happy that I've had the privilege to have a Show Jumping lesson/clinic with Boyd Martin only half an hour away from my home barn!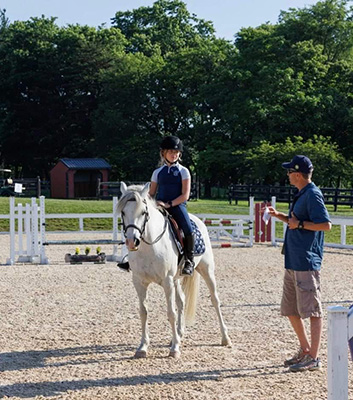 What is one thing you would tell younger members first joining Pony Club? Study your D manual! Everything and more is in that book. I'd also say to make friends and have fun.
What is your favorite way to prep for a Horse Management (HM) certification? Flashcards, read the D manual, and my parents are also a HUGE help in creating silly trivia games that we all can participate in together. Those really help a lot.
If you could try out any other discipline or activity, what would it be and why? I would have a lot of fun with Mounted Games and Gymkhana! Vaulting, balancing, and trick riding are so amazing to watch, and I'd love to have that kind of balance and bravery.
Favorite Pony Club memory: At one of our ground lessons, I got to practice my polo wrapping skills on a fellow Pony Club member. This member, though, decided to make things challenging by pretending to be a kicking pony, so I had to really work hard to get him to behave and eventually wrapped!
What makes you #PonyClubProud? I love that everyone in the horse industry knows exactly what it means to be a graduate of Pony Club, and that barn managers understand what a D-2, a D-3, and so on means in terms of my skillset and abilities. I love that Pony Club has national and international respect, and I know that one day when I'm grown and looking for work at a barn, my Pony Club credentials and experience will carry a lot of weight in a chance to land a position.
Want to be featured in a future Membership Spotlight? Fill out the form here.