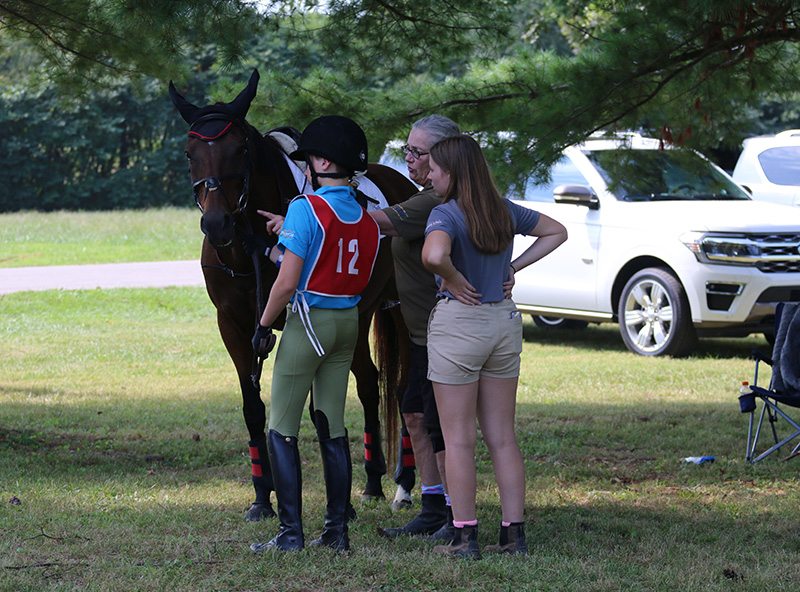 Horse Management Rule Changes for 2023
By Melissa Dabadie
The United States Pony Clubs (USPC or Pony Club) periodically reviews the discipline rulebooks and the Horse Management Handbook and Competition Rules (aka, HM Handbook) and make necessary updates and changes. Below we share some of the highlights from the latest changes so that competitors and USPC leaders can be aware of the changes. However, we do encourage everyone to read their related discipline(s) rulebook, the HM Handbook, and the annual newsletter for their chosen discipline(s) to stay up to date. All of these resources are found online under the "Rulebooks" menu item after logging in at www.ponyclub.org.
Sections of the Rulebooks
First, it's important to understand the structure of the discipline rulebooks. Each discipline rulebook includes essential information for a competitor to succeed at a rally. It's broken into the following sections to help you quickly find information.
Section I, Officiation Rules: USPC Uniform Officiation Rules is the go-to section for content on each competitive discipline. From Code of Conduct Expectations to the Unauthorized and Permitted Assistance parameters, this info is the same across disciplines and the HM Handbook.
Section II, General Regulations: General Regulations includes any regulations/rules regarding team configurations, competition levels, Championships eligibility, competitor attire, and saddlery rules. This section is crucial for those looking to qualify for Championships.
Section III, Discipline Competition: This section on competition specifies has all the nitty-gritty information, such as the general format for the competition and discipline-specific rules.
Section IV, Scoring: This is one of the most important components of the rulebook, as it outlines competition scoring, the inquiry process, and placings within the discipline. Understanding discipline scoring is important to help members identify and work with volunteers to get scoring mistakes corrected.
Section V, Officiation: This is another often-overlooked portion of the rulebook, where members and parents learn about the rally officials, their duties, and responsibilities. Knowing what the officials oversee in the competition gives competitors a leg up when making inquiries and protests regarding scores.
USPC posts the new years' rulebooks by January 1 of the competition year. Sometimes, during the editing process or outside organizational changes, additional information or updates regarding competition may need to be shared after the rulebooks are published. This is where the USPC newsletters come to shine. Here, USPC shares any updates the rulebooks were unable to capture or future opportunities within the discipline. These are published on February 15 of each year. Learn more by reading "Pony Club Discipline Newsletters Share What's New" on the blog.
Highlighted Changes
To keep everyone aware of updates to important Pony Club information, we wanted to let you know that there are changes to the Uniform Officiation and Horse Management (HM) rules that you might notice in each of the 2023 rulebooks. Changes are highlighted in red, but if something has been removed, it is just removed and not noted in red.
Competitor and Mount Participation at Rallies (All Rulebooks)
The first one is in Article 5 in all rulebooks, which talks about competitor and mount participation at rallies. It is restated in Article 41 in all rulebooks, which discusses leaving the barn during the competition. You can read the complete wording in the rulebook, but here are the highlights with some explanation:
Competitors and mounts are expected to participate in the entire rally from start to finish. We love to see your smiling faces at the competitor briefings, mounted competition, and Horse Management. Your teammates are counting on you and your pony to be there for set up, competition, and tear down.
For overnight rallies, mounts are expected to stay on the grounds. If a mount is removed from the grounds without prior consultation with the organizer, the competitor may be penalized.
Competitors are expected to care for their mounts but are free to leave the barn or competition grounds. Communicate about where you are and when you'll be back, so we don't send out a search party when we start missing you. Go out and have fun with your family and teammates!
Veterinary and Medication Rule Changes (All Rulebooks and the HM Handbook)
For Veterinary and Medication rule changes, look no further than Articles 12 in all rulebooks and 97 and 98 in the HM Handbook. The part that will feel the most different for competitors is that a veterinary note is no longer required for mounts who receive medication while at a rally. Medications are listed on the stall card and feed chart. The feed chart template was redesigned to reflect these changes and is listed in Article 141 in the HM Handbook. Competitors will still communicate with the Chief Horse Management Judge (CHMJ) about any administered medications requiring guidance or assistance from HM or other designated person.
Helmet Requirements (All Rulebooks and the HM Handbook)
Article 15 in all rulebooks and Article 128 in the HM Handbook are all about helmet requirements. USPC added a new helmet to the approved list: Snell. Helmets should be certified by the following international and national safety bodies that provide certifications for helmets:
ASTM F1163 with SEI Mark (North America)
Snell Memorial Foundation E2016 or E2021
AS/NZ 3838 with SAI Global Mark
PAS 015 with BSI Kitemark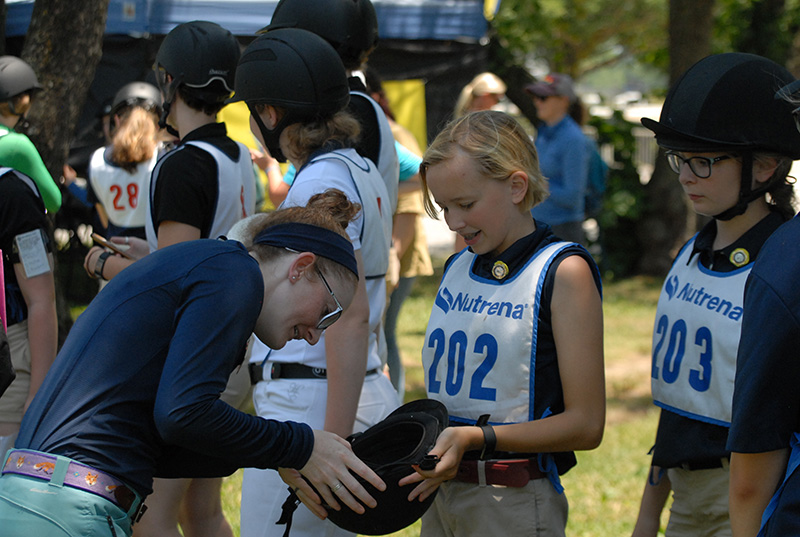 Yellow Cards (Discipline Rulebooks)
Yellow Cards, which are written warnings to a competitor, are discussed in Article 21 in all rulebooks. USPC Yellow Cards apply to all USPC disciplines and can be given by any rally official to a competitor behaving in a way that could lead to disqualification.
Feeding Your Mount (HM Handbook)
You probably already do these next two already. Articles 40 and 95 in the HM Handbook state that mounts must be fed at barn opening and before barn closing.
Hanging Buckets (HM Handbook)
There is no "Pony Club Way" to hang a bucket. Article 77 no longer says round buckets have to have two points of attachment. It's a good practice, but it's not a rule.
Heat Index Chart (HM Handbook)
A new Heat Index Chart in the Appendices includes references for 0-100% humidity for 70-130 degrees.
Stall Card Changes (All Rulebooks and the HM Handbook)
Stall Card Template (found on page 36) changes include the following:
Adult Member Only Contact and Emergency Contact Info was moved to a box at the bottom of the template.
Competitors must list any medications on the stall card (Article 12 in all rulebooks and Article 98 in the HM Handbook), but supplements, medications, and/or loose salt administered can just be listed on the feed chart.
Turnout Inspections (HM Handbook)
On all Turnout Inspection Sheets (Items F1-F4 in the HM Handbook), there is a scoring explanation at the top for reference. Competitors receiving Slightly Below Standards (SBS) will receive a penalty of -1 per occurrence, and Far Below Standard (FBS) is a -2 penalty. Comments are required for both SBS and FBS.
The D-1/D-2 Turnout Inspection Sheet (Item F-1) combines both D-1 and D-2 into one score sheet with the same wording, except the mount has separate sections and wording. Competitors will be scored according their certification level.
C-1/C-2/H-B are combined into one Turnout Inspection score sheet (Item F-3). The only wording difference noted in bold pertains to the rider's boots. Competitors will be scored according their certification level.
Packing Lists (HM Handbook)
At the end of the rulebook, there is a comprehensive packing list for rallies, clinics, and camps. This list was updated and should be helpful when getting ready for an event.
Where's the…?
Several items were removed from the Horse Management Handbook and Rules for Competition. Here's what was taken out and where you can find it now:
Item Removed from Handbook
Where to Find it Now
Chapter 15: Officiation
Regional HM Judges' Guide (found online on the same page as the rulebooks)
Veterinarian Letter Guidelines & Template
No longer required
Chaperone & Emergency Contact Forms
Discipline Rulebooks
Select HM Score Sheets:
*Turnback Inspection worksheet
*Safety Check worksheet
*Cross-Country Phase Team Sheet
*Finish of Cross-Country Test worksheet
*Master Scoresheet
*Team Challenge for Breaking Ties
Regional HM Judges' Guide
All HM Evaluation Forms:
*Competitor HM Evaluation Form
*HM Evaluation: Officials
*CHMJ HM Judges Evaluation
Leaders can find online under Leaders>Leader Resources>CHMJ & HMO (with new names):
*Competitor Evaluation (HM)
*Officials Evaluation (HM)
*HM Judge Rally Report
Remember, knowledge has power! Reading your discipline rulebook, the Horse Management Handbook and Rules for Competition, and annual newsletters will give any competitor and USPC leader a good
understanding of the competition ahead and even a competitive edge.