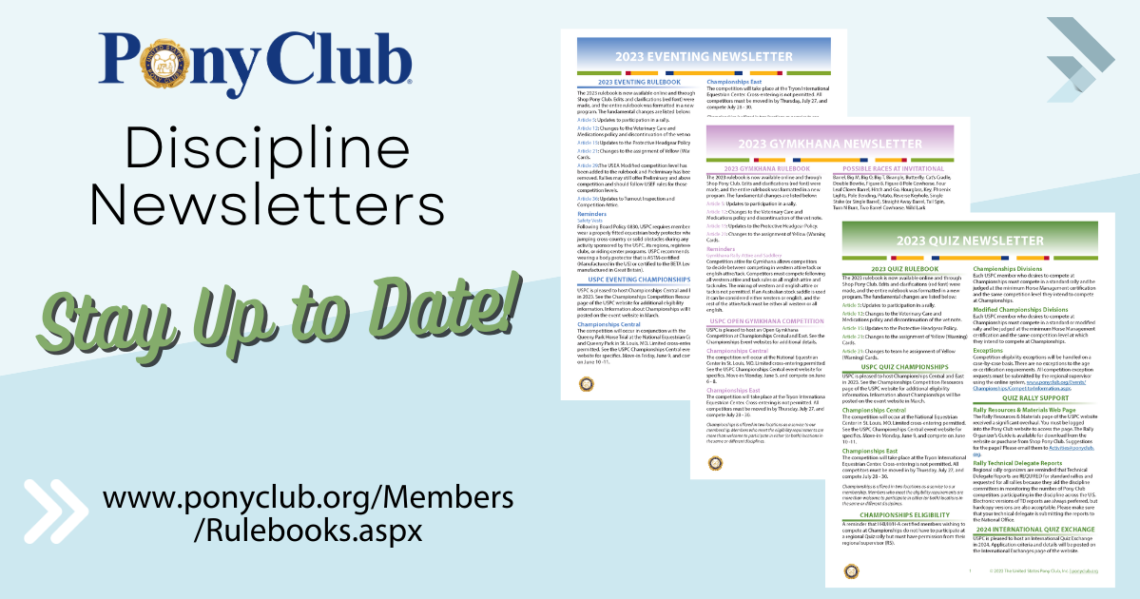 Pony Club Discipline Newsletters Share What's New
Pony Club offers the best of equestrian sports. With 11 competitive disciplines, there's something for everyone. Whether you love the traditional English sport horse disciplines of Dressage, Eventing, and Show Jumping; the fun and fast pace of team sports like Polocrosse and Mounted Games; the athletic challenge of Tetrathlon; the quest for knowledge in Quiz; or the precision of Western Dressage, Trail, and Gymkhana, you can do it all in Pony Club. Horse Management remains at the heart of all Pony Club activities, with the care and keeping of our equine partners always a top priority.
By the Rules
Each competitive Pony Club riding discipline has its own rulebook, in addition to The Horse Management Handbook and Competition Rules. The rulebooks are reviewed and updated every year. If you plan to compete in a Pony Club rally, it's important to know what's in the rulebook and make sure you are using the latest version. The Pony Club rulebooks are available in PDF format for members to download on the Pony Club website, or hard copies may be purchased through shopponyclub.org.
Updated rulebooks come out at the beginning of each year and include clarifications and changes in some of the rules. This is where the annual newsletters for each discipline come in handy to highlight these changes for you.
Annual Pony Club Discipline Newsletters Share What's New
Along with the new discipline rulebooks each year, Pony Club also publishes an annual newsletter. The most recent newsletters can be found on the Pony Club website right under the rulebooks at www.ponyclub.org/Members/Rulebooks.aspx
The newsletters feature the highlights for the year for each discipline in a short one- or two-page summary. In addition to important rule clarifications and changes, the newsletters can include:
Special opportunities, such as international exchanges, open competitions, and more.
Championships details:
Rally support, with information on Technical Delegate report submissions and resources for rally organizers
Social media pages related to the discipline
Key volunteers to contact
Be sure to check out the newsletter for your favorite Pony Club discipline to keep up with the latest information.
Learn more about finding essential information in the Pony Club Rulebooks with this Guide to USPC Rulebooks on the Pony Club Blog.