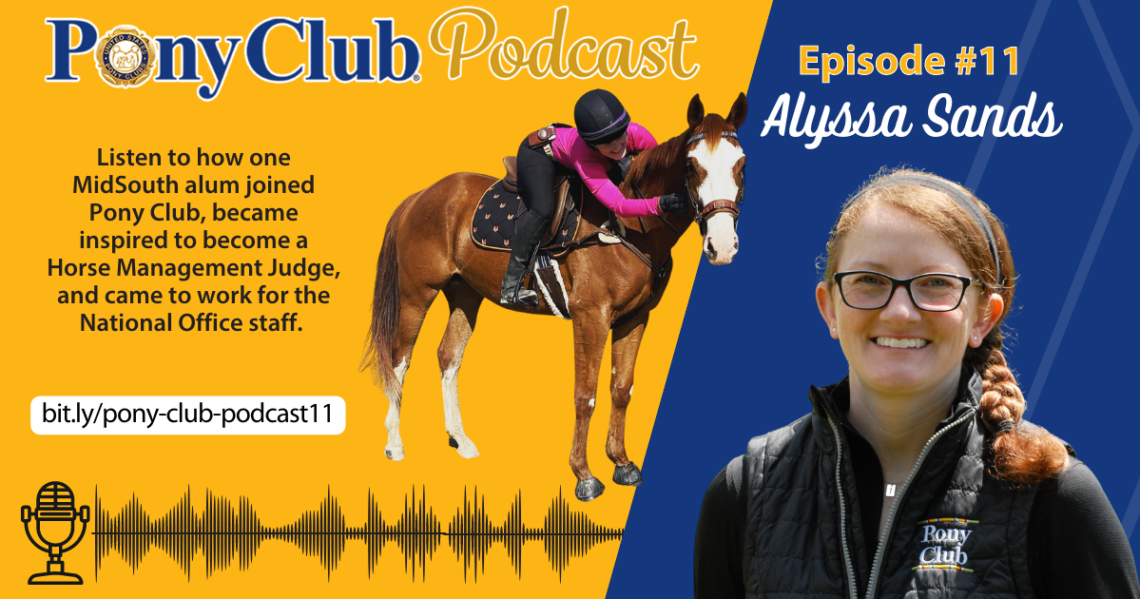 Pony Club Podcast Highlights: Alyssa Sands—Horses, Technology, and Places She Never Dreamed
By Megan Scharfenberg, USPC Marketing and Instruction Coordinator; Highlights taken from the Pony Club Podcast, episode #11
From her racetrack roots, Alyssa Sands, Systems Administrator and Content Manager for the United States Pony Clubs (USPC), has learned a lot from Pony Club. With two parents that "followed the horses to Kentucky," she was raised on off-track Thoroughbreds and naughty ponies. She joined Pony Club in 2006 as a founding member of the then-new Bluegrass Pony Club.
The instructor of the barn Alyssa rode at back then, Nori Scheffel of Scheffelridge Farm, talked with the parents of her other students and decided to start a club so they could take advantage of the Pony Club curriculum. It was non-negotiable for anyone who rode with Nori. So Alyssa became a founding member of Bluegrass Pony Club when it started in 2006. She shared how much she loved her time with Bluegrass, and during that time, she earned her C-2 HM and a C-2 in Eventing.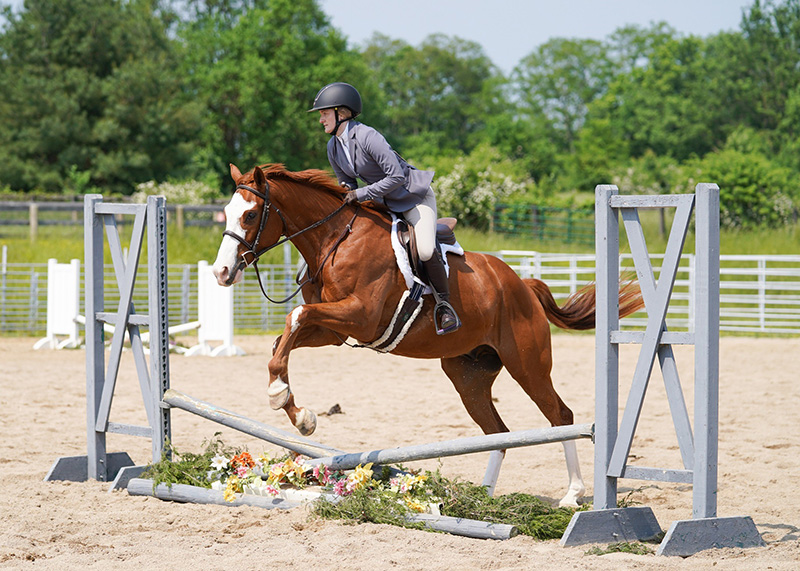 But that wouldn't be her only experience with Pony Club. In her free time, Alyssa, who calls herself a "horse nerd with an emphasis on the 'nerd'" is now working on becoming a Chief Horse Management Judge (CHMJ) for USPC. She credits her parents' racetrack expertise for her passion for Horse Management and her desire to become a CHMJ.
"You learn more on the judging side, I feel like, than you do on the member side of things," she says about working as a Provisional Chief Horse Management Judge (PCHMJ).
She loves being able to help teach and educate members to help them understand the best Horse Management practices. "I always like to ask, 'why are you doing this this way? What makes you want to do it this way versus some other way? Can you explain to me why your horse gets such-and-such in its feed?' -… It's always a great education and teaching piece as well, and I've started to see a lot of our members here in the Midsouth Region shine with it because they kind of take ownership of their Horse Management then when we ask them all these questions."
Alyssa is also thinking about working towards her H-B certification now that Pony Club is open to all ages. She notes that acting as a PCHMJ has helped her to learn more and feel more comfortable in her knowledge and ability to attain her H-B certification.
Even with all of her experience as a member, Alyssa's most important involvement with USPC extends to her career. She has worked for USPC in various roles, but her love of technology helped her land in her current role as the Systems Administrator and Content Manager for the USPC National Office. She is happy to combine her knowledge of technology and horses at work every day, where she spends her time "behind the scenes," working on everything from the database to the website. Truly, Alyssa is an exemplary member of the United States Pony Clubs, through and through!
To hear more about what it takes to become a CHMJ, what it's like working in the National Office, and more about Alyssa's journey from self-proclaimed "not-so-great hunter princess" to a Pony Club member, listen to episode #11 of the Pony Club Podcast. And listen to other podcast episodes, click here. You can also listen to the USPC podcast on every major podcast platform.