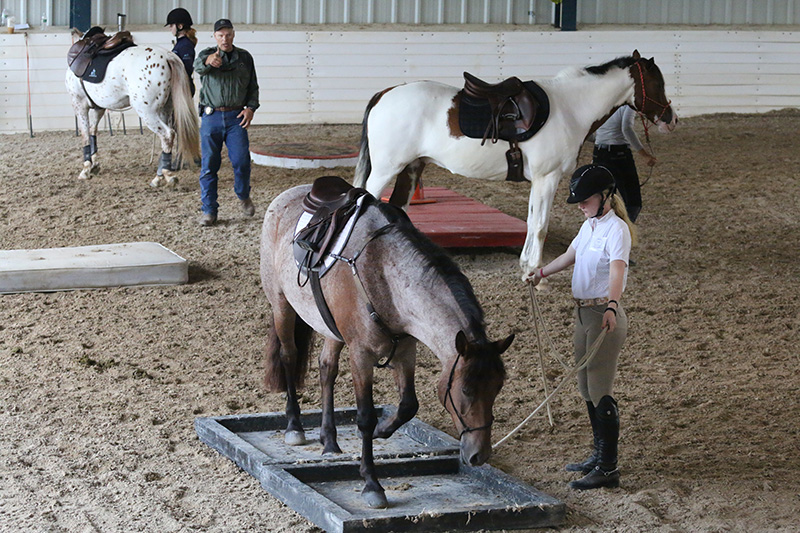 Improve Your Riding by Exploring Other Disciplines
By Gillian Warner, National Youth Board
My goal has always been to be the best horsewoman and rider I can be. However, how I work towards and see that goal has changed over time. When I was younger, I thought the more focused and committed I was to one equestrian sport, one focus, and one path, the more successful I would be. I didn't consider the importance of striving to be a well-rounded horsewoman, and the value in collaborating with other types of trainers.
A friend of mine is a reiner and invited me to come out to her barn one day. Interested in trying something new, I went out and rode one of her horses. Despite my many years as an equestrian, I had never felt that same sort of power, responsiveness, and balance! It was so unlike my training for show jumping, and I still pull from the lessons I learned on that reiner to apply to my rides today.
Keep an open mind so you can learn from riders that use different tack than you do, compete differently than you do, and ride different breeds than you do. This can give you insight to try something new, stay creative in your training, and pull from a variety of techniques to find what works best for you and your horse. Learn how to engage your horse from a dressage rider. Learn to be brave from an eventer. Develop that soft responsiveness from reiners, and stay adventurous like trail riders!
Each discipline, each rider, each horse has something to bring to the table. Whether it's mixing up your own training to try something new, hearing a different perspective on a challenge you're facing, or growing as a horseman or horsewoman, seek out opportunities to learn from others. I'd encourage you to read a book from a trainer of a different discipline, audit a clinic on a different discipline, or maybe even try a different style of tack! Enjoy exploring!