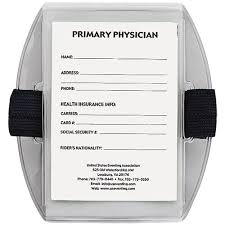 Hot Topic: Arm bands vs. Bracelets

Indeed a hot topic, which will you choose? Armband or Bracelet? As we all know the United States Eventing Association (– USEA) is allowing members to choose, well now Pony Club members can as well. We are going to go over the pros and cons of each as well as the rules for allowing the new wristbands. These lifesaving devices are a vital part of safety when it comes to working around and riding horses.
Under the rule EV 113 for the — USEA the armbands must have medical history including history of head injury as well as drug allergies and current medications. If the rider chooses to wear a wristband it must have all of this information accessible via website support. The information does not have to be on the bracelet itself, however the website's address and a passcode must be available on the bracelet.
The new USPC Policy# 0218 will be in effect which allows for the use of medical bracelets in addition to the medical armbands. Either an armband or a bracelet will be acceptable, provided that the Bracelet meets the following criteria:
The Bracelets must visibly list five items of information on them:
• Name and date of birth
• Emergency contact information
• Known allergies
• Current medications
• Existing medical conditions
Any brand of bracelet that will allow for these five items to be on the face of it is acceptable. If you cannot fit all of this information on the face of the bracelet then you must use the USPC medical release in the armband instead.
Using the information we are providing, now you can make an informed choice as to which you will choose;
– Information easily changed
– Information easily accessed
– All pertinent information is right on the card
– Not expensive initial cost
– Easily adjusted (Velcro!)
– Easy to tell if rider is wearing
– "lucky" trinkets can be easily added
Cons of Armbands
– Velcro stretches and doesn't remain tacky
– Plastic cover is hard to see through
– Can get hot and sticky when the weather is warm
– Easily forgotten in a tack trunk
– Easy to borrow someone else's with the wrong information (which is bad!!!)
– Only worn when riding (not practical to wear daily)
– If gets wet, information is hard to read
– Fun colors!
– Easy to read
– Different brands are available
– Can be worn all the time (riding and daily)
– Lightweight, comfortable, slim design
– Accessories can be added to some brands
– Clasp close is stronger (can also be a slip on!)
Cons of Bracelets
– Must have access to website to get more detailed information
– Information on metal plate is not easily changed
– Moderate initial cost and yearly fee to keep them registered with website
– Can pinch
– One size fits all on most brands
– May not be easily visible