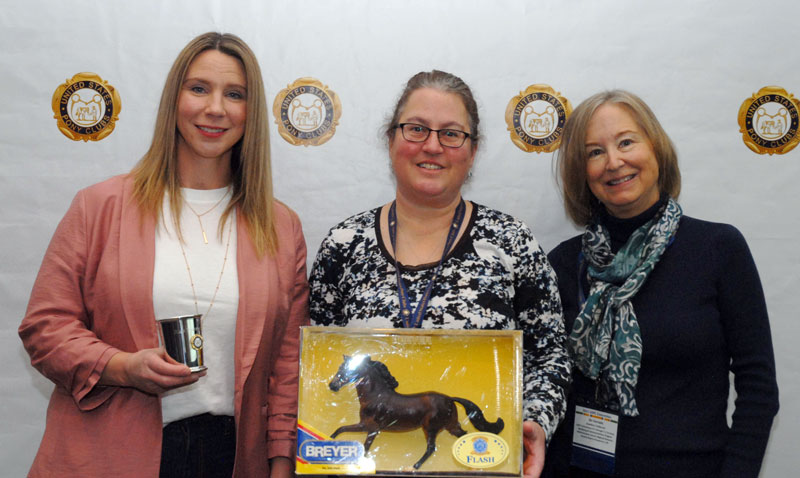 2022 Flash Teamwork Award Winner: Princess Fiona
The Flash Teamwork Award is given each year to a club, center, region, individual, or equine who displays excellent teamwork. Cathy Aranosian, owner of Flash, created the award after her club members worked together to submit Flash as the USPC 50th Anniversary Breyer model. Nominations for the Flash Teamwork Award are submitted as an essay to the Pony Club National Office about a special team-building experience. A panel of judges evaluates the essays and selects the winner every fall. Lori Gmerek, district commissioner (DC) of East Aurora-Lake Erie Pony Club in the Western New York Region, sent in this year's winning nominee—Princess Fiona. She accepted the award on behalf of owner Beth Walkowicz from USPC Board of Governor's member Bo Varnado and Cathy Aranosian. Read the winning entry below, with submissions of people who know and love Fiona, to learn more about this special mare.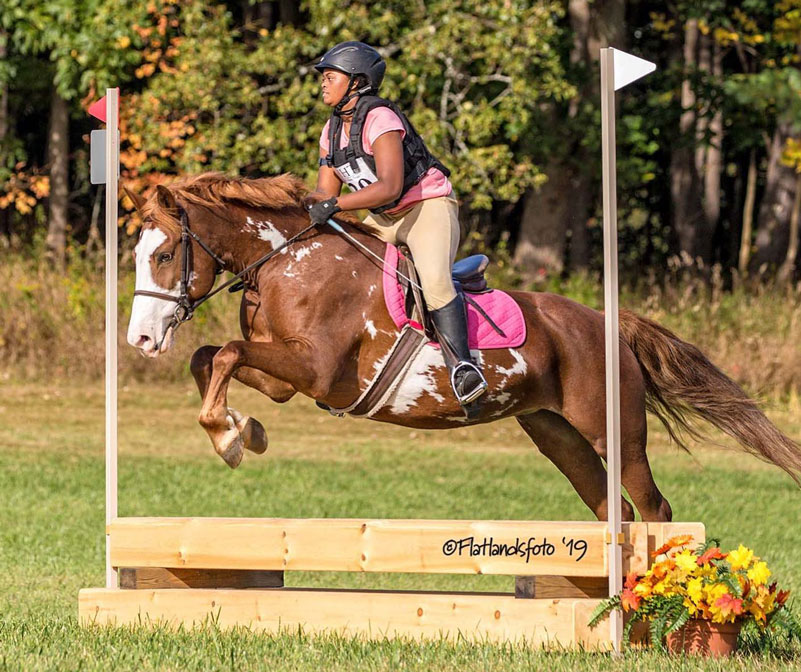 Submitted by Kristina Kleeh
Over the years, I've watched Princess Fiona, a big draft/Paint-cross, take numerous students around many cross-country courses, dressage tests, and stadium courses, as well as around the track at the home barn. Fiona is the "big girl" of the farm, taking beginner adults, down to little kids, around safely, as long as you ask firmly, gently, and correctly. A few years ago, I was in awe as she loped around the track with a little girl, just learning to canter and likely on her first lap outside of the arena. She was foot perfect in every way, looking cheerful and taking good care of her little rider, who barely weighed 50 pounds. It was actually breathtaking.
I've also watched a high school Pony Club member take her effortlessly around a tricky Pony Club rally jumper course, set in a standard dressage ring and with some tricky and tight combinations. She went on to jump clear and win the class, and I think their team won the rally.
I had a two year old daughter at the time, recently diagnosed with a major neurological condition called Spinal Muscular Atrophy, similar to ALS. In my mind I was thinking about what a saint of a horse, and how we need a foal—or a clone—and many more of her, to take care of the kids. Other people's kids, I thought, as my daughter was destined to a life of progressive weakness, maybe being able to sit up under her own weight, possibly not, as time passed, and certainly not going to be a Pony Club participant.
Fast forward two more years, and after receiving an experimental drug therapy designed to help restore some of the lost muscular strength, my daughter joined Pony Club last year as a junior at age four, taking her first few rides with me sidewalking and trying to stay calm, knowing the slightest spook, trip, or misplaced step would likely unseat her, and a fall would not be pretty, but also knowing that the walk of a horse is the one thing that mimics a human walking, and that the one best thing for someone who can't walk is to ride a horse.
That first day, Fiona was picked as her mount. As big as she is, she lived up to her name, Princess Fiona. She went as slow as she could, as graceful as the queen, seemingly taking care not to jostle her petite, weak rider. Thanks to that successful first ride, my daughter has continued on, hopefully to make my "life's grand passion" her own, and hopefully to be enjoyed in the way that she can.
If not for that first successful ride on Fiona giving her a new-found sense of bravery, accomplishment, and progress, I'm not sure how my daughter's confidence would have unfolded. We heard about "Riding Fiona" for months following!
For all of these reasons, I wholeheartedly nominate Princess Fiona for the USPC Flash Teamwork Award. Thanks, Fiona—to us, you're a queen!
Submitted by Carolyn Beecher of East Aurora Pony Club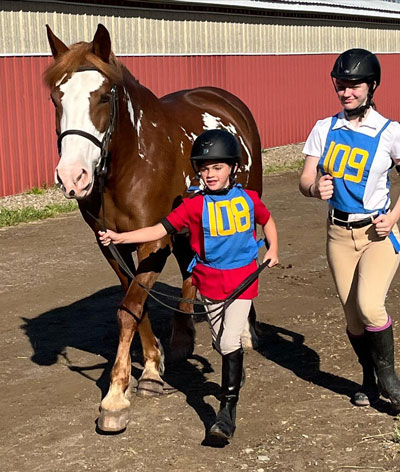 Fiona is a lesson horse at Walnut Grove Farm in Buffalo, New York, where the East Aurora Pony Club has meetings. She is a 16-hand chestnut pinto Belgian-cross who is about 15 years old.
My trainer, Beth Walkowicz, has had her for a long time. Fiona has helped create team-building experiences for the East Aurora Pony Club in many ways. For example, she has been to several different shows where she does eventing. At these shows, she is an angel and is ridden by riders of different levels. Riders like myself have had the opportunity to help younger riders tack Fiona up and care for her at the shows.
When I showed Fiona this summer, I shared her with an older East Aurora Pony Club member named Lauryn. We worked as a team to braid Fiona's mane, give her a bath and other stuff to get her ready for the show. It was really fun to work with Lauryn to make sure Fiona looked her best and was cared for. It was also fun to watch and cheer on Lauryn during her classes with Fiona and nice to have her to cheer me on when I rode.
Fiona has helped create team-building experiences in other ways as well, such as when a rider goes out to the pasture to bring her in. She doesn't like to leave the pasture usually so often the rider needs to get help from a friend. Thankfully, we all know this about Fiona and work together to teach new riders about this and other silly little quirks that she has.
Without Fiona the East Aurora Pony Club would not be the same. We all share a love for this gentle giant who has taught us so much. We each have become better riders because of her and through our love of her we have all become friends.