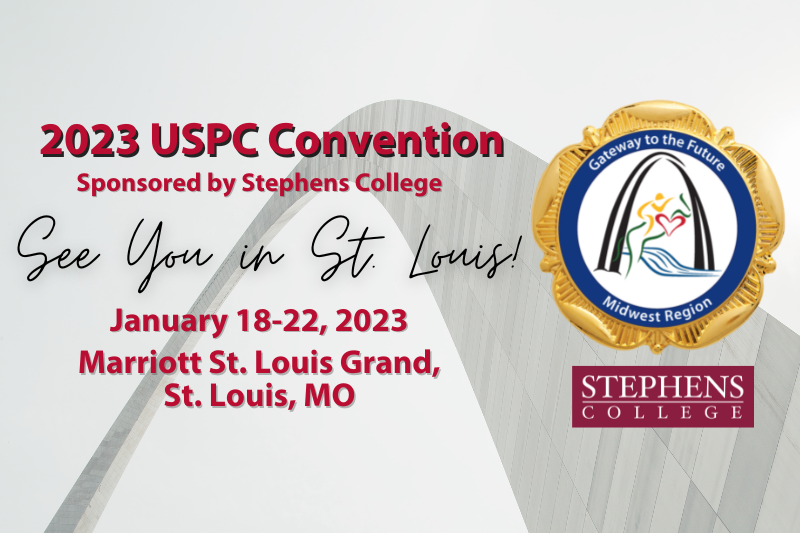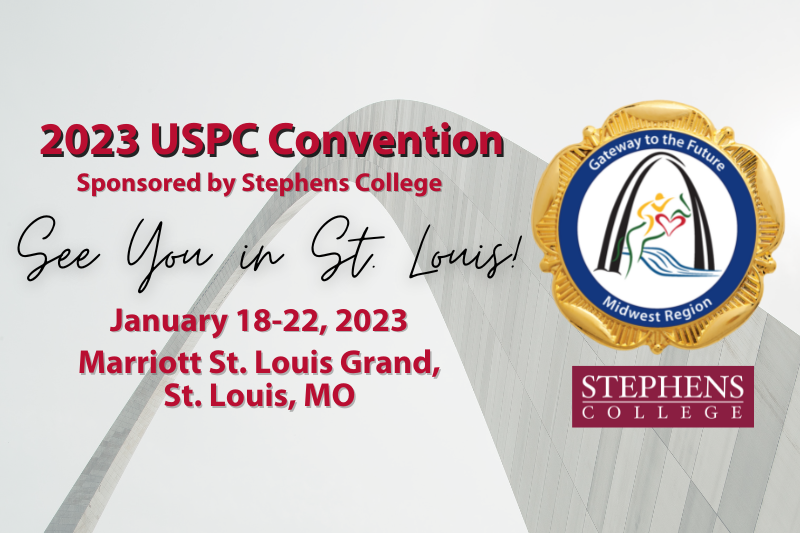 Four Ways to Attend the 2023 USPC Convention Sponsored by Stephens College
The United States Pony Clubs (USPC) invites equestrians of all ages and disciplines to attend the 2023 USPC Convention sponsored by Stephens College and hosted by the Midwest Region, scheduled for January 18–22, 2023, in St. Louis, Mo. The event will offer a blend of in-person, live stream, and on-demand opportunities with 40-plus workshops and seminars, as well as trade fair shopping, networking, and more.
Meeting attendees, both in-person and virtual, will have access to extensive educational and networking opportunities during the Convention, and for six months afterward.
Registration opened October 1, 2022, with four different registration options to customize your experience.
All Access Pass: In-person Jan. 18–22 plus Virtual Access (Live and On Demand for six months)
Weekend Pass: In-person Jan. 20–22 plus Virtual Access (Live and On Demand for six months)
Day Pass: In-person only, Jan. 21 or Jan. 22.
Virtual Pass: Online Access Live and On Demand Jan. 19–June 23.
For full details and to register, visit https://pheedloop.com/2022convention/site/registration/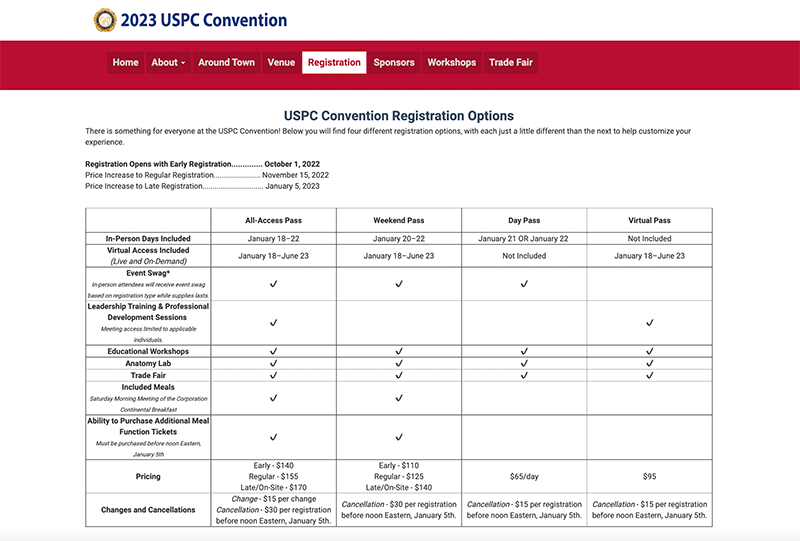 Register for Additional Meals and Social Functions
Convention offers plenty of opportunities for socializing, networking and celebrating. Many of these functions will require pre-registration or the purchase of a separate meal ticket, which must be done astern Time on January 5. This includes the USPC Regional Administration Bowling Party, National Youth Congress/Academy of Achievement Honors Reception, and the Saturday Night Banquet, as well as the popular Pony Paddock Pizza Party for children under 12.
Cancellations and Changes
We know that sometimes plans change. To cancel a registration, email events@ponyclub.org. Individual cancellations will be refunded less a $30 office fee per registration up until noon Eastern Time on January 5, 2023. No refunds will be given for cancellations after January 5, 2023.
From noon (ET) on October 1 to noon (ET) on January 5, attendees may purchase additional meal tickets by logging into their USPC profile and visiting the Convention Registration page of the website. If your changes or additional purchases require personalized individual assistance, such as changing food options, etc., there is a $15 fee per change. Please email events@ponyclub.org with the requested change along with a phone number to collect payment.
USPC understands the ongoing pandemic and uncertainty during this time. For 2023, if USPC would need to cancel in-person activities, the event would switch to entirely virtual and all attendees who purchased registrations will be refunded the difference between the Virtual Convention Pass and their registration purchased.
Whichever way you choose to attend, we look forward to having you join us for the 2023 USPC Convention sponsored by Stephens College.