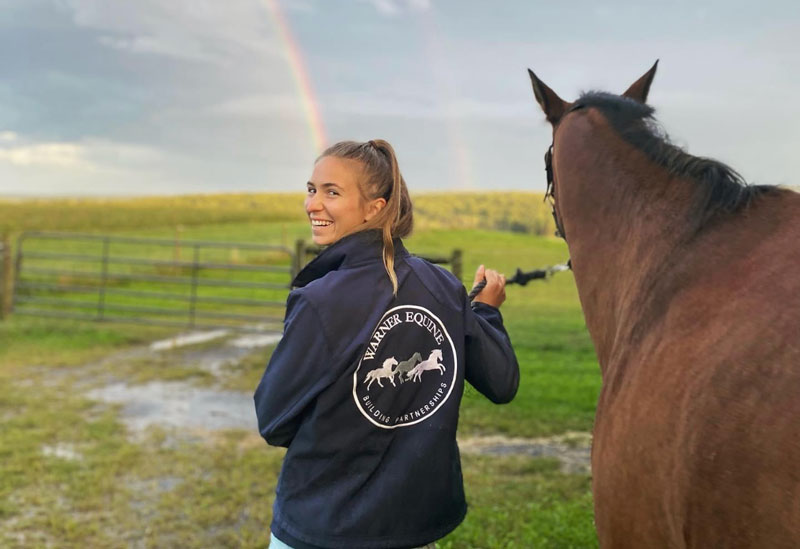 Deciding to Serve as a USPC National Youth Board Member
By Gillian Warner
As a United States Pony Clubs (USPC) member of nearly 14 years, I've grown up in the Pony Club community, which values collaboration, compassion, responsibility, and service. Learning these values from a young age has assisted me in developing both as a horsewoman and as a person outside of the horse industry.
Seeing how these values shape and mold Pony Club members has encouraged me to seek out opportunities to expand access to equestrian opportunities—through encouraging members to join Pony Club, supporting existing members, and even stepping into a professional career with horses, where I strive to connect with new equestrians.
Of course, true to Pony Club fashion, I believe we work better and are stronger as a team. So, while embarking on my mission to support and encourage existing and new riders, I knew I had to seek out a team of like-minded individuals to collaborate. What better place to turn than other Pony Clubbers?
I heard of the USPC National Youth Board, otherwise known as the NYB, through some friends who had previously served on the board. I remember them talking about the passionate individuals they met, the projects they created and oversaw, and the chance they had to make a real difference in the organization and the industry about which we feel so passionately.
Deciding to apply for the National Youth Board was an easy decision in a sense, as I knew it was just the group I needed, and the group which I felt I could contribute to. That said, it was a little unsettling; with so many other responsibilities in my life, I worried I wouldn't have enough time to commit and that I couldn't live up to my (or other people's) needs or expectations. However, I have so much gratitude for Pony Club for all the opportunities it has given me over the years. Without it, I wouldn't have met the friends and trainers I have and would not have been in the position to start my own business this year.
That gratitude and belief in the Pony Club system encouraged me to hit the submit button on my application. If I can assist in providing the opportunities I had to another rider, my work will be well worth it!
My first few months as a National Youth Board member have proven that I had nothing to be nervous about. The team committed to working together for this organization is strong, with passionate and compassionate people. I'm thrilled to be serving as one of them…and would encourage you to take the leap as well!
To learn more about the National Youth Board, please visit www.ponyclub.org/Members/Leadership/NatYouthBoard/Default.aspx. Applications for new board members are accepted each Fall. Applicants must be a participating current USPC member, be between 18 and 23 years of age as of January 1 of their first term they would serve, and there is no required certification level. Learn more or apply here.