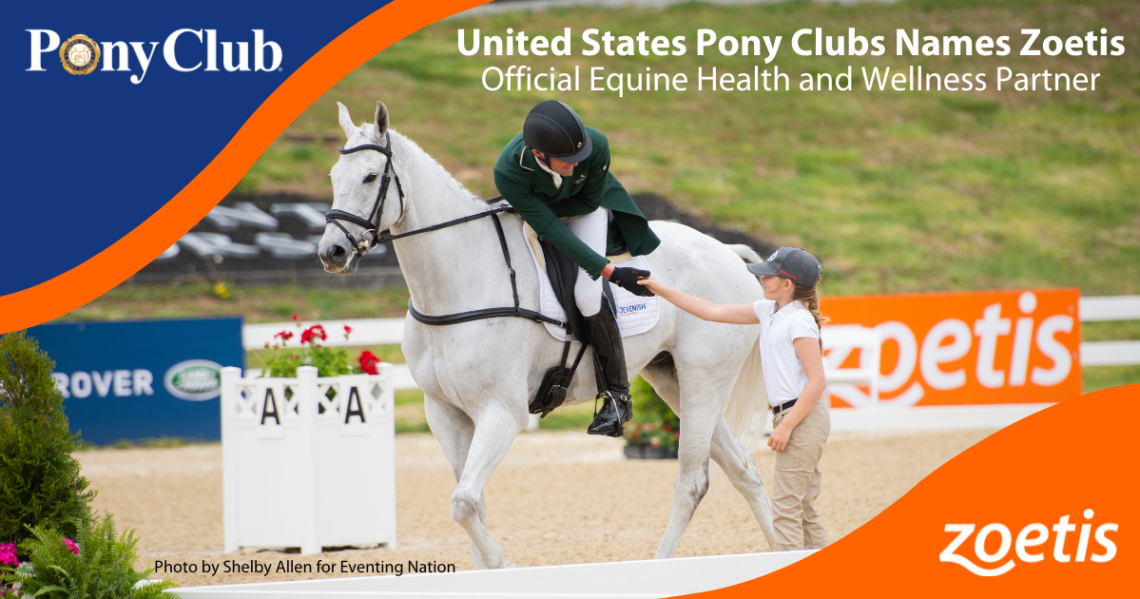 New USPC Partner Highlight: Zoetis Equine
By Zoetis Equine
As a division of the world's leading animal health company, Zoetis Equine is relentlessly committed to horses and their caregivers. Learn more about Zoetis, the Official Equine Health & Wellness Partner of the USPC!
All USPC members know that when horses and ponies recognize care and dedication, they return it tenfold. The U.S. Equine division is by the side of horses and their caregivers every day, helping strengthen those relationships by providing health-care products designed to help horses live a happy, healthy life.
As part of the company's Long Live the Horse campaign introduced in late 2021, Zoetis Equine is committed to showing that, because horses add so much to our lives, it is imperative that we provide them with the best possible care in return.
"The Zoetis Equine team is proud to support the Pony Club mission, which teaches the next generation the horsemanship, leadership, and responsibility to enjoy a lifetime of horse ownership, riding, and other activities with horses," said Jen Grant, Head of Marketing, U.S. Equine for Zoetis. "From the barn to the veterinary clinic to a Pony Club rally, we're committed to being by the side of horses and their caregivers."
A Diverse and Growing Portfolio Supports Comprehensive Horse Care
As a long-time trailblazer in the animal health field, Zoetis offers leading equine health products, including a variety of dewormers, sedatives, regenerative medicine devices, vaccines, and much more. For over 70 years, Zoetis and its legacy companies have been committed to helping horses live their best lives.
"I couldn't be more excited that Zoetis is now an official sponsor of the United States Pony Clubs," said Ken Bunn, Executive Account Manager at Zoetis and proud seven-year Pony Club volunteer. "Through volunteering with my local Pony Club, I've seen firsthand how much horses add to the lives of young people by teaching them responsibility, instilling leadership qualities, and building self-confidence. Both Zoetis and Pony Club have long been dedicated to providing horses with the best possible care, so it makes sense to bring these two organizations together to further support the next generation of equestrians and the horses that teach them so much."
---

About Zoetis— Official USPC Equine Health
and Wellness Partner
To learn more about how Zoetis is making lives better for horses and those who care for them, visit zoetisequine.com and Zoetis Equine on Facebook and Instagram.
---