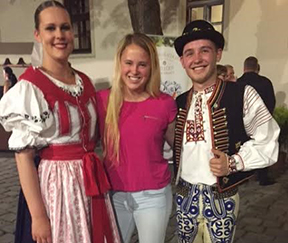 Meet your 2019 National Youth Board Members- Elizabeth
USPC would like to highlight the National Youth Board Members for the current term. Today we would like to introduce Elizabeth Larson .
Elizabeth Larson is an incoming representative of the 2019 National Youth Board. Elizabeth is a H-HM and C-2 certified member of High Lakes Pony Club in the Oregon Region. She has enjoyed taking advantage of the many learning opportunities offered by Pony Club, especially Quiz. Last fall, Elizabeth competed in the International Quiz Exchange in Kelowna, BC. She enjoys trail riding her BLM mustang "Finnegan" and eventing her thoroughbred mare "Kat." When she is not riding, Elizabeth loves to experience new and different cultures. She studied abroad twice in high school, for a month in Apia, Western Samoa and for a full year in the Prostějov, Czech Republic. Currently, Elizabeth studies Biochemistry at Willamette University with plans to pursue medicine after graduation.