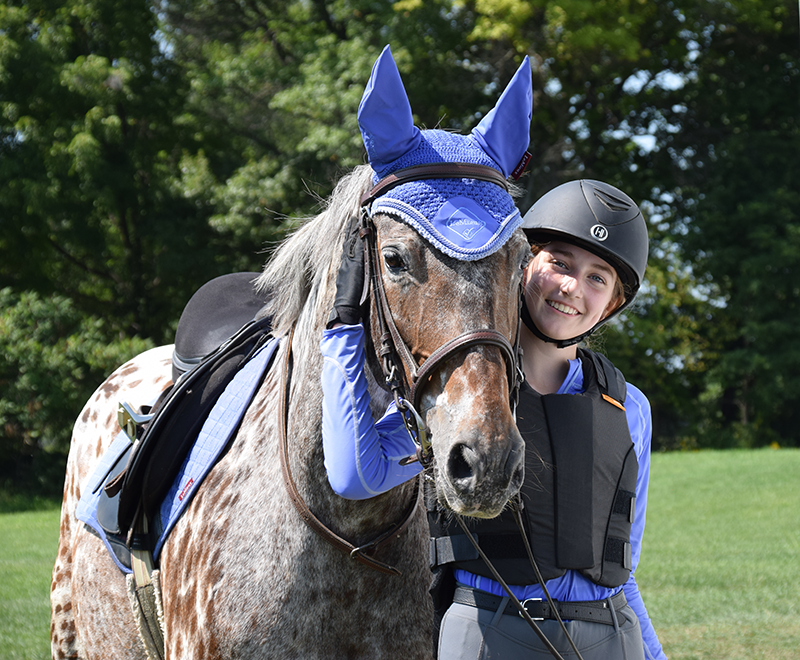 Member Spotlight: Bella Field
Age: 13
Club/Region: Silver Snaffles Pony Club, Great Lakes Region
Years in Pony Club: 4.5
Current certification (and/or certification currently working on): D-3 Eventing, working on C-1 Eventing
What disciplines and/or activities are you involved in?
Eventing, Dressage, Show Jumping, Horse Management, and Quiz. I also tried Tetrathlon at a camp that my region held last summer and loved it!
Tell us about your current mount(s) and what you do with them:
Cleo is a very sweet 14.2-hand 10-year-old Appaloosa-cross. She is green but is learning quickly and aims to please. Right now, we are working on getting a balanced, adjustable canter; straightness, and improving our bending. Cleo has come a long way from when I first started riding her a year-and-a-half ago. We've gone to clinics, rallies, cross-country schooling, shows, Tetrathlon camp, and even riding on the beach in Michigan. I like to try new things with her when I have the opportunity and give her as many different experiences as I can.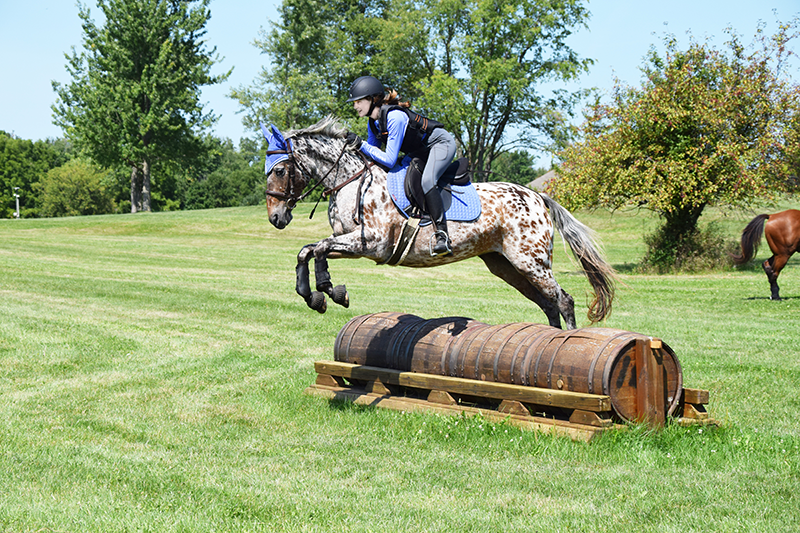 Tell us about your goals (with Pony Club, with riding, and life):
My goal right now is to get Cleo to a C-1 level and to get my C-1 Eventing certification on her. I also hope to go to USPC Championships with her in 2024 for Show Jumping.
What is your favorite thing about Pony Club?
There are many things I love about Pony Club. The rallies and other opportunities it provides are unique experiences you can't find anywhere else. I've also made some of my best friends in Pony Club and have created lifelong memories with them. I enjoy traveling out of state to different equestrian facilities to do Pony Club activities. I've done so much more with my horse than I would have ever done without Pony Club.
What is one thing you would tell younger members first joining Pony Club?
Don't rush your certifications. Take your time and make sure you are ready for your tests. Enjoy your time in Pony Club, and don't stress about progressing quickly. I'd also tell them to be as active as they can and to take advantage of all the opportunities Pony Club offers.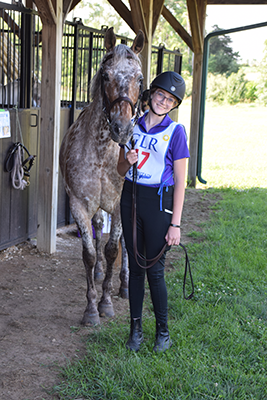 What is your favorite way to prep for a Horse Management certification?
I like to use the Pony Club manual and test sheets to have my mom quiz me. My friends and I have also had study sleepovers together in the past. Getting help from more knowledgeable people for things like wrapping legs is also a good idea.
If you could try any other discipline or activity, what would it be and why?
I would try Mounted Games, because it looks fun and would be a new riding challenge. I was able to watch the Mounted Games competitors at USPC Championships last summer, and they were amazing! I recently have had the chance to practice some Polocrosse skills at my barn and would like to continue to learn more about that discipline.
Favorite Pony Club memory:
My first mounted regional rally was in June 2019 at Albion College in Albion, Mich. I learned so much about how rallies work, time management, and how important it is to work as a team. I shared a pony with my teammate, Katie, and that's how our friendship began. She's still one of my best friends today.
What makes you #PonyClubProud?
I am proud that I can not only ride a horse, but I can also properly care for them thanks to the horse management skills I've learned while being in Pony Club.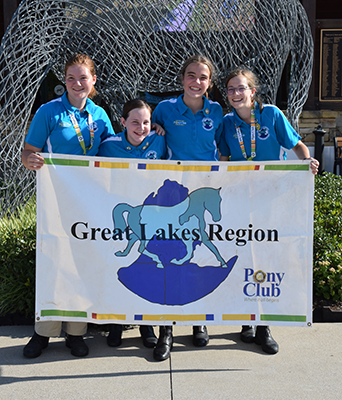 Is there anything else you would like to tell us?
Last summer, I went to USPC Championships East at Tryon International Equestrian Center. It was my first time at Championships, and I had a great time. It was so cool to see an equestrian center of that size. My team and I went for Quiz. I recommend competing in Quiz for your first Championships experience since it is less stressful than taking a mount. My team consisted of me, two of my best friends from my club, and a scramble from our region. It was fun to get to know a new person from our region that I probably wouldn't have ever met without USPC Championships. We ended up placing second with only two points separating us from first. If you go to USPC Championships, be sure to bring lots of regional pins, because trading and collecting pins from other regions is so fun! My favorite memories were walking in the opening ceremonies, and also the competitor party and upper-level showcase on the last night.
This Member Spotlight was originally published in the Spring/Summer issue of Discover USPC magazine. Read more content from that issue.
Want to be featured in a future Membership Spotlight? Fill out the form here.