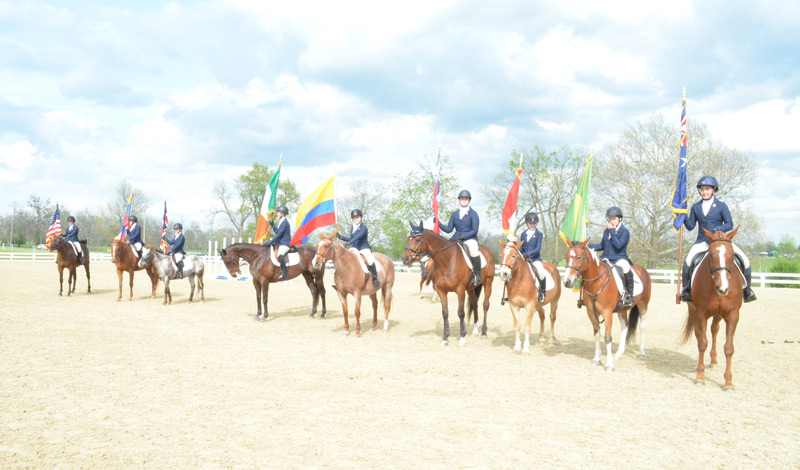 Pony Club was Definitely Proud During the 2022 Land Rover Kentucky Three-Day Event
By Sarah Evers Conrad, USPC Marketing and Communications Director
The United States Pony Clubs (USPC) had many proud moments during the 2022 Land Rover Kentucky Three-Day Event—from Pony Club flag-bearers during two opening ceremonies and young volunteers in the ring during dressage, to numerous Pony Club-sponsored events for members and all the Pony Club visitors to the USPC booth. Pony Club was especially proud to cheer for alumni who represented USPC and international Pony Clubs in the 4* and 5* eventing competition. It was certainly a weekend to remember.
Parade of Nations
Pony Club members from the MidSouth Region took center stage in front of a packed stadium on Saturday night and on Sunday morning. To kick off opening ceremonies for Saturday night's $225,000 Kentucky Invitational CSI3* Grand Prix, 10 riders from Keeneland and Bluegrass Pony Clubs expertly handled their trusty mounts as they marched into the Rolex Stadium proudly carrying the flags of all nations competing in the event that night. On Sunday morning, six riders served as flag-bearers for the opening ceremony and presentation of officials and flags before the CCI4*-S Jumping Test.

Dressage Volunteers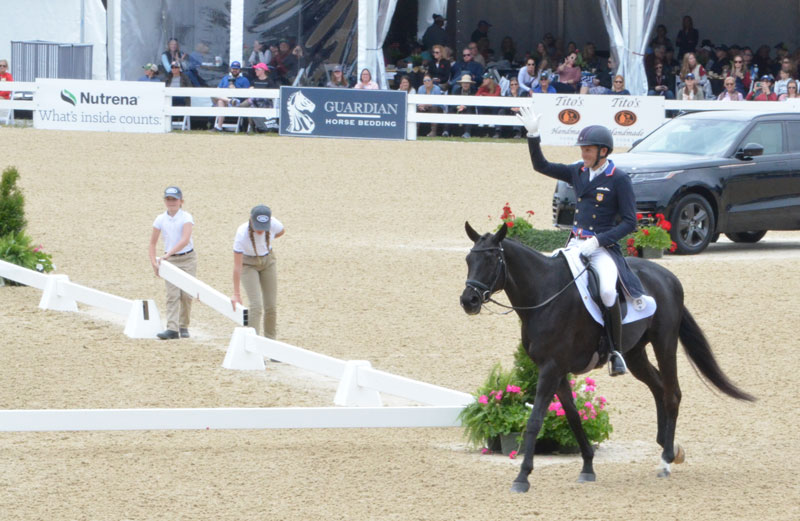 Another Pony Club presence included young volunteers in the dressage arena during the Thursday and Friday of the event. Representatives from the GlenAyre Equestrian Center Pony Club Riding Center from the Midsouth Region and Hunter's Run Pony Club from the Tri-State Region were scribe runners and helped open and close the in and out gates.
Exclusive USPC Meet and Greet/Barn Tour
Ten lucky USPC members won the drawing to go behind the scenes for an exclusive barn tour and meet and greet with Pony Club alumni on Friday morning. The public is not allowed back into the barns during an FEI event due to security, so this was a special opportunity for Pony Club. The group met Woods Baughman (Keeneland Pony Club), who was competing in his first 5* with C'est La Vie 135; and two grooms for Olympian Doug Payne—Alex Ambelang (Five Valleys Pony Club) and Courtney Carson (Boskydell Pony Club). In addition, they met Doug's famous Olympic mount Vandiver, who concluded his career with this Land Rover Kentucky Three-Day Event. The crowd provided a fitting and boisterous send-off as he completed his show-jumping round to wish Vandiver a happy retirement.
Woods talked about how well Pony Club prepared him for his first 5*, especially how to do a proper turnout for the horse inspections. And Alex, who is now a vet tech at a clinic in Virginia, shared that her Pony Club experience really prepared her for the job, in addition to being a professional groom.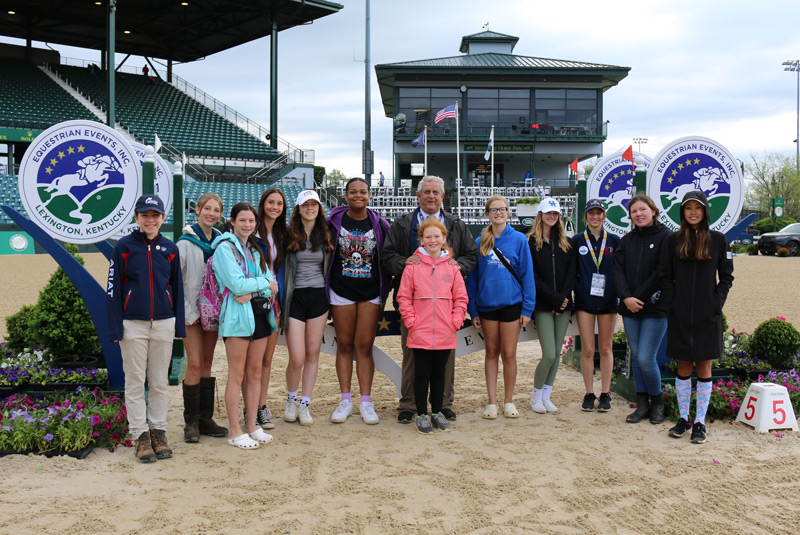 The Course Walk
Sunday morning included another special opportunity for Pony Club members to tour the 4* stadium jumping course before the competition got underway. A hardy group of Pony Club members gathered at the back gate of the Rolex Stadium before 8 am as heavy rain showers passed over the horse park, eventually giving way to blue skies. Course designer Steve Stephens graciously volunteered his time to provide insight into his thoughtful, yet tough, 4* course. He would later comment about what a great group of kids attended and how much he enjoyed leading the walk.
During the course walk, Steve shared information about the obstacles, along with many fascinating facts about course design. For instance, did you know that while show jumping courses typically have a water jump, like a Liverpool, you won't see this in an eventing show-jumping round? This is because eventing horses are trained to jump into water for their cross-country rounds, which would interfere with trying to get them to jump completely over a water obstacle during a show-jumping round. In addition, Steve also had participants count out strides as they walked distances between fences and answered questions as to why he designed the course the way he did.
Pony Club Booth
Meanwhile, Pony Club members were in abundance at the event, stopping by the Pony Club booth to say hello, shop Pony Club apparel and accessories, pick up free Pony Club Proud pins, and share stories about their Pony Club experiences. We met Pony Club members and alumni who had travelled across the country for the event, and even several from Great Britain!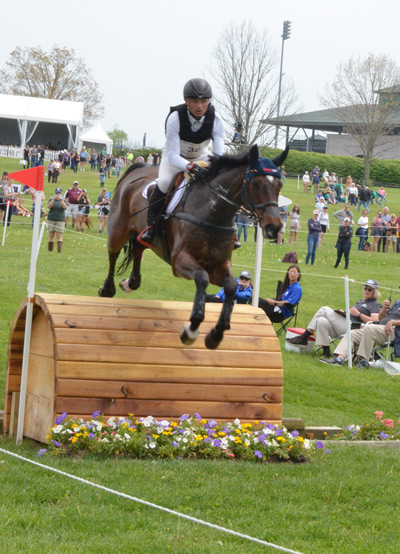 Representing Pony Clubs Worldwide
The Land Rover Kentucky Three-Day Event saw more than half the competitors in the 5* and numerous competitors in the 4* representing not only the United States Pony Clubs, but also Pony Clubs worldwide. These talented alumni proved once again that Pony Club is "where it all begins." And these competitors certainly made Pony Club proud as they rocked the tough competition throughout the weekend.
In the 5*, Germany's Michael Jung (not a Pony Club alum) aboard fischerChipmunk FRH, a 2008 Hanoverian gelding, was untouchable over the weekend as he finished on his dressage score of 20.1 after clear rounds on cross-country and in stadium jumping. It ended up being the lowest-ever 5* finishing score, the most Kentucky 5* wins, and the largest-ever margin of victory as second-placed Yasmin Ingham and Banzai Du Loir of Great Britain finished on a 31.7. Yasmin was involved with the Isle of Man Pony Club. It was Chipmunk's first 5*, and he brought it all to the event.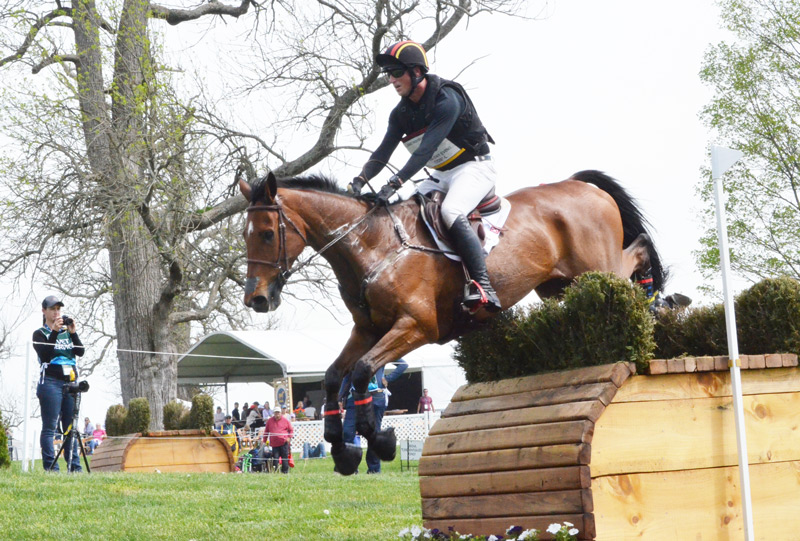 However, not to be outdone, a variety of Pony Club alumni battled it out for third, fourth, and fifth, with their scores separated by 0.1 from each position. Doug Payne joined USPC at the age of seven and eventually earned his A certification in Eventing. As the highest-placed American, Doug and Quantum Leap captured the Land Rover/USEF CCI5*-L Eventing National Championship presented by MARS Equestrian. After dressage, the duo had a score of 37.2, picked up 1.2 time penalties on a clean cross-country round, and went clear in show jumping to end on a score of 38.4.
Boyd Martin aboard his Olympic mount Tsetserleg TSF landed in fourth. This former member of the Forest Hills Pony Club in New South Wales and Pony Club Australia also has an A certification. The 2007 Trakehner gelding had a lovely dressage test to earn a score of 29.3, went clean on cross-country, and finished by adding 8 jumping penalties and 1.2 time penalties in stadium jumping to finish with a score of 38.5.
And Bruce "Buck" Davidson, Jr., aboard Carlevo finished fifth after ending dressage with a 27.4 in dressage, adding 10 penalties on cross-country, and 1.2 show-jumping time penalties to finish on a score of 38.6. Buck was a member of Mr. Stewart's Cheshire Foxhounds Pony Club in Chester County, Penn., as a child.
See below for full results of all Pony Club alumni in the 5*.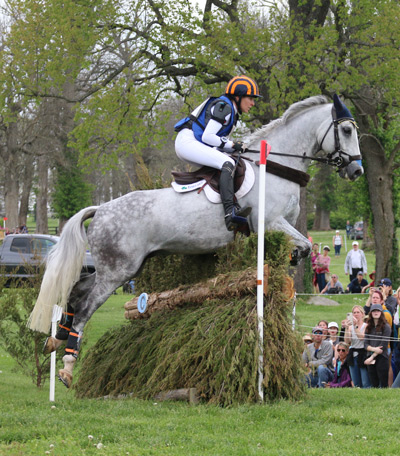 In the 4*, it was Pony Club alumni Liz Halliday-Sharp aboard Cooley Quicksilver who captured the win after moving up the leaderboard throughout the weekend. After dressage, she and the 11-year-old Irish Sport Horse gelding ended with a score of 25.7, which had them in third. Then, they added 4 time penalties to their score in cross-country to move them into second, and a clear show-jumping round jumped them to the win. Halliday-Sharp was a member of the Fallbrook Pony Club in San Diego County, Calif., and finished her Pony Club journey with a C-3 certification.
Phillip Dutton aboard Quasi Cool captured the reserve placing. This A-certified Eventing member of Nyngan Pony Club in New South Wales and Pony Club Australia was in 15th after dressage with a score of 31, in third after cross-country fans saw him add 6.4 time penalties, and finished with 1.2 show-jumping time penalties, which jumped him to second aboard the up-and-coming 11-year-old Holsteiner gelding.
In another note, the Best Turned Out on the final horse inspection on Sunday was Hannah Sue Burnett and Harbour Pilot. Hannah Sue was a member of the Long Run Pony Club and achieved her B certification in Eventing. Her head groom Ashley Kapinos also gave credit to their working student, Katherine Maroko, as it's a team effort, in addition to "all those perfect HM scores in Pony Club" that pay off down the road.
See below for full results of all Pony Club alumni in the 4*.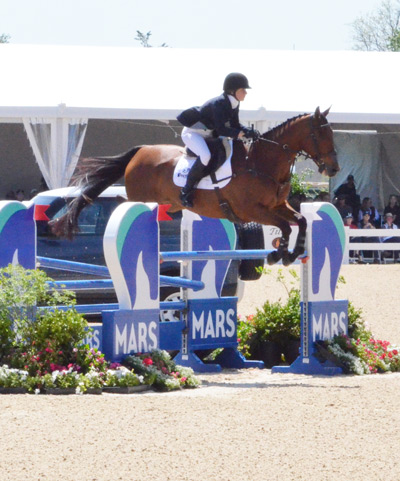 Final Results for Pony Club Alumni in the 5*
3. Doug Payne and Quantum Leap, 38.4
4. Boyd Martin and Tsetserleg TSF, 38.5
5. Bruce Davidson, Jr. and Carlevo, 38.6
8. Sydney Elliott and QC Diamantaire, 44.0
10. Phillip Dutton and Sea of Clouds, 46.8
11. Meghan O'Donoghue and Palm Crescent, 47.5
13. Hannah Sue Burnett and Harbour Pilot, 49.8
15. Colleen Rutledge and Covert Rights, 52.2
17. Alexandra MacLeod and Newmarket Jack, 64.5
21. Jessica Phoenix and Bogue Sound, 71.2
24. Doug Payne and Vandiver, 80.1
25. Booli Selmayr and Millfield Lancando, 82.8
26. Hallie Coon and Global Ex, 89.2
27. Hawley Bennett-Awad and Jollybo, 89.4
28. Woods Baughman and C'est La Vie 135, 102.7
29. Lexi Scovil and Chico's Man VDF Z, 105.5
30. Bruce Davidson, Jr. and Sorocaima, 112.6
Withdrawn: Lauren Nicholson and Vermiculus
Eliminated: Zoe Crawford and K.E.C. Zara, Alexandra Knowles and Morswood, Ashlynn Meuchel and Emporium, Marc Grandia and Campari FFF, Hannah Sue Burnett and Capitol Him, Jessica Phoenix and Wabbit, Bobby Meyerhoff and Fortuna
Retired: Lauren Nicholson and Landmark's Monte Carlo


Final Results for Pony Club Alumni in the 4*
1. Elisabeth Halliday-Sharp and Cooley Quicksilver, 29.7
2. Phillip Dutton and Quasi Cool, 38.6
7. Elisabeth Halliday-Sharp and Cooley Be Cool, 46.5
8. Sara Kozumplik and Rubens D'ysieux, 48.4
9. Valerie Pride and Favian, 48.8
19. Doug Payne and Camarillo, 68.0
20. Sophie Click and Quidproquo, 68.1
21. Heather Gillette and Vincent Chase, 72.7
26. Missy Miller and Quinn, 103.9

Withdrawn: Ryleigh Leavitt and Moonlight Crush
Eliminated:Doug Payne and Starr Witness, Elisabeth Halliday-Sharp and Cooley Moonshine, Jessica Phoenix and Humble GS, Bobby Meyerhoff and Albano, Joe Meyer and Buccaneer, Ellen Doughty-Hume and Breakin' All the Rules, and Meaghan Marinovich-Burdick and Riviera Lu, Bobby Meyerhoff and Lumumba, Alexandra Baugh and I Spye, Joe Meyer and Harbin
Retired: Buck Davidson and Jak My Style, Alexandra Baugh and Mr Candyman