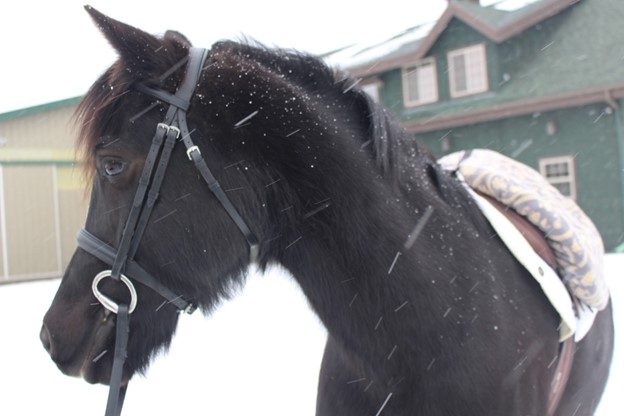 Cold Weather Riding Exercises
By Madison Ritsch, USPC National Youth Board
Winter riding looks different for Pony Club members all across the country. For me, winter riding sometimes barely feels like riding at all. I live in the Rocky Mountains of Colorado at 8,000 feet elevation with no indoor or covered arena. Twelve inches of snow is pretty much guaranteed at any point during the winter months, and you'd be lucky if the temperature gets above 30 degrees Fahrenheit. That said, we do what we can to keep the arena in somewhat rideable shape—shoveling, snow plowing, and dragging to keep the ground even and flat. While some snow can be great to ride in, deep snow that is frozen on top and soft underneath can be very dangerous for your pony's legs. So what can we do to ride and stay in shape in the cold?
Walking can be incredibly beneficial for your horse. Even with poor footing, if walking is all you can do, walking can be a great chance to work on correcting your fundamentals—rhythm, relaxation, and connection. Lateral work, walking over poles, and working on collection can even help your horse maintain some of his muscle. While it is inevitable that muscle will be lost when you aren't jumping, doing trot sets, and more, you can limit how much is lost. If the footing is good enough to trot in some areas, take advantage of it! Work on perfecting your transitions.
Additionally, use your terrain. The road to my barn is full of big hills and wide-open roads. When the snow isn't slick or slippery, I make an effort to spend 20-30 minutes a few times a week hand-walking up and down these hills. I find that hand-walking hills in the snow is essential for your pony's safety. Being on the ground, stepping in the snow first hand allows me to feel the footing, pick out the best places to have my pony step, and decide if it is too dangerous to continue. Hill work is such a great way to help your pony keep some muscle, elevate their heart rate, and keep their tendons and ligaments in good condition. 
Stay safe in the cold this winter and enjoy these cold weather riding tips and exercises!
The National Youth Board (NYB) serves as a liaison between Pony Club's youth members and the Board of Governors by communicating the needs, ideas, and concerns of USPC youth. NYB members also work with the national office on projects related to marketing, leadership development, and service for the benefit of the organization and all Pony Club members. Delegates of the NYB are between 18 – 23 years of age, highly motivated and dedicated, and have strong leadership and communication skills. To learn more, log in and visit the National Youth Board page: https://www.ponyclub.org/Members/Leadership/NatYouthBoard/