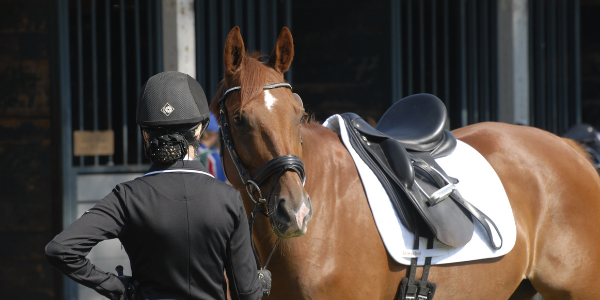 Make the Most of Spring Horse Grooming
By Liv Gude, Proequinegrooms.com
Brought to you by Shapley's Grooming Products, Official Grooming Product Sponsor of Pony Club
Here are some tips to use in the spring to get you and your horse ready for summer.
Shed & Shine
As the days get longer, your horse will decide to start shedding, and you will have a lot more hair to deal with. Use a warm and sunny day to give your horse a bath; the extra time spent scrubbing and rinsing will loosen a lot of hair. If the days are not quite warm enough for bathing, use your currycomb for extra long sessions to help shedding. Be aware that not all currycombs are comfortable for your horse's legs and face, so watch his body language and switch to a softer curry when necessary. Spend even more time after you ride to curry again! The exercise and movement will loosen more hair, and you might find that he will shed more after exercise than before.
Another way for your horse to shed is to let him roll in a sand patch. He might leave a nice big horse shaped print in the sand. You will also have to curry him after a really sandy roll, which will also help the shedding process.
If your horse could use some help in the shine department, you can also add a grooming oil, such as Shapley's No. 1 Light Oil, into your grooming routine. Place a little oil on a grooming mitt or washcloth, and wipe your horse lightly. The oil will shine and condition. The No. 1 Light Oil also removes shedding hair as it sticks to your mitt or cloth.
Spring Skin Conditions
As you spend more time grooming your horse, you will be able to find any skin conditions early. Spring is a popular time for mud and wet pasture, which can lead to scratches. Scratches is a bacterial skin infection that can cause scabs, pain, and swelling. Using medications suggested by your veterinarian and Shapley's M-T-G can help your horse heal. You will probably find the early stages of scratches with your fingers, as the scabs are often hard to see under a fuzzy leg. As you are grooming, be sure to feel each leg up and down for skin issues.
Take the time to use your fingers all over your horse, looking for lumps, cuts, scabs, and even insect bites. You might find some ticks as the weather warms up. If it's a damp and wet spring, you might find your horse with some scaly hair loss that is a sign of rain rot. Your veterinarian can help you decipher any weird skin issues you find, and give you a treatment plan. Shapley's M-T-G can also help with them.
Spring into Summer
Perhaps the most exciting part of spring is getting ready for games, rallies and shows. Preparing your horse takes more than just practice in the saddle. Tack must be safe and clean, and your horse needs to wow the judges with good grooming and shine. This is a daily effort, built over time! Even if you are not riding that day, a good grooming session is a great way to spend time with your horse.
You might want to have a practice show grooming session, complete with special shampoo to enhance your horse's color. Equi-Tone shampoos clean your horse, and provide his hair color a boost. This is great if your horse lives outside and has become a little bleached from the sun. As some finishing touches, polish up your horse's coat with more currying and perhaps a bit of shine from a product like Shapley's Hi Gloss Finishing Spray.
The more you can practice grooming at home, the lovelier your horse will be when it's time to show. Finish the picture with clean, conditioned tack, tidy leg protection for your horse if your discipline calls for it, and a nice outfit.
Enjoy the spring and have a great time grooming your horse!
---
About Shapley's — Official USPC Grooming Product Sponsor
Shapley's has been producing superior equine grooming products for over 85 years, and top riders and horsemen trust Shapley's for their horse's health and shine. Learn more at Shapleys.com
---
A version of this article originally appeared in Pony Club News.
Want to read more great grooming tips from Shapley's? Learn to braid with these step by step instructions in DISCOVER USPC magazine.