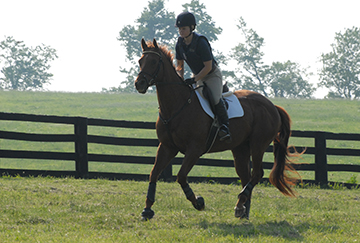 NYB: Reasons to take the H-A/H-HM Testing
Written by Elizabeth Larson
Since the start of the new year is often when we make decisions about our goals for the year, I want to encourage you to include the H-A/H-HM test as one of your ambitions! Here a few of many reasons to take your H-A/H-HM this coming year. I completed this test three years ago during my first semester of college. You got this!
You already have teaching experience.
To the best of my knowledge, the teaching, longing and bandaging are some of the most commonly-failed sections of the H-A test. Since the longing and bandaging are objectively easier skills to sharpen months leading up to the test, the teaching experience of mounted lessons is critical. Experiences tutoring and teaching in other facets of life will come in handy too!
You are interested in human and/or veterinary medicine.
If you have any interest in human or animal medicine, the knowledge on the H-A test will be extremely useful to you. Not only do many of the topics on the H-A test align with material you will learn in medical or veterinary school, the depth and detail of the knowledge required will be a taste of the detailed information you must know to be a doctor or veterinarian. It may also shed some light on your preferred thinking mode… Do you prefer looking at the big picture or assessing the details? The H-A exam will require that you do both.
You are seeking a prestigious working student position. The H-A exam is the college degree of horse management in the equine world. Your H-A test is a demonstration of your hard work, dedication and interest in the care, management and training of your equine partners. Much like a college degree, completing the H-A exam will open up opportunities to you in the horse world.
You won't have to bandage or longe at the C-3 and B. I had the opportunity to take my C-3 test this fall on a borrowed horse. Since the H-A test assesses these skills at a higher level, by longing an unfamiliar horse and performing a greater variety of bandages, you need not show these skills again at the C-3 and B if you pass your H-A first. It was a great relief to take a breather during the test while my peers at the test frantically grabbed their longing and bandaging gear.
You want to be a better horseman/horsewoman. Ultimately, every Pony Club certification is an opportunity to become a more knowledgeable horseman or horsewoman. The knowledge you gain from your exam will be of direct use to you during your lifetime as a horse owner, but it will also have a greater ripple effect upon those around you. Your knowledge will help your friends, your boarding barn and ultimately, improve the care of horses in your community. Since horses cannot advocate for themselves, your knowledge gained from the H-A exam will serve the noble goal of improving the quality and longevity of equine lives.