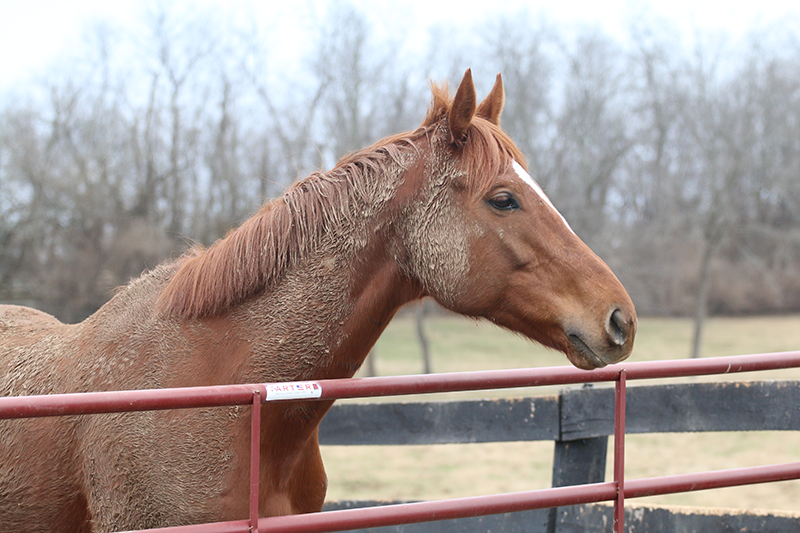 Six Winter Grooming Challenges
Brought to you by Shapley's Grooming Products, the Official Grooming Products Sponsor of USPC.
By Liv Gude
Your horse's health starts with a great grooming routine, no matter the season. As the flies begin to disappear and your horse's winter coat grows in, your grooming routine may change a bit. Cold weather has its own set of grooming challenges, each with easy solutions.
Winter Grooming Challenge #1: Static and Static Shocks
find your horse's coat is filled with static. Tail hairs may cling to your horse's body, and sometimes you create static shocks when removing blankets or grooming your horse. While static shocks are not dangerous, they can be annoying as you groom. Static in the skin and hair coat will hold on to dirt and dust, no matter how much you brush.
The solution to combating static is to add moisture to your horse's grooming routine. A tiny bit of dampness will also remove any remaining dust from the surface of your horse's hair. 
Use a grooming spray, like a no-rinse shampoo, to cut the static. Spray a little bit on your currycomb and dandy brushes, or give your horse a few sprays over his body. A grooming spray will also add some shine to your horse.
You can also condition the coat with a shine spray, which will reduce static. 
A damp rag, washcloth, or sheepskin grooming mitt is another option to bust static. Wipe your horse before grooming to reduce static. Finish your grooming session with another damp rag to lift any remaining dust from the coat.
Winter Grooming Challenge #2: Dry Hair
Horses may lose a bit of shine as they grow their winter coats. Dry and brittle hair that needs a bit of conditioning can benefit from buffing with a light grooming oil. Oil buffing will also produce a shine and help your horse's coat stay waterproof.
There are a few different ways to oil buff after grooming. Apply a tiny amount of grooming oil, about the size of a dime, to a dandy brush. Vigorously brush your horse's coat to work the oil in. You will need to reapply the oil a few times.
Another option is to hot towel your horse with a bucket of hot water mixed with some grooming oil. Mix about half a gallon of hot water with a few capfuls of grooming oil. Swirl this mixture around with a washcloth before wringing out almost all the water. Use your washcloth as a currycomb, creating circular patterns as you buff your horse. Your cloth should not make your horse wet.
Winter Grooming Challenge #3: Stains and Dirt
All horses get stains, and you will easily see them on gray coats. A simple way to remove stains and eliminate odor is to use a no-rinse shampoo after thorough grooming. Spray any stains lightly and wait a few minutes. Use a dry or damp cloth to wipe away stains and odors. Using a cloth that is too wet will result in a foamy horse.  
To help prevent deep stains, be sure to oil buff your horse. The conditioning qualities of a grooming oil also help repel stains.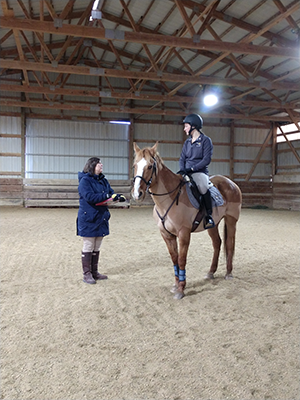 Winter Grooming Challenge #4: Sweaty Horses
A horse's winter coat is terrific for keeping warm, but it will make some horses too sweaty after exercise. 
Consider trace clipping or body clipping your horse to reduce the amount of sweat created. This makes grooming easier and keeps your horse more comfortable during exercise. A clipped horse also dries faster after riding.   
Horses that get somewhat sweaty but not enough to warrant clipping can dry faster with the help of wool or fleece coolers. After any sweat marks dry, it's easy to curry them out. A cactus cloth is also great for buffing away dried sweat marks.
Winter Grooming Challenge #5: Dried-Out Tack
Your horse's skin isn't the only thing that can dry out in winter. Some tack rooms are cold and dry in the winter, and your leather tack may start to feel a bit stiff. Humidifiers in tack rooms can prevent this, and it always helps to condition your tack frequently in winter. 
Winter Grooming Challenge #6: Muddy Legs
Mud is part of horse life, and it's a little bit more challenging in the winter. Muddy legs need to be clean before you can wrap your horse's legs or use sport boots.  
Groom away any mud on your horse after it has dried. This is more effective for dirt removal and leaves your brushes dry. Muddy brushes need to be cleaned before another use. On warmer winter days, you could bathe your horse with shampoo to remove all traces of mud for a fresh start.
You may consider trimming or clipping your horse's lower legs to make mud management easier. However, clipping with a #10 blade may remove too much of the hair and thus not be the best option for some cold and snowy climates.  
There are two methods to leave enough hair on the legs but trim away excess feathers. Instead of clipping against the direction of the hair growth, flip your clippers upside down and rake the hair downwards until you are satisfied. Your other choice is to use clipper combs, which attach to your blades and put some distance between the cutting edges and your horse, removing less hair.  
Grooming in the winter is a great way to keep tabs on your horse's health and happiness. And, a well-groomed horse is more likely to stay stain-free and avoid irritations from mud and dirt under the saddle.  
Check out all of the Shapley's Superior Equine Grooming Products at your local tack store or online retailer to help you conquer all of your winter grooming challenges, and visit www.shapleys.com for more expert grooming advice.
This article about winter grooming challenges was originally published in the Fall/Winter 2022 issue of Discover USPC magazine. Read more content from that issue.
---
About Shapley's — Official USPC Grooming Product Sponsor
Shapley's has been producing superior equine grooming products for over 85 years, and top riders and horsemen trust Shapley's for their horse's health and shine. Learn more at Shapleys.com
---