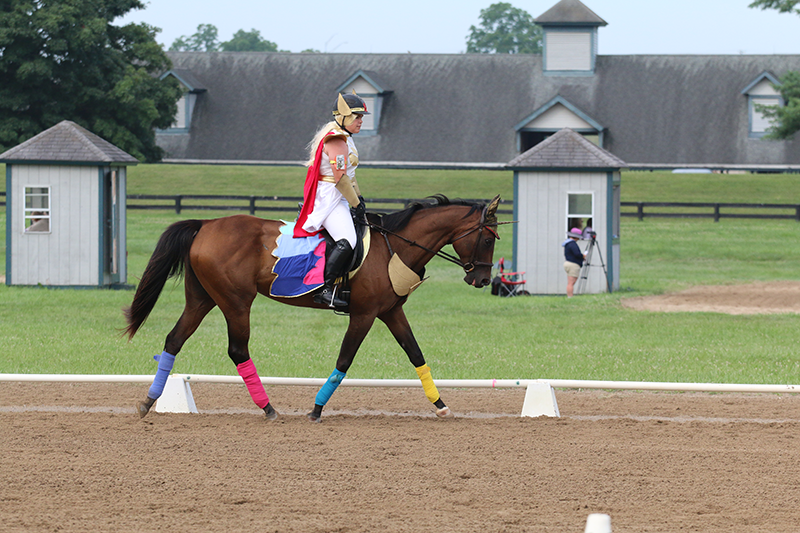 Horsey Halloween Costume Safety Tips
By Liz Moyer, USPC Fundraising and Marketing Coordinator
Costume classes are a staple at playdays and horse shows, and also a fun part of performing a musical freestyle. In the month of October especially, opportunities abound to dress up with your horse at shows and events. Here are some tips to stay safe and have fun with Halloween costumes for horse and rider.
Halloween Costume Ideas for You and Your Horse
Superheroes and characters from cartoons, books, or movies are a great source of costume ideas for you and your horse. Farm or safari animals are also popular costumes for horses. Is your horse a unicorn, fit for a princess to ride? Go with the fairy-tale look. Skeletons, witches, pumpkins, ghosts, and bats are always classic for Halloween costumes. Your horse's name, breed, or color might also be an inspiration for a costume. It's fun to pair your costume with your horse's to be part of a duo, such as a racehorse and jockey, bride and groom, etc. You can also do matching themed costumes with your Pony Club pals.
Horse-Safe Costume Design
Get creative with your horse's regular clothing for the base of the costume, including using sheets or stretchy lycra horse hoods, shoulder guards and any kind of item that is often used when trying to keep the show coat sleek and the mane lying flat. You can also incorporate colorful saddle pads, ear bonnets, polo wraps, and boots to accessorize the look. These are items you probably have on hand that your horse is already used to wearing and should fit him well. Using items that he's already used to wearing means he won't have to be trained to anything odd or different before use at a Halloween or costumed event.
Any paint or glitter products used on your horse's coat should be non-toxic and designed to wash out easily. Look for horse-specific products, or ones that are labeled safe for human use. Tempera paint comes in lots of colors and can be easily found at craft stores. At the tack store, colored show touch-up sprays in black, white, and other natural horse colors can be put to creative use. For hooves, use peel and stick hoof decals or hoof polishes made for equine use.
When constructing your horse's costume, be mindful of any crinkly or flappy parts that could spook your horse or other horses around him. Costume elements should stay in place under normal circumstances but release easily in an emergency situation. Avoid anything sharp, stiff, or pointy that could cause injury.
Ride Safe in Costume
Always keep safe horsemanship in mind and follow normal safety rules and routines. Base your costume around your helmet, and make sure the costume doesn't interfere with the fit or function of your protective wear. And don't ever forego safety for the look of a costume. Costumes also shouldn't have any dangly parts that could get tangled or caught on anything. For both you and your horse, make sure masks, hoods, or anything worn around the eyes fits well and won't obstruct vision.
Halloween is the spooky season, but that need not apply to your horse's behavior. Plan ahead on your costume so you have time to safely introduce it to your horse before your event. Practice riding in it to ensure you can both easily move around and that your horse is comfortable with all parts of the costume.
Consider your horse's temperament and how well he will respond to playing dress up. If a full costume might be too much for him to cope with, keep it simple. You can still have plenty of fun with colorful accessories, festive braids, or a touch of paint or glitter.
After playing dress up with your horse, wash off any paint and remove hoof polish right away. Reward your cooperative mount with his favorite treat or let him go bobbing for some apple slices!