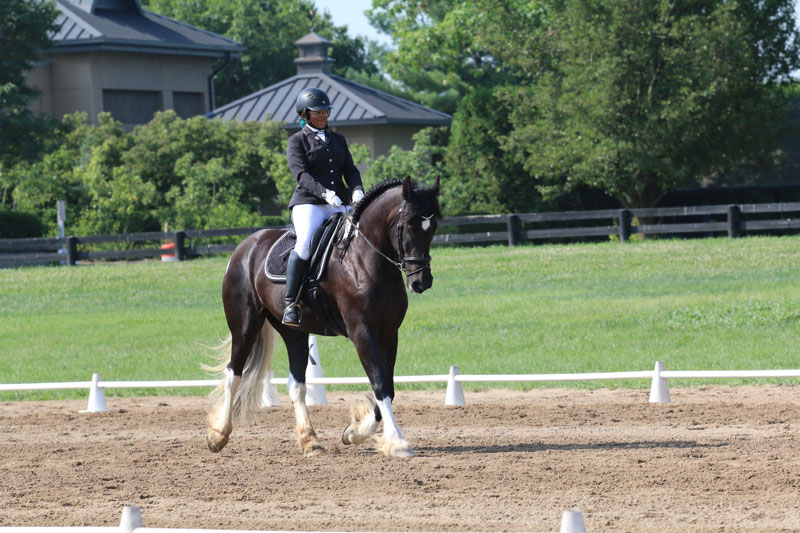 National Testing Feedback Project Helps Set Pony Club Members Up For Success
By Elizabeth Moyer
Earning a national level certification in Pony Club is an impressive accomplishment. Pony Club's national level certifications begin at the H-B/C-3 level and progress through the A level, which is the most prestigious and demanding top-level certification in Pony Club. Earning a national level certification requires hard work and a lot of preparation to succeed.
If you are preparing for a national level certification, you can set yourself up for success with the National Testing Feedback Project. This program allows current C-1 and C-2 and above members to receive feedback from national examiners prior to testing, all from the convenience of home. With this helpful input directly from the experts, you can continue building your skills and feel confident that you are on the right track.
Candidates can send in their record book, barn plan, lesson plans, and conditioning schedule ahead of time and get helpful feedback from a national examiner—or two! Videos of riding or horse management skills can also be submitted for feedback.
Benefits on Both Sides
Mary Kolzow, district commissioner of the St. James Pony Club (North Central Prairie Region) used the program while preparing for her H-A test, and feels it contributed to her success.
"It was wonderful to get critiques and feedback early to fix the parts that needed improving," she says. "I found it so beneficial to have the 'teachers' correct my work before the big test!"
Kolzow believes more Pony Club members should take advantage of this program and recommends it to others, calling it "above and beyond."
National examiners are also big fans of the program.
"This is a really valuable education tool because it allows a candidate direct access to a national examiner in an instructional capacity," says Erin Boddaert, a USPC national examiner for more than 10 years and co-developer of the program. She notes that the program lets candidates get feedback in any area of the test that they have concerns about, without any pressure or stress.
There are benefits on both sides, allowing national examiners to be proactive in helping candidates prepare and succeed.
"It's an equally great opportunity for national examiners because we want to see candidates be successful, and this allows us to give advice and commentary in an instructional platform. We really like the opportunity to be helpful and to assist candidates on their way with these national tests."
How to Participate
For information, detailed Guidelines and FAQs are available on the national level candidate materials page of the website (log in to your member profile to access).
Pick one skill or document you'd like to get feedback on and submit according to the instructions. The instruction and testing department at the national office will assign one or two national examiners to review your submission, and you'll receive an email with feedback within about a week.
Documents might include an H-A barn plan, H-B or H-A lesson plan, conditioning schedule, land conservation project, or H-B record book.
Mounted videos might include a dressage test (USDF or USEA), flatwork required skills from the show jumping Standards of Proficiency (SOP), progressive grid (same grid as listed on the back of SOPs), or a show jumping course (if eventing, one of the courses listed on the USPC website). Members may also choose to submit a competition video of a dressage test, show-jumping round, or cross-country course.
Horse Management skill videos might include teaching (mounted or unmounted), longeing for any level, bandaging, or presentation of any H-B or H-A skill listed on the SOP.
After reviewing numerous candidate videos, Boddaert offers a few tips to prepare your submission.
"One helpful tip for submitting mounted videos is to make sure the quality of the filming is good," she says. "A stable video that zooms in on the rider's position and the horse's way of going is super helpful. Also, several minutes of video is preferable to just a small snippet. Although the longer videos take a more time to upload, it is much more helpful to have a longer video to evaluate than just what we can see in a few seconds."

Earning a national level certification in Pony Club is a rewarding accomplishment. It also opens up many opportunities for Pony Club members, such as college scholarships, international exchange teams, National Youth Congress, and the Visiting Instruction Program. Most of all, you'll build an incredible foundation of skills to last a lifetime.
Read more on the blog:
National Level Certification in Pony Club