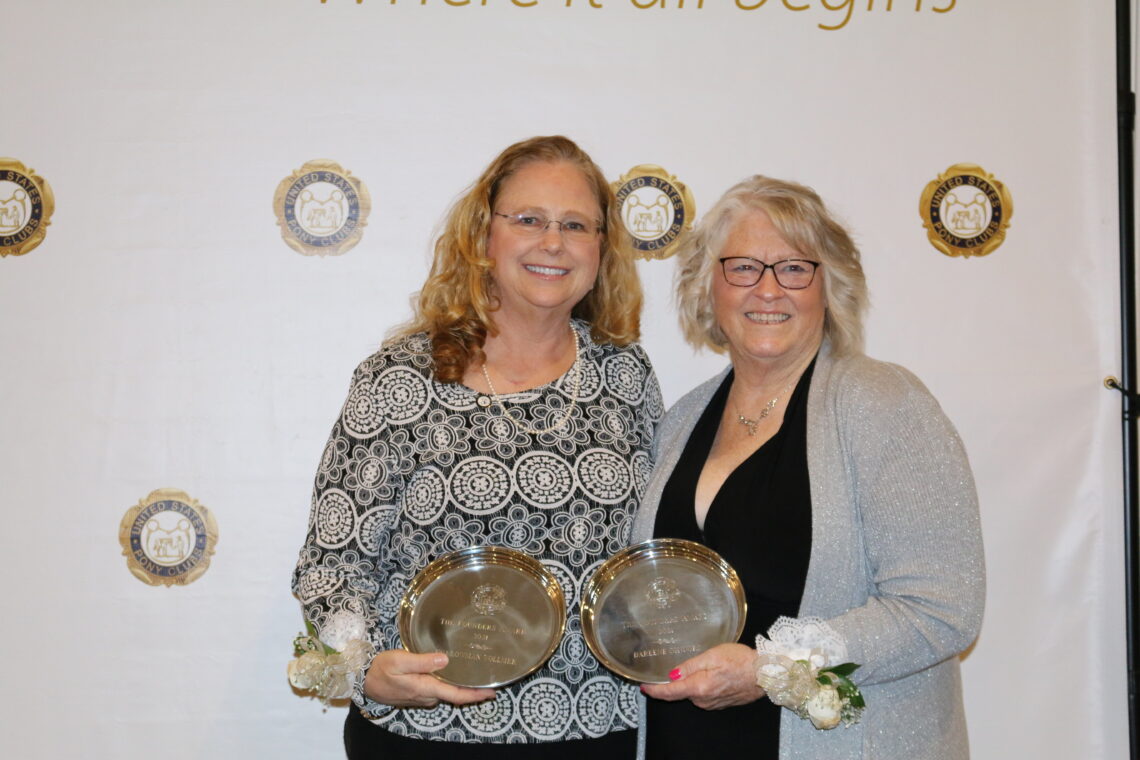 Founders Awards Presented at the 2022 USPC Convention

The Founders Award is prestigious annual award honoring Pony Club's most dedicated volunteers. The award recognizes years of service at the national level, as well as significant contributions at the local and/or regional level.
Darlene Connors and Kim Lowman Vollmer were honored with Founders Awards at the 2022 USPC Convention held January 26-30 in Norfolk, Virginia. Meet these two special longtime volunteers and read more about all that they have accomplished for Pony Club.
Darlene Connors
Darlene's involvement in Pony Club began as many volunteers do, with her horse-crazy daughter joining the organization. Never the one to sit on the sidelines. Darlene quickly started assisting with the unmounted and mounted programing. Volunteering quickly led to Darlene being elected to serve as district commissioner of the Elkridge-Harford Hunt Pony Club. During her time in leadership, she was instrumental in enhancing the members' Horse Management knowledge and skills.
Early on in Darlene's Pony Club leadership career, tragedy struck the Elkridge-Harford Hunt Pony Club. During USPC Festival 1995, club member Francis Pitts, one of the International Mounted Games Exchange team, was tragically killed during a car accident. Darlene's compassion and empathy helped support and sustain members, parents and leaders on site during Festival, and for the years to come.
In 1999, taking her newfound skills and knowledge from serving as district commissioner in Elkridge-Harford Hunt Pony Club, Darlene branched off and started Long Green Pony Club, where she again brought a superior Pony Club experience to the membership.
Never one to rest on her laurels, after eight years serving the members at the local level, Darlene became a vice regional supervisor of the Maryland Region. Her duties and responsibilities included everything from serving as jump crew, set-up, and tear down, and she was also known to cook countless meals for the participants. Beyond her focus on safety for the members, Darlene regularly served as a member of the Horse Management team. Her diligence in making sure everyone had the necessary supplies was instrumental in the success of many Pony Club regional events.
At the request of former Maryland Regional Supervisor Mickey Skipper, Darlene and her husband John began spending their summer vacations in service to Pony Club at USPC Championships East and USPC Festival. As a key member of the Championships Organizing Committee, Darlene again brought her quiet leadership to the group. When the time came for a changing of guard as Traffic & Parking Chair, Darlene was the obvious successor. Her leadership continues to this day, as she recruits and organizes a top-notch group of volunteers who keep the event running smoothly and our members safe each summer. When tragedy struck again and her beloved husband John passed away, Darlene credits her Pony Club family with helping her get through the difficult time.
While not a Pony Club graduate, Darlene has long possessed a love for horses. She lives her life in service to others, whether it be the animals she helped when working at the Baltimore County Animal Control or the people and horses she met through Pony Club. Darlene continues to dedicate a significant portion of her life to Pony Club and other worthy causes like an equine rescue ambulance. During her 30+ year of service, Darlene's adopted Pony Club family continues to grow and include individuals from across the United States. Her daughter, Jessica Connors, a life member, recognizes she could not have earned her B Eventing certification in 2000 without the never-ending support and encouragement of her mother.
Kim Lowman Vollmer
Kim Lowman Vollmer joined Pony Club in the late 1960s. She grew up on a hobby farm where she had the chance to ride and experience all the joys of horses. Kim participated in anything to do with horses such as rallies, camps, events, hunter-jumper shows, dressage shows, gymkhana and trail riding. She also fox hunted where she earned her buttons and colors. She remembers the great fun cub hunting was on Wednesdays during the fall and having her mother call into school to say she was sick!
Kim took advantage of everything that Pony Club offered while growing up. She achieved her B at 14 years old and her A at 17 years old while a member of the Kinnikinnick Pony Club in the North Central Prairie Region. Another notable achievement for Kim in Pony Club was when she won the A National Rally the first time it was held at the Kentucky Horse Park in 1978, along with earning the highest score for teaching.
In her early 20s and 30s, Kim was very active conducting and organizing upper-level clinics in her region. She was known for doing four-day H-A preps and immersing candidates in knowledge to be successful.
Kim conducted C-3 certifications from their beginning, in 1979 and chaired the C-3 testing program for many years in the North Central Prairie Region. She was also a Horse Management judge regionally and nationally for about 10 years. 
Kim helped to organize the North Central Prairie's first Dressage Rally. In the 1980s she was involved in two Pony Club national committees, Visiting Instruction and the Dressage committees. She also became a National Examiner in 1981 and a member of this committee multiple times through the years and is still testing today!
Through the 1990s and to date, Kim has chaired many Instruction Committees such as the Standards and Curriculum Committee and the D-1 – C-2 Committee (and took on the revision of the USPC D and C Manuals-2nd edition). Kim was awarded the USPC Local Legends Award in 2004. In 2019, she became the chair of the new National Testing Curricula Committee helping to update and revise numerous instructional documents on the USPC website.
Click here to learn more about the Founders Award and other volunteer recognition. Founders Award nominations are due July 1 each year, and the award is presented during the Saturday night banquet at the USPC Convention.