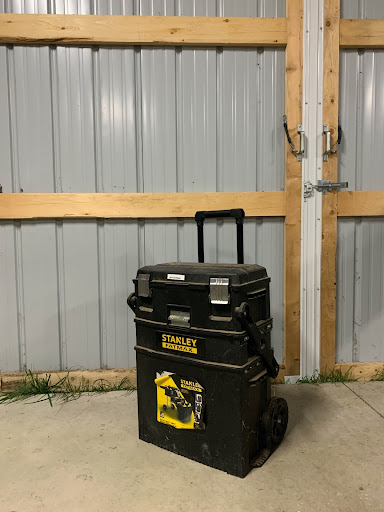 NYB: Creating Your Own Equine First Aid Kit
By: Grace Mitchinson
The equine first aid kit is undoubtedly one of the most important things to have as a rider and Pony Club member. From routinely checking vitals to wound care, your first aid kit will have the tools necessary to treat your horse for any minor ailment. But where should you start? Creating your own equine first aid kit can seem daunting, but here are some tips to help you get started.
Start with a sturdy bin. It's important that your vet kit is large enough to hold all of the required items, and is sturdy enough to last and keep all of your equipment inside clean and safe. My favorite bins to use for first aid kits latch shut to keep things secure, and also have wheels for easy transportation. You can also use large tackle boxes if you prefer small compartments.
Collect the items to go in your equine first aid kit. I use the equine first aid kit checklist from the Pony Club required equipment list as an outline of all the items in my vet kit. As I've treated several horses for different ailments over the years I've added quite a few extra items to my vet kit, but I make sure I always have the basics with me. You can find this list at the Pony Club website in the HM rulebook.
Check expiration dates regularly. Always check the expiration dates regularly on products in your first aid kit, and replace any that may have expired. It's important to have current products to make sure they work as intended, so checking the dates frequently is key! Some items to look out for include antibacterial scrub, topical agents, and sunscreen (for ponies and humans).
Label everything. Always make sure to label items in your vet kit! Many of these items are easily lost, so labeling each part of your first aid kit makes it easy for items to be returned to you. I love to use colored duct tape and a sharpie to label all of my belongings.

Customize it! After you've gathered the basics, feel free to add items to your vet kit as you see fit. Some of my favorite equine vet kit items that aren't included on the required equipment list include a notebook to jot down any medical notes, a folder for vet invoices and paperwork, and many pairs of synthetic gloves for treating wounds, applying ointments, and more.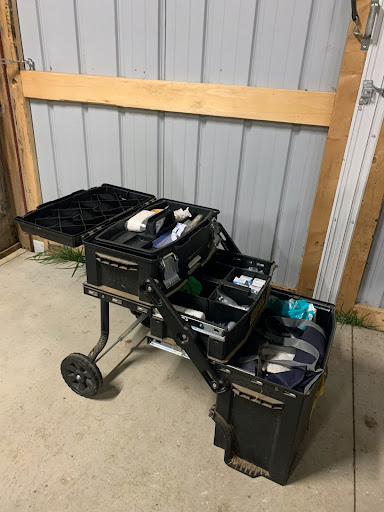 The National Youth Board (NYB) serves as a liaison between Pony Club's youth members and the Board of Governors by communicating the needs, ideas, and concerns of USPC youth. NYB members also work with the national office on projects related to marketing, leadership development, and service for the benefit of the organization and all Pony Club members. Delegates of the NYB are between 18 – 23 years of age, highly motivated and dedicated, and have strong leadership and communication skills. To learn more, log in and visit the National Youth Board page.