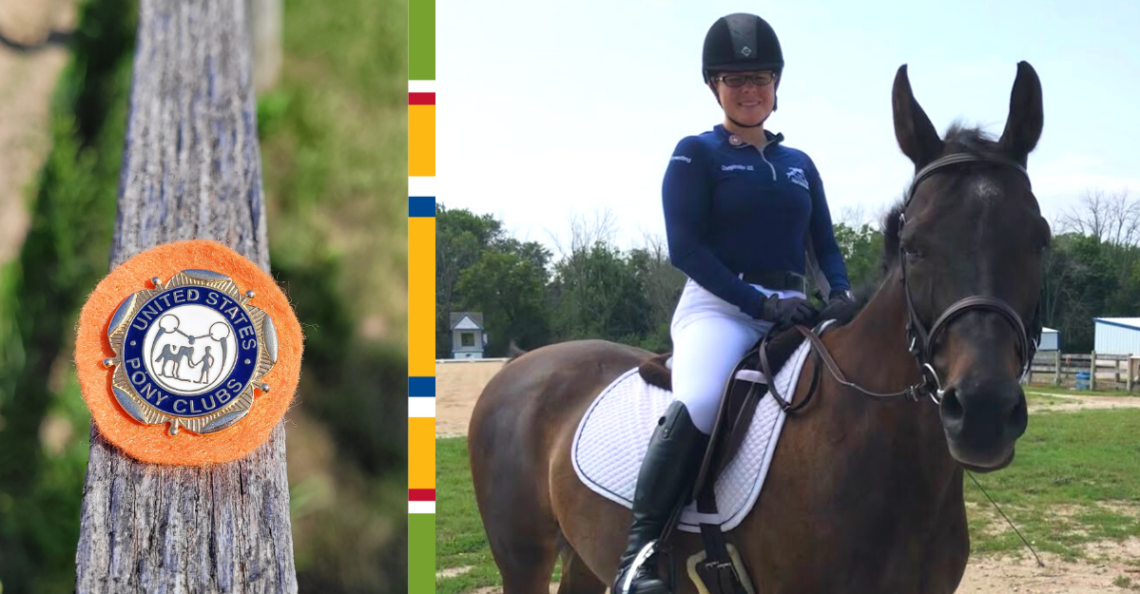 Success Story from an H-A
By Marlene Nauta, RIC of Lake Shore Region, National Examiner, H-HM HM, H EV, H-A D
I don't even know where to begin with this story. A longtime, nearly a lifetime, goal has come to fruition: I am now an H-A! That orange felt represents that I'm an H-A member of USPC. I passed the oral knowledge test for this level back in 2007. Fourteen years and three attempts later, I passed the B riding to make it a complete H-A, instead of an H (with lavender felt).
Willy and I danced in the sand at Second Level to complete the B dressage testing. It was a lot of work, but so worth the journey and end result!
My first attempt in 2007 was an endurance test like none other and my borrowed horse and I weren't able to demonstrate the level after a grueling day demonstrating the C-3 Dressage. I then moved on to college and thought my shot at the B was over. Jump ahead to 2012 and I took my own horse to my second attempt. That summer saw me commuting an hour as my boarding facility closed, and we were about to move to our own farm so Toby moved to a student's farm. I also rode bareback since I didn't have a saddle that fit and had to borrow one for the testing. End result: a lot of work and we didn't show the level of collection necessary for the level.
Finally, 2021 was the year. I had acquired a more capable horse that was my own, an unplanned purchase four years ago; a dressage saddle I could practice in, also a spur of the moment purchase a couple of years ago; a student who pushed my competitive edge to get to that level; an area to practice in; a trailer to haul myself; and the drive to take the time, with a lot of practice and prep done at 9 p.m. after a full day of work.
Why do I do this Pony Club thing?
• The learning and teaching environment
• The camaraderie of like-minded horse people
• The desire to learn and grow
• The horses, who constantly remind me that we never know it all, there is always more to learn
• The examiners, who make the USPC Upper Level program so valuable, and of which I am proud to be a part
• The experience of being a candidate reminds me what my students feel, and allows me to be a better instructor
• The euphoria of accomplishment is the best reward. There is more to success than a blue ribbon.
Now on to the next life goal!
This story originally appeared in the Fall/Winter 2021 issue of Discover USPC, the official magazine of the United States Pony Clubs, Inc.