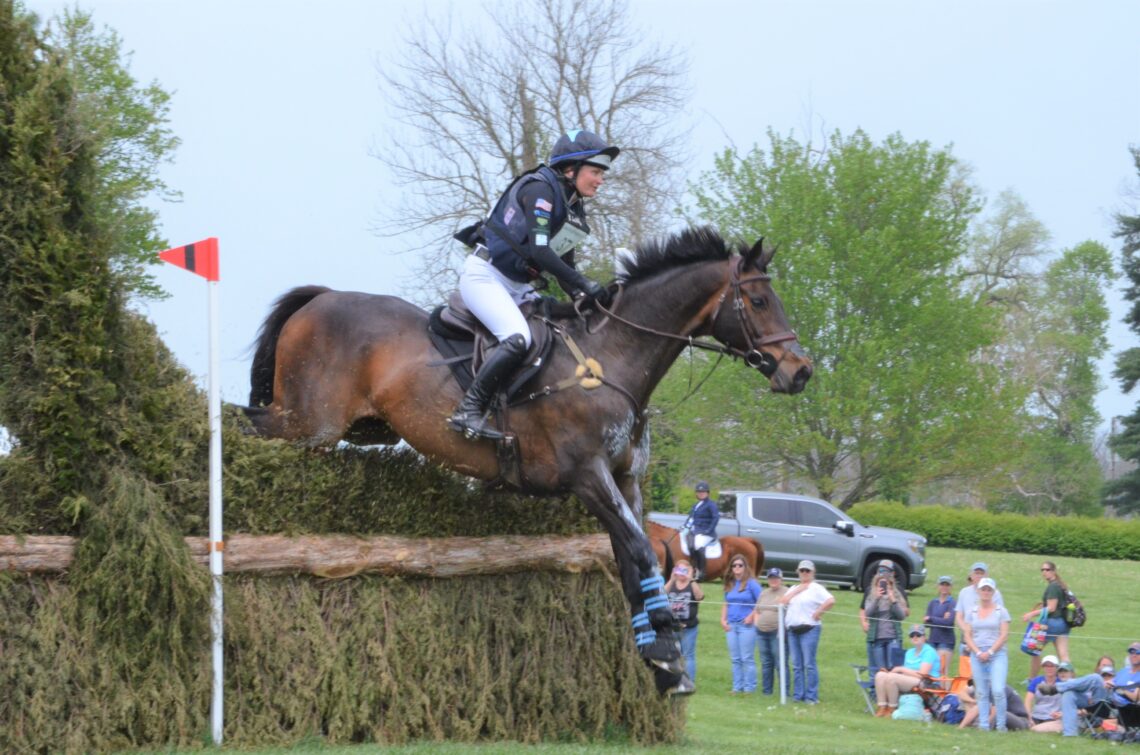 Reflections on the USPC Ann Haller Internship at the Land Rover Kentucky Three-Day Event
By Ruth Rosendaul, 2022 USPC Ann Haller Internship Recipient
I had the amazing opportunity of serving as the U.S. Pony Clubs (USPC) Ann Haller media intern at the 2022 Land Rover Kentucky Three-Day Event. For some background: Ann Haller of Chesapeake City, Md., who suddenly passed away in August 2019, was a fixture within the sport of eventing. She was a graduate H-A EV from Hood Pony Club (Texas)and was involved in Pony Club for over 25 years as an instructor, clinician, coach, a National Examiner, Chief Horse Management Judge, past member of numerous USPC committees and the USPC Board of Governors.  In 2004, Ann was asked to coach the USPC International Show Jumping Exchange Team that went to Johannesburg, South Africa. In 2006, she was inducted into the USPC Academy of Achievement. She was also a Level II USEA Certified Instructor and an FEI Steward. She was the press office at many events, such as the Land Rover Kentucky Three-Day Event, Fair Hill International, Rebecca Farm, North American Youth Championships, the United States Eventing Association's American Eventing Championships, World Equestrian Games, where Ann was the Chief Press Officer for the disciplines of Reining, Vaulting, and Eventing.
When I arrived, I was greeted by many friendly faces who helped guide me on where to go at the event's media center at the Kentucky Horse Park. As soon as I got into the media center, I met Liz Halliday-Sharp, a C-3 Pony Club alum with Fallbrook Pony Club in San Diego County, Calif., and a 2008 Academy of Achievement honoree. She was sitting in first and second place in the CCI4*, and I was able to listen to her press conference.
I passed out a few papers and then was invited to go watch and help with the interviews after dressage. It was nothing like I'd ever experienced before. I was able to be up close on all the action. I was in awe of the different ways riders warm up and how many people really help them get there. I was listening to Olympians' moms tell funny stories about their kids when they were younger and talk about old memories.
I admired the love for these horses and the kindness of the riders. I loved listening to the interviews and how intelligent they all were. I don't think I could pick a favorite from that day, because they all brought something new to the interview. We talked with past winners and riders that were doing their first 5*, and it was all love for their horses and everyone that has gotten them there. It showed me how much of a village it really does take to get to where they are, and it is never an easy path.
On stadium-jumping day, it was just as cool. There were a bit more nerves in the air, and the warm up was a bit more electric. There is nothing like getting to see your idols up close. You get to see the horses, not on a tiny screen but right in front of you. As it kept getting closer to the top 10 riders, rider after rider went down the shoot (the area right before the in-gate), and their sportsmanship was unbeatable. Riders would wait in the shoot to give hugs, high fives, and endless amounts of encouragement.
I loved getting to listen to riders talk about their improvements and how proud they were of their horses. I also listened to trainers give last minute pep talks, and then once riders came out of the ring, coaches would share where improvements could be made. I felt so included in it all, and it was fun to just listen.
It wasn't just a great opportunity … It was inspiring. Every rider dreams about getting to the top of the sport, and this showed me why I want to get there someday. I have an endless amount of gratitude for everyone that helped set this up. Thank you to the whole Media Center for making the weekend truly amazing. Ann Haller was a wonderful woman who was so deeply loved and had extreme dedication to the sport of eventing. She was loved by many, and it was such an honor to do this internship in her name.
This was such a wonderful and enlightening experience to see the "backside" of these big international shows. It truly does take a village, whether you're a rider or you are putting on a big event. Thank you again to all that made this possible. It truly was a fantastic weekend that I will never forget.