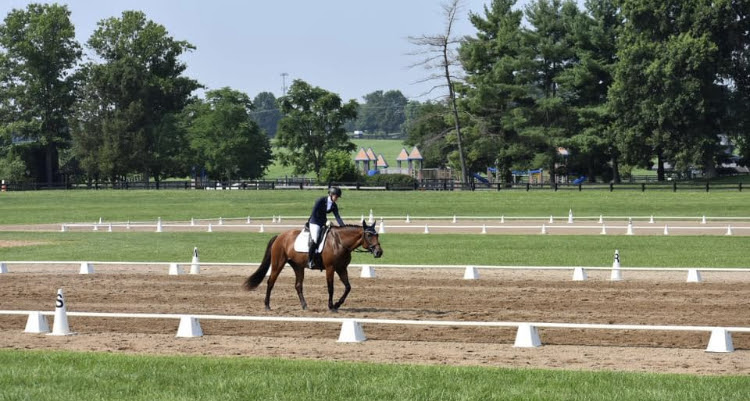 NYB: My 2021 USPC Championships Experience
My name is Hannah Willford, I am a C-2 Eventing from the Great Lakes Region. My experience at the 2021 Pony Club Championships has given me long lasting memories, life lessons, and amazing friends. I'm sure everyone has something different to say about what their week looked like, but here's a little insight on mine. 
Monday was move in day. The main goal was getting everything set up exactly how we wanted and meeting teammates for the week. When unloading, we had a plan to get everything out of our trailer quickly and set our stall up after parking the trailer. I also made sure to do my final tack "touch-ups" on Monday so I wasn't overwhelmed the following days.
For me, Tuesday was another fairly low-key day. The most exciting things that happened on Tuesday were briefing, sound checks, jogs, and the opening ceremony. There's not much to say about briefing or sound checks other than be there on time. Jogs go super fast, so don't think that if you are #90 that you will have a while to wait!
Wednesday was definitely one of the longer days. It was the first day of competition which meant turnout day. My suggestion for turnout is to make sure everything is clean and ready to go prior to arriving at champs. Bring your stable manager with you to turnout and do last minute spot checks when you arrive at your turnout station. Other than turnout, I also had to have a full turn-back and I only had one dressage test.
Thursday I had two dressage tests; my musical and another test. Honestly, I don't have much to say about Thursday. Everything went smoothly, nothing was too hectic. We were even able to look around the trade fair and watch some other disciplines compete.
Friday was by far my favorite day! My team finished our rides early so we were able to tour around the horse park in the afternoon. Being able to laugh through all the lack of sleep was a highlight for sure. Friday was also when award ceremonies took place in the covered arena. Unfortunately, dressage was the last to go so we were there fairly late, but we still had a blast cheering for all the other disciplines.
All and all, the 2021 USPC Championships was an incredible experience and anyone who has the opportunity to go should consider it!
The National Youth Board (NYB) serves as a liaison between Pony Club's youth members and the Board of Governors by communicating the needs, ideas, and concerns of USPC youth. NYB members also work with the national office on projects related to marketing, leadership development, and service for the benefit of the organization and all Pony Club members. Delegates of the NYB are between 18 – 23 years of age, highly motivated and dedicated, and have strong leadership and communication skills. To learn more, log in and visit the National Youth Board page.