How to Prepare for a Local Level Certification
By Connie Jehlik, USPC Instruction Services Director
Your Pony Club or Pony Club Riding Center is probably planning on having a spring Certification (a testing situation to assess your riding and/or horse management knowledge). Where do you begin to understand and study for this certification?
Start with Standards of Proficiency
It all starts with the Standards of Proficiency, available for members on the Pony Club website. The Standards of Proficiency are the Pony Club's curriculum—the knowledge that our education is based upon. Each Pony Club certification has Standards of Proficiency outlining what you will need to know and study for the level and discipline. View on screen or print off a copy of the Standards of Proficiency for the level and discipline that you need. For example, if you want to take your D-1 in Eventing, you will need to prepare to take both the riding and horse management tests. The D-1 Horse Management expectations are the same for all disciplines at that level, and are listed on each of the discipline standards pages.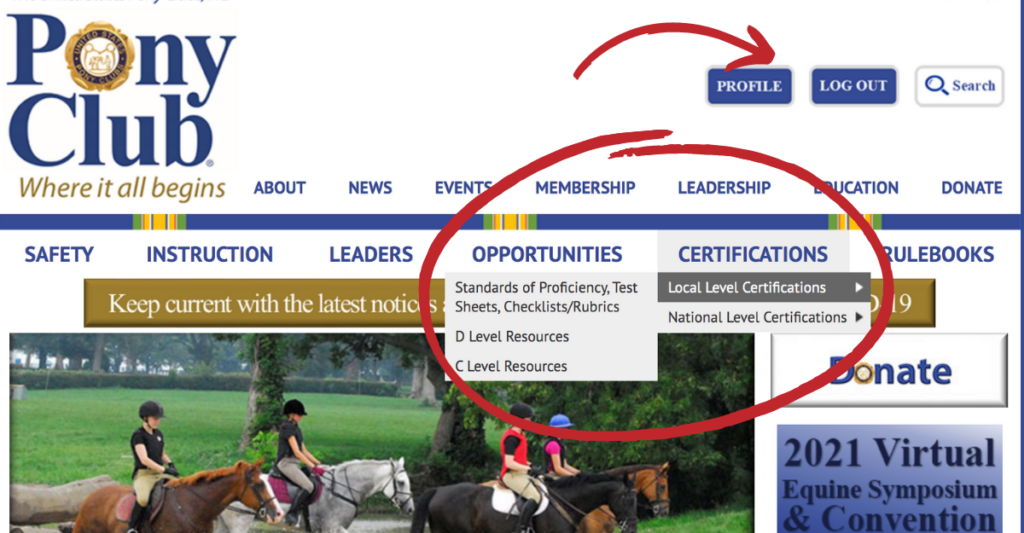 How to Find the Standards of Proficiency
1. Go to the USPC website and log in.
2. Go to the Certifications tab and click on Local Level Certifications.
3. Find the Local Level Standards and Testing Page and you will see the lists of Standards of Proficiency, test sheets, and checklist plus other resource information.
Three Key Requirements
Let's break down a few areas where members can easily stumble because they weren't aware ahead of time of a few requirements. Record Book, Teaching, Turnout and Presentation are three areas that you must understand and prepare ahead of time so you are successful on the day of your certification.
Turnout and Presentation
 This is where you will present yourself and your mount (pony or horse) to the examiner. You need to make sure that you are wearing the appropriate attire, which is spelled out for you at the D-1 level in the Standards of Proficiency (SoP). Beyond the D-1, the Standards will refer you to the specific discipline rulebooks, found on the rulebook page on the website.
Once you are properly attired, what about your mount? The SoP will also explain how your horse or pony should be presented—for example, neat and clean with tack adjusted safely for the D-1. Each level beyond the D-1 will require a little more attention to the details of your horse or pony's turnout, which will help to prepare you and your mount to look your best.
Record Book
For the D-1 you will present a stall card filled out with your mount's information. Beyond the D-1 you will need to begin to record your mount's information and other basic horse care knowledge in the USPC Record Book template, which can be found on the USPC website. Three months of information is required for the D-3; 6 months for the C-1 and so on, making this Record Book a very useful document. This information can also be about a virtual horse or a mount that you are caring for. All of this helps you to understand the process of taking care of a mount, the schedule of proper care and the costs involved.
Teaching
At the D levels, this section is quite simple, but beginning with the C-1 you will need to be helping with unmounted lessons and perform safety tack inspections with D level members. At the C-2, four hours of unmounted teaching experience is required. Of course, at any level, shadowing instructors in both unmounted and mounted instruction is a great learning opportunity.
These three areas take some extra planning and preparation ahead of an actual testing date. As you progress through the certification levels you will notice that the knowledge and skills for each level builds upon the previous one, all the way to the A level. 
Happy learning and best of luck with your certifications this spring!