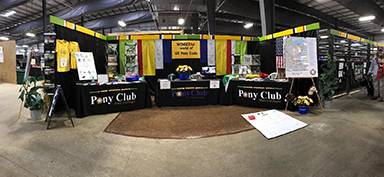 Lake Shore Region and the Flash Teamwork Award
The Lake Shore Region was one of six finalists for the 2017 Flash Teamwork Award. Follow along as they share their display of comraderie.
Submitted by: Denita Schreier, Club Treasurer of Fox River Pony Club in the Lake Shore Region
Teamwork and team spirit was spectacularly displayed at the Midwest Horse Fair in April 2017 to show thousands of attendees the WONDERFUL WORLD of the United States Pony Clubs. How did the Lake Shore Region Pony Clubs showcase ten mounts, ten plus riders, eight disciplines, and thirteen pony club chapters at the largest three day horse fair in America? Teamwork!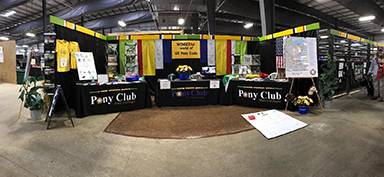 The Midwest Horse Fair held in Madison, Wisconsin has been an April tradition since 1979. For three days, approximately 80,000 people converge on the capital of Wisconsin to experience all things equine. With Stallion Showcase, Liberty demonstrations, training seminars, breed and style demonstrations, shopping galore and educational seminars, there is no better way to kick off spring.
When the executive board members of Lake Shore Region Pony Clubs saw the opportunity to show off USPC, an application was submitted and the rules carefully read. They knew it would be a team effort of members, volunteers and sponsors, but the Lake Shore Region is no stranger to stepping up to the challenge.
Music and script was choreographed by Shelly Nevins (VRS and Horsemasters D-2 Traditional, D-3 HM) and member Brianna Nevins (C-2 Traditional). It was carefully reviewed to make sure the ten minute limit was achieved. Vigilant attention was made that each discipline exhibited was depicted throughout the presentation.
Interested members were required to submit applications for participating with their mounts, including a short written description of what made their mount a "Wonder Horse" in line with the theme for the 2017 event. Lake Shore Region Pony Club Members were required to submit photographs, assuring that their mounts were in tip-top shape for the spring event, since winters in the upper Midwest can be harsh.
"[My pony's a] "Wonder Pony" because when I got him he was a backyard pony and he has learned to jump, do auto lead swaps [lead changes], and is an all-around sweet fellow. He doesn't have a pony attitude at all and is always a willing partner for adventure. In 2016 year we competed for the first time in mounted games, and advanced to Champs in Iowa".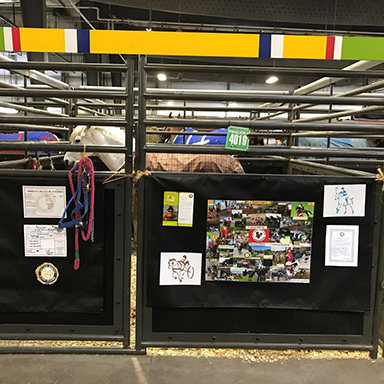 The region used "down" time, when not performing, to educate and demonstrate for expo attendees. Regional volunteers took turns in the hospitality booth and were available to answer questions about USPC and give out candy, information, buttons, stickers, and Chap Stick. Brochures on USPC were provided and displayed. LSR promoted all of the available disciplines and memberships within USPC on stall fronts. During one of the afternoons, members demonstrated polocrosse by passing the ball in the aisle and allowing expo attendees to join in.
Lake Shore Region's resident veterinarian and RS, Rae Birr brought science education materials, to display for aisle guests. She provided a fecal analysis demonstration on all mounts attending from LSR. A veterinary intern gave demonstrations on doing TPR's.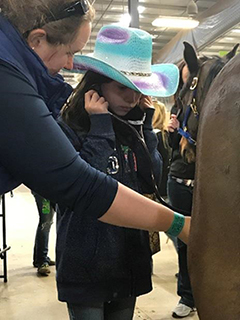 A Pony Club member's pony, named Checkers, was out in the aisle for multiple "touch and hugs" and photo opportunities for expo attendees. Checkers, a 10.3 HH, black and white Shetland pony had no qualms allowing small children get up close and personal. His calm demeanor and attention-craving personality was a perfect match for kids and adults that have never been so close to a pony.
The Midwest Horse Fair was a success! The application process for 2018 is currently underway. By being well- organized, generous sponsors, colorful USPC decorations, logos, choreographed script, enthusiastic volunteers, disciplined responsible pony club members, and excellent leadership, the Lake Shore Region let their Teamwork and Spirit shine through!