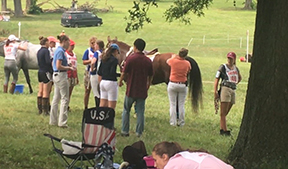 Flash Award Contender- The Vet Box
C-2 Traditional member, Hannah Fisher of Pickering Hunt Pony Club in the Eastern Pennsylvania Region sent in this fantastic story about her view of teamwork. This story was a finalist for the Flash Teamwork Award presented each year to a region, club, center, outstanding person, team, or horse to recognize the teamwork Pony Club values so highly. Read along as Hannah shares her story:
It was the day I was most excited for at the 2017 USPC National Championships in Lexington, Kentucky. It was my first year riding at Champs and it was cross-country day for Beginner Novice Eventing. I was excited for cross country since it is my horse's and my favorite phase, but I was nervous about the vet box. There are so many components to check and things to take care of; it's hard to understand the system of it until you've gone through it. At the briefing, it seemed like there was just so much to remember. I tried to relax and focus on my horse.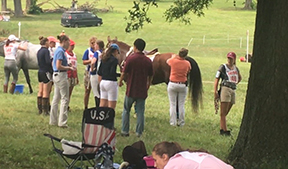 My horse is named Monster. He is a 15h Pinto-Arabian cross and a cross-country machine! That day, we had a fun, clear cross-country ride and I approached the vet box very relieved. I hopped off Monster and right away people were there to help me. People that I recognized from around the Eventing barns jumped in and stripped Monster's tack off. They were holding him for me as the vet took his TPR's. Someone said to me, "Take your helmet and vest off and hand it to me; you should also pay attention to what the vet has to say we will take care of him, don't worry." I was so surprised everyone was so helpful. I thought I was just going to have to rely on my team, and it would just be us working very hard and fast to cool Monster down. I appreciated everyone's help even more a minute later, when we got Monster's TPR and someone said he was inverted. All the vets were yelling back and forth "We have an inverted horse, we need as many people as possible taking care of him." I didn't know what this meant and was getting upset. Right before I was about to ask, one of the girls who was helping chimed in and asked what it meant. They explained that Monster's respiratory rate was higher than his heart rate, and he needed close attention. It was all a great learning experience. After the vet gave us instructions to keep scraping, sponging and walking him out we found a shady patch and everyone jumped in to help. All my teammates were there except the one who was riding cross-country. My teammate's sisters came; some of my friends from another Eventing team and just a ton of other very nice girls were there. It was cool seeing all the older Training and Preliminary riders coming to help. They treated me as if I was part of their team, and this is the perfect example of what Pony Club really is. They all could have just been cleaning their tack for show jumping or walking around the Horse Park, but instead they decided to help someone they had never met before. Everyone was very helpful and helped me with every aspect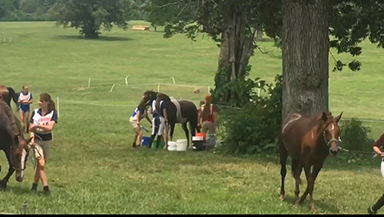 of the vet box. They were taking my tack and my safety gear and neatly putting it in a laundry bin to be sent back to the barn in the truck. They later put it on the truck and came back to me and said "By the time you bring Monster back to the barn your tack should be at your barn!" They totally handled everything since I had so much on my mind. They helped me keep track of when I needed to go back to the vets and check Monster's TPR's and get further instruction on how to help him cool off, they were right on it! We went back ten minutes later, they said he as cooling down well, and they wanted us to stay for five more minutes to make sure he would keep cooling down. They also weren't just concerned about my horse, they were helping me too. They checked in on me and made sure I felt recovered and back to normal. After the vets released us to walk back to the barns, I couldn't thank all of them enough. None of these girls had to help me and give up their precious hours. I was not expecting that much attention and it made me realize how amazing Pony Club really is. You really don't see such kind actions in a competitive sport anywhere else. That's what makes Pony Club so special, the teamwork aspect. This truly makes Pony Club a one in a million organization. None of the people in Pony Club are just in it for themselves. That week, and that day especially, I didn't just feel like a part of my Beginner Novice team, but I felt like we were all a part of one big team.