Blue Bridle Insurance presents: A Horse For Christmas
Thanks to new Pony Club Pizza blog sponsor, Blue Bridle Insurance we now have a series explaining Horse Insurance.



Was there a horse on your wish list for Christmas? And did Santa manage to get it down the chimney? Ho, ho, ho – probably not, but you rushed to the stable to see that your wish did come true!
Now let's hope that you have done your homework and understand that horse ownership comes with a great responsibility, not the least is the never ending expense. Be prepared for the routine cost of boarding and training, bills from the vet and the farrier. And if this is to be a show horse, factor in the cost of tack and clothing appropriate for the chosen discipline. Then add the cost of shipping the horse to a show and accommodations for both horse and family. This is not the time for second thoughts. You have already considered the pros and cons and have determined that it's all worth every penny! (What's more, we tend to agree!)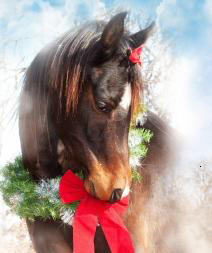 There is something you can do to cushion the expense of veterinary treatment for the unexpected injury or illness that could be a burden not anticipated. Your horse insurance mortality policy may include a major medical endorsement, if the latest eligibility requirements are met. Surgical or colic endorsements to the policy are options worth consideration.
Look into private horse owner equine liability insurance also as it may be excluded on your Homeowners policy. It is important to know you're protected – discuss your needs and the options available to you with your agent.