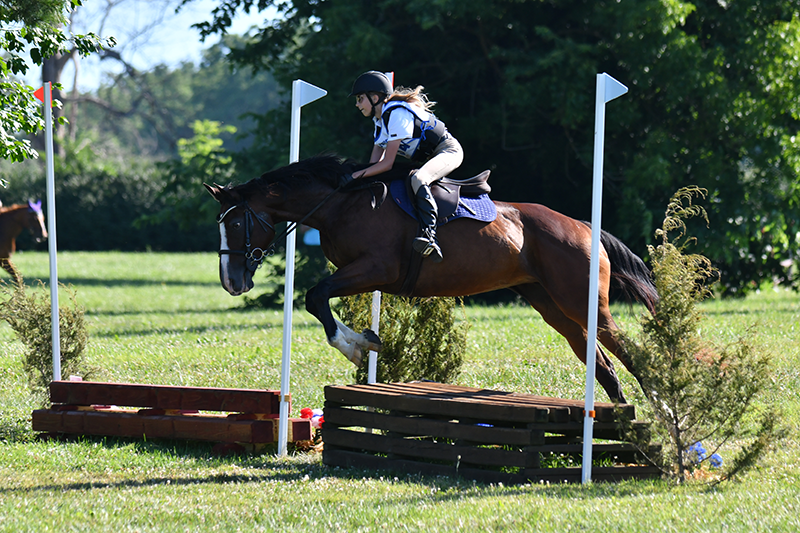 Member Spotlight: Lila Morgan
Age: 14
Club/Region: Keeneland Pony Club/Midsouth
Years in Pony Club: I have been in Pony Club for a year!
Current certification (and/or certification currently working on): C-1 HM, C-1 EV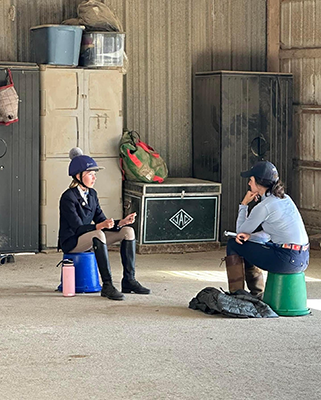 What disciplines and/or activities are you involved in? Eventing
Tell us about your current mount(s) and what you do with them: Viva is her barn name, and Bonne Vivant is her show name. Viva is a 16-year-old off-track Thoroughbred (OTTB) and had two years off, so I have been bringing her back into work. Viva and I have been spending lots of time together, and I really enjoy being around her!
We both enjoy doing Eventing and have focused on Starter with some Beginner Novice jump rounds but looking to move up in the future! Viva and I have also been to D-Eventing rally, which was a blast! Viva was a rock star in cross-country and amazing in stadium and Dressage!
Tell us about your goals (with Pony Club, with riding, life): Some of my goals in Pony Club are training horses, teaching lessons, and helping younger Pony Club members know the way around Pony Club! I am homeschooled and spend my days with Viva. My mom and I currently work at the barn Viva is at and it makes me so happy when I'm at the barn, it's my happy place.
I am so grateful for all the amazing clinics I have been able to attend through Pony Club and my amazing trainer who has taught me everything I know! I hope to one day give back to Pony Club for everything I have been able to do with them.
My last and very huge goal is in the future I hope to get my A certification, but I still have a long way to go!
What is your favorite thing about Pony Club? My favorite thing about Pony Club is all the amazing people that I have met and am now friends with! Ever since I joined Pony Club, my knowledge about horses has grown so much and I am forever grateful for everything I know and will learn in the future.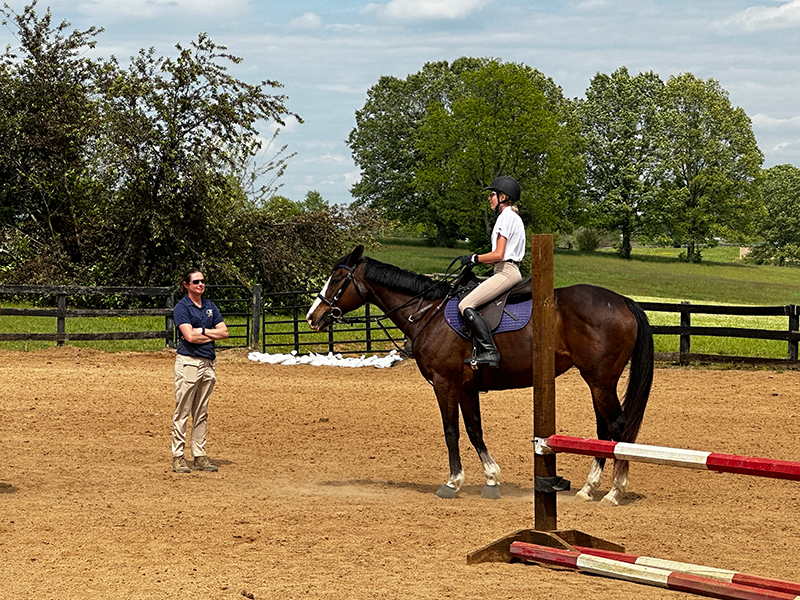 What is one thing you would tell younger members first joining Pony Club? At first Pony Club can be a little nerve-racking with testing, but all the information you learn will help you succeed in many ways and help you take excellent care of your pony. Once you get used to Pony Club, it is such an enjoyable place, and will make you never want to leave!
What is your favorite way to prep for a HM certification? My favorite way to prep for a HM certification is by making study flash cards and going through them daily, I also use the Pony Club website to take quizzes and watch the videos they have on certain things. Another good way to prep is to make sure you stay organized, so you don't get stressed out.
If you could try out any other discipline or activity, what would it be and why? I would try Mounted Games, I have done a Mounted Games rally before and really enjoyed it! I love how you get to compete and have so much fun cheering on your teammates.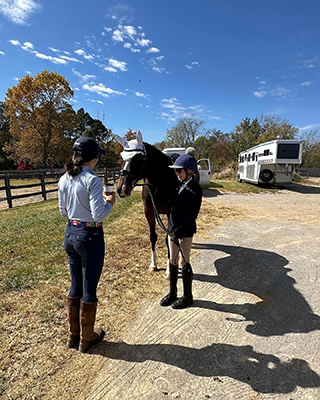 Favorite Pony Club memory: My favorite Pony Club memory is when I went to D and C Pony Club Camp at River Glen. We spent the night and rode at sunset which was such an amazing experience. There was also a river and we got to swim, although it was quite cold there were so many laughs while all of us tried to get on the paddle board together!
What makes you #PonyClubProud? Being a member of Pony Club makes me proud because with everything I have and will learn, I can use all my knowledge to help other fellow Pony Club members in becoming the best Pony Club member that they can be!
Want to be featured in a future Membership Spotlight? Fill out the form here.