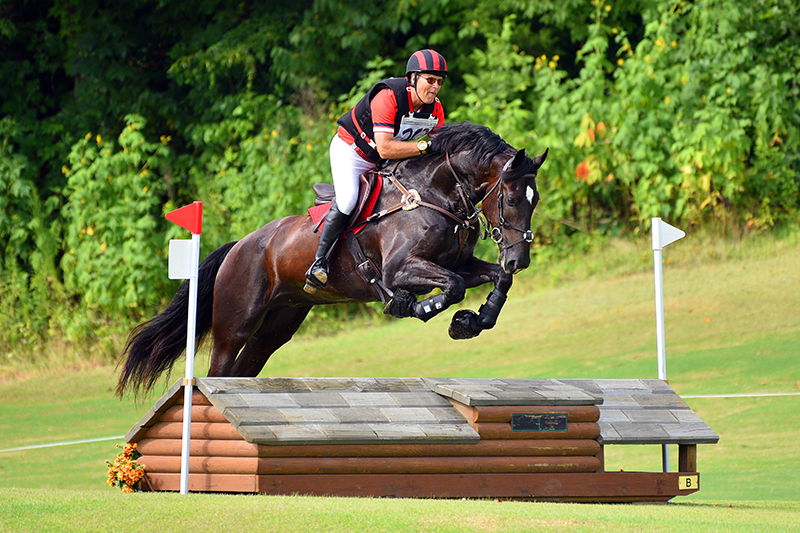 By Sarah Evers Conrad, USPC Marketing and Communications Director
There's a big "Did you know…" question about Pony Club that many people are surprised to learn the answer to … while others are already in on the secret. And that is, "Did you know that Pony Club membership is open to all ages?" Perhaps it's the best-kept secret within the realm of Pony Club, but it definitely shouldn't be!
In fact, the United States Pony Clubs (USPC or Pony Club) already has 1,831 out of 7,629 participating members who are above the age of 18 (as of the end of 2022).
That means that the USPC membership has grown to 24% adults, who not only know that membership is open to any age, but who wanted to experience it for themselves. Over time the word is getting out, and equestrians of all ages are starting to take advantage of many of the opportunities that Pony Club has to offer.
A Bit of History Behind the Change
USPC is an ever-evolving organization, changing to meet the needs of its membership and the equestrian community as a whole. But one of the biggest changes came not even 10 years ago in 2015 when membership into Pony Club was officially opened to any age member being recognized as a full participating member.
That's not to say that there weren't already adults able to participate in Pony Club before 2015. Historically, USPC has been mainly a youth organization, with age of membership being expanded to anyone up to age 21 at the turn of the last century. In 2001, a pilot program for adult education, called the USPC Horsemasters Program for Adult Volunteers, was approved and comprised of adult programs in various regions with a total of 89 members. The USPC Board of Governors gradually expanded the program to 274 members by 2007, which is when the program showcased enough support and participation for the Board to fully adopt the Horsemasters Program.
In 2008, the Board also approved an age extension to the age of 25. And while members of any age were allowed after 2015, it was in 2018 that the term "Horsemasters" was dropped, and an adult member would now be known as a "participating member," just like youth members. It was agreed upon across leadership that "a member is a member," and the 2019 version of the Standards of Proficiency no longer offered any allowances based on age.
Members Return to Pony Club
Former Pony Club members of all ages are returning to membership for a variety of reasons—some to now participate with family, like Rachel Bolander, 43, who participates with her mother, Eileen Graves, 72, an H-B HM and C-2 in Eventing. Both are in the adults-only Gold Country Pony Club in the Sierra Pacific Region.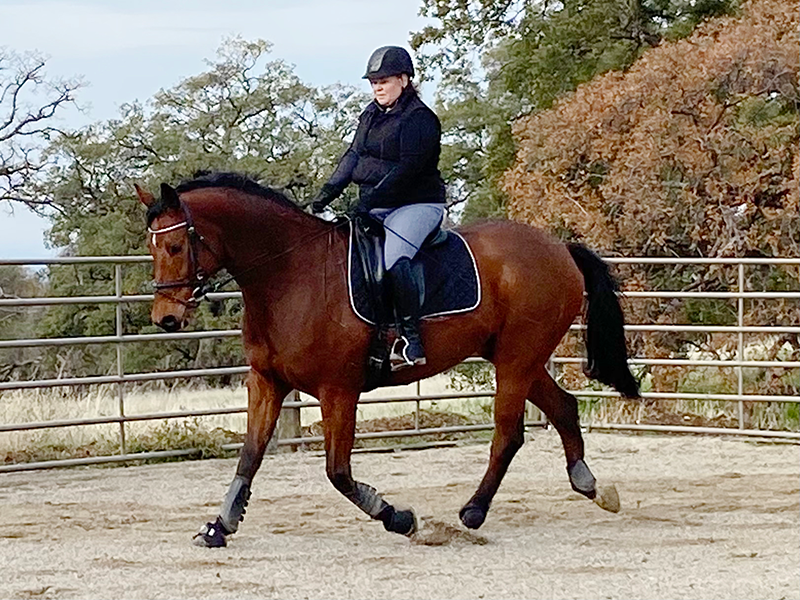 Bolander has been riding since age 7 and was first involved in distance riding before she discovered Pony Club and Eventing in her mid-teens, eventually becoming a C-2 in Eventing with Sierra Gold Pony Club. At that time, the USPC graduate age meant she had to wrap up her Pony Club years, so she "did life" and got out of horses for a while.
She rejoined Pony Club in 2016 at the insistence of her mom, who joined USPC for the first time as part of Horsemasters in 2014. "She's the one who actually brought me back into it," said Bolander, who is a busy mom of two kids, yet she manages to make time for Pony Club. "It's really nice that they let people join now after the age of 21, because I can put more time into it now, and it's just a really great way to meet different people in your area."
She was attracted to Pony Club by the socialness of it, as she and her mother have friends who are also involved. She's also enjoying the unmounted meetings and local Pony Club camps in her area, which encompass all ages. She would like to earn her C-1 and C-2 certifications in Dressage. Bolander also makes time to volunteer as Treasurer for her club.
"I would definitely recommend Pony Club to riders of any age, especially to young riders, because I really think that Pony Club is so focused on safety and the health of the horse, that it's such a good thing to go through when you're young," said Bolander, adding that it's also perfect for older adults who are just getting into horses because of all there is to learn at such a reasonable cost.
"Take advantage of all the things Pony Club offers," she advised. "I know that there is a lot of stuff online [on www.ponyclub.org]. Also, reach out to other Pony Club members to ask for help with your certifications and knowledge-based things."
Encompassing the Whole Family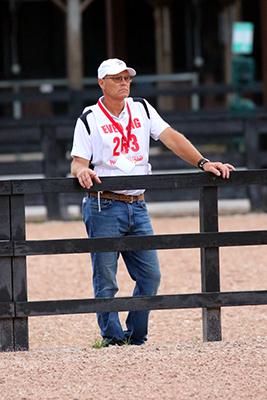 Some families have made participation in Pony Club a whole family affair. Donald Ruths, 60, an H-A member in Eventing and a member of St. Margaret's Pony Club in the Delmarva Region, rejoined Pony Club in 2015 because his two daughters, Stephanie and Sabrina, and later his son Donald, were all USPC members. When he was younger, he was a member of St. Margaret's Pony Club, as was his wife, Annette. In fact, it was in Pony Club that Donald and Annette first met, kicking off the beginning of their life together.
Donald said he wanted to rejoin USPC due to his children and his experience as an eventer. He has been to USPC Championships every year since 2015. "I wouldn't travel that far on a regular basis unless it was for Pony Club," he said.
He has considered going for his A certification, but the main thing he enjoys most is the camaraderie with his son and other senior riders.
He said there is no doubt he would recommend Pony Club to riders of any age just for the experience and to learn all of the knowledge associated with the program. "It's just a great learning experience," he added.
First-Timers
On the flip side, some adult members opt to join Pony Club for the first time since the program opened up to all ages. It's not long before they become fans.
One such fan who found Pony Club later in life is Cameron Sadler, 56, an avid foxhunter who hunts part of the year, and serves as Master of Moore County Hounds, and who events with the Sandhills Pony Club in the Carolina Region the rest of the year. This D-3 in Eventing and D-2 in Hunter Seat Equitation has also competed at the Retired Racehorse Project's Thoroughbred Makeover and National Symposium, presented by the Thoroughbred Charities of America. In addition, she won the USPC Award at the 2022 event for being the Pony Club rider with the most points.
Sadler shared she really enjoys summer Pony Club meetings, clinics, and a joint camp between her local hunt and Sandhills Pony Club. Part of her motivation for joining Pony Club was to see if there were any other people who wanted to hunt, but she also wanted to learn more about caring for her own horses through Horse Management. She called the Horse Management aspect and the manuals excellent, and she really enjoys certain topics she can apply to her 10 off-track Thoroughbreds, some of whom she has rehabbed from injuries and/or taught a second career.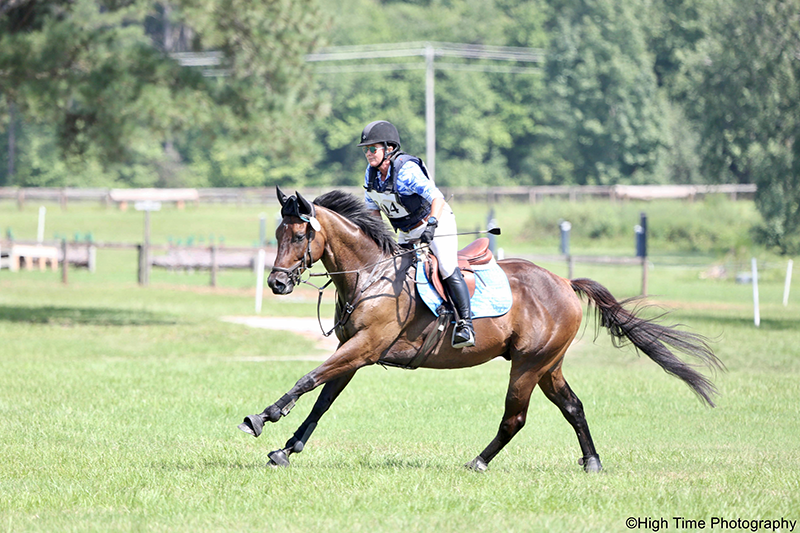 "I like to keep learning and getting better and better at treating different things that are going on with my horses, because there is always something going on with that many," said Sadler. "And it's been fun for me to learn about different disciplines. I never evented while growing up."
Sadler would recommend Pony Club to any age and has actually helped some of the local hunt members to join. "I think most adults enjoy still learning something new and getting together with people who have like interests," she said. "I don't really see a downside to it. It's not expensive. The lessons and clinics that are set up here for us are amazing."
Equine Professionals in USPC
Another first-timer is Joan Leuck-Waak, 63, who has been a member of Dune Riders Pony Club in the Lake Shore Region since 2018 and now has her H-B HM, B in Dressage, and a C-2 in Flat Eventing. She hopes to test her H-A this year.
As co-owner of Angels Flight Farm, LLC, in Manitowoc, Wisc., this dressage riding instructor and horse trainer is enjoying everything Pony Club has to offer. Her riding experiences span across disciplines, and professionally she has served as an officer on the Los Angeles Police Department's mounted unit. Over her lifetime with horses, she has earned her United States Dressage Federation Bronze and Silver medals and is currently working toward her Gold medal. She also hopes to continue with the Pony Club certifications and get her A in Dressage.
Before joining, Leuck-Waak had Pony Club members who were her riding students, and all of their praise of the events and programs drew her in. "I checked it out and never looked back," she said. "It was and still is very fulfilling. Pony Club makes you a complete horse person."
She offered praise for the way Pony Club has members set goals and then how the program helps them get to those goals. She added that the skills taught can not only be used with horses, but also in life.
In addition to her duties with her own facility, Leuck-Waak also gives her time when she can as a Horse Management Organizer (along with Kristi Jenkins) in her region. "I wish I could give back more," she added. "I've learned so much this way, too. Because I've already gotten so much back from Pony Club, it was a way to say thank you back and to help where I can. I am always learning from the other officers, because they've been around a long time."
With her love of learning anything horse-related, Leuck-Waak said she loves using the Pony Club website's resources. "Personally, I look at it to help me and my business to become a better horse person so I can help other people more."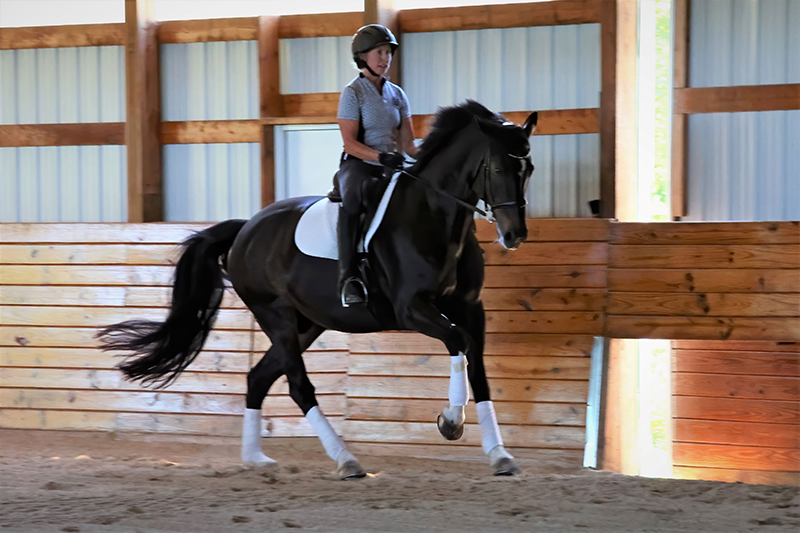 The day she knew Pony Club was for her stands out vividly in her mind. She had volunteered at a local event with 20 to 30 other adult women volunteers just like her. "I said to myself, 'These are all little horse-crazy girls doing the horse-crazy stuff in their more mature years, and that we were all still horse crazy," she described, adding the memory always brings a tear to her eye.
Leuck-Waak shared more of her experiences on the Pony Club Podcast episode #16.
Moving Forward
With so many adult members finding the benefits in Pony Club, the change in membership dynamics was a change worth making for many reasons. It not only benefits the organization as a whole—through donations from adults vested in the program—but it also benefits the younger members as adult members serve as role models and pass along their knowledge to up-and-coming younger participants or offer up horses to younger riders who need a mount for a lesson or an event. These adults may also take on leadership or volunteer roles in addition to being program participants.
This one change can help USPC's development and sustainability into the future. And with that, the hope is that the growth in membership for all ages continues. So spread the word as this is one thing that shouldn't be Pony Club's best-kept secret anymore.
This article about adult membership in Pony Club was originally published in the Spring/Summer issue of Discover USPC magazine. Read more content from that issue.