Thanks to the Director of Education and Development for the New Vocations Racehorse Adoption Program, Sarah Coleman, USPC is reprinting with permission a great article about moldy tack care. Read along to learn some great tips and tricks for excellence in tack maintenance.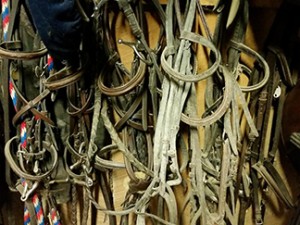 It's the dog days of summer in the Bluegrass, a time of year when it seems saddle pads and helmets never quite dry out between rides. In addition to being uncomfortable to ride in, wet, humid conditions can lead to a tack room full of moldy saddles, bridles and other leather goods.
This furry invader isn't just unsightly; because mold is a living organism, it can actually eat away the stitching of your leather goods, potentially causing equipment failures that could endanger both you and your horse. While finding moldy leather might make you feel like a poor tack caretaker, the opposite is essentially true: you oil your leather goods, so therefore there is something for the mold to eat. Mold also grows best on leather that has organic materials on it: think sweat, dirt and manure. Tack that is too dry will never get moldy—there's nothing for the organism to eat!
Simply put, molds and mildews are fungus. The spores of these fungi are easily carried through the air and can "infect" other pieces of tack.
Leather is made from cowhide, which has layers and pores. Mold spores can get into these pores and reproduce, creating a green or white, powdery substance on the leather surface.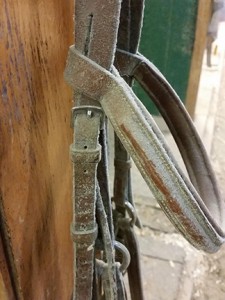 How to Care for Mold-covered Tack
In order to get rid of the fungus that's on your tack, you should:
1) Remove your tack from the tack room and bring into an open area with no other leather goods nearby.
2) Brush the affected pieces gently with a soft brush, removing as much of the powdery substance as possible. Be sure to disinfect your brush afterward.
3) Wipe your tack with a mixture of distilled white vinegar (3:1 water to vinegar). Not recommended for everyday tack cleaning, this solution is great for initial mold removal. Throw away the rags when you're done as they are now also infected with mold spores.
4) Thoroughly clean tack with a water-based cleaner. Avoid glycerin-based soap, which can keep leather moist and invite mold growth.
5) Use a toothbrush to get into small crevices where mold hides.
6) Allow your tack to dry thoroughly before returning it to the tack room.
To prevent mold from recurring, wipe the dirt and sweat from your tack after each ride. This will reduce the amount of organic matter mold needs to survive.
Preventing a Repeat Performance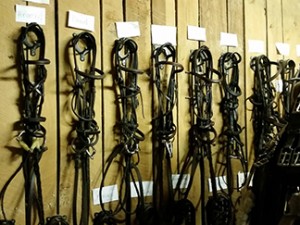 To prevent mold from forming:
– Remove saddle pads from direct contact with saddles, as this can trap moisture.
– Ensure there is adequate space between tack for it to completely dry.
– Use desiccant packs, which can be found in some equine supplements. These packets of silica gel absorb water from the air, creating a drier environment and making it harder for mold to grow.
– Promote air flow by turning on fans.
– Toss rags that were used to clean moldy tack.
– Run a dehumidifier in the tack room. Be sure it has an automatic shutoff option in case the tank becomes empty.
– Turn on the light. Something as minor as one lightbulb left on in a tack room might provide enough drying heat to prevent mold growth. Just be sure it's not too close to anything that could catch fire.