Tales of a Pony Club Professional Groom-Headed Overseas
Pony Club member Alex Ambelang is back with more life lessons our members learn in Pony Club which help them in the real world. Alex is the head groom for Colleen Rutledge Eventing in Maryland. Follow along as she tells us how Pony Club has prepared her for this position as well as what she has learned since starting out. Alex is a regular guest blogger, so if you have questions feel free to send them to us for her at Mandy@ponyclub.org.
When Things Fall Apart…
The past seven weeks of so have been a complete blur to me. I last left you all at Baltimore International Airport, where I was flying to England to help prepare Colleen and CR for The Land Rover Burghley Horse Trials. While we did make it to Burghley, what happened in between was and is something I haven't quite wrapped my head around, nor will I ever forget.
My flight to England was uneventful. I slept most of the way and woke up as we made decent to London-Heathrow. I was greeted by our lovely host Sarah and whisked off to Banbury, England, where our yard would be for the month of August. Colleen and CR arrived a few hours later from Liege, France after their short time in quarantine and a short stay at Reed Kessler's facility before shipping to England. A bit of back story: Colleen and CR had been placed on the list to potentially participate on the Nation's Cup team in Aachen, Germany in early July. Because of the last Olympic results, the United States did not have a automatic invite for a team to Aachen and had to wait for the organizing committee to decide if the US was allowed to bring team. A final answer was not given to us until just days before our departure to Europe/England, and we (the US team) were told that we had been given a slot for a three-man team. We were assured that this would remain the case and if there weren't any scratches by the Saturday evening prior to the start of the Nation's Cup, Colleen and CR would be shipped to England to prepare for Burghley as originally planned. So, back to England.
We spent Sunday evening and most of Monday recovering and organizing our base for the next month. CR hacked out and we settled into our yard (Hill Farm Livery in Swalcliffe, England- just outside of Banbury). On Tuesday morning we made our way to the downtown Banbury for a late brunch and planned to ride later that afternoon. At approximately 11am, our plans changed drastically. A text came through that a late scratch had opened up a spot at the Nation's Cup in Germany and if we wanted it, it was ours. A snap decision had to be made. We got on the phone with the US team and said if it wasn't too much trouble, we would be happy to complete the team. Ten hours later, Colleen, CR and myself were on a transport to Aachen, Germany. Tuesday afternoon consisted of mad packing for humans and horse as well as some stress shopping and deep breathing. We traveled through the night through England, onto the ferry across the English Channel from Dover to Callei, France and then drove through sections of France, Belgium, the Netherlands, and Germany to arrive in Aachen a 8:30am the next morning (Wednesday). We were given a tour of the grounds from Chief de' Equip David O'Connor and spent the morning and afternoon cleaning tack and washing CR for jogs. After jogs, the team (consisting of Colleen, Phillip Dutton, Lauren Kieffer and Lynn Symansky) tacked up and went for ring familiarization (essentially a glorified trail ride around the dressage ring) and we tucked in for the night. Thursday brought dressage and show jumping. Colleen was placed as 3rd member of the team to go. Aachen was hot and all three of us were tired, some kept our work to a minimum to conserve energy, allowing CR to rest as much as possible. In both general warm-up and final warm-up, CR looked great. I took CR's boots off and grabbed Colleen's whip just before she headed into the ring. The combination of the heat and exhaustion caught up with CR as he circled the dressage ring. He ran flat. I will never forget watching CR cross the diagonal for his medium trot only to have no medium. David and I looked at each other with disbelief at the end of the test when an equally surprised Colleen and very tired CR exited the arena. A score of 51 was not how we wanted to start our first team experience, but onward we went.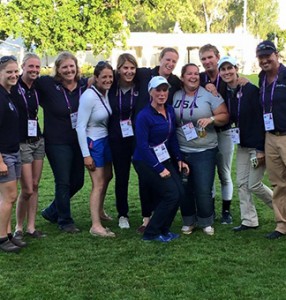 After dressage, David requested a brief jump school from Colleen as we wanted to play with bits and bridles to begin the process of improving CR's jumping after his less than stellar show jump performance at Millbrook Horse Trials in New York just two weeks earlier. We switched to a plain snaffle bridle and a low ported plastic pelham from a loose ring plastic mullen mouth and figure eight noseband. He jumped five fences and he seemed to respond well, so we rolled with it. Show jump warm up proved uneventful and there were great moments that would show what was ahead a month from then. We knew CR's round was not going to be a great one, as we had only switched his bit a few hours before, but the three rails down put a bigger damper on an already less than stellar day. We wrapped up and headed to bed to rest up for Friday.
Friday was a day of waiting. As the third team member to run and because of the late start time, Colleen and CR would not leave the start box until after 3:00pm. Colleen nor myself are very good and waiting so we filled our day with aimless tack cleaning, shopping, and supporting our other team members as they prepped for the big day too. Lynn left the box first and came home with 20 jump penalties. Lauren left the box second for team USA and put in a solid clear round. Finally, it was our turn. We made the long trek across the show grounds across the road to cross country warm up. CR looked tired but was jumping well. As per usual, I walked them to the start box and watched them jump fence one before I made the mad dash back across the road to the main arena to wait for them at the finish line. Just as a made it to the ring I looked up to the jumbotron to see Colleen have a refusal at the angled brushes. An unusual occurrence for the pair, I grew more worried. They continued and I followed along with the announcer and the screen. They were in the last third of the course coming to the second water jump, CR jumped in sluggish and Colleen got aggressive to the corner in the water. CR got in tight and drifted left and caught a knee tossing Colleen up and forward over his neck and shoulder into the water. I watched with disbelief as the fall was replayed in slow motion on the screen. I snapped out of my stupor and jumped the arena fence, sprinting back across the road to collect CR and check Colleen out myself. To my relief both were fine, just wet and very sandy. I could see the anger and disappointment burning in Colleen's eyes as I took CR to find a way back to the vet box. With no real escape route, I walked CR the long way around back through the series of warm ups to check in with the vet before taking him back to the barn to cool out and further check for injuries. The volume of the situation finally took hold and the usual adrenaline crash hit harder than normal. I was upset for both of them to have such a disappointing first team experience. It could have been so much worse for either or both of them and I count my blessings for that. It was the sheer slap in the face karma or the gods or whatever, after so much time and effort and distance had been given and traveled to get to this moment to have it fail us. This happens more often that not in equestrian sport though, as so many of us know all too well. Horses get injured and re-injured, dressage tests fall apart, rain wreaks havoc on footing, wind blows show jumps over, we have bad days, the list goes on and on. But sometimes life falls apart in order for things to get better.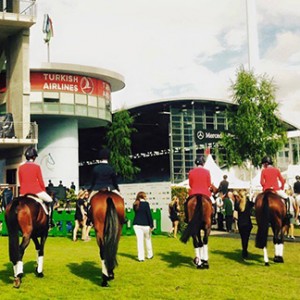 When all was said and done, Team USA still managed to snatch the 3rd place position at the end of the Nation's cup! Friday night was spent celebrating our victory out and about at the show grounds and back at the hotel. Horses were checked in on and settled in for the night and riders, grooms, coaches, and owners enjoyed the evening. We had a early morning to prep for the awards ceremony in the main arena; bathing and braiding all over again. We stood and watched as the team was announced and took photos of their victory gallop only to chase them down the chute to untack and repack. Less than an hour afterward, Colleen, CR, Shannon Kinsley (Lauren's groom), CR and Veronica (Troll) were all on a lorry back to England. It began to rain as we entered Belgium and made our way back to the ferry. The ferry ride was uneventful and we rolled in to see the white cliffs of Dover at sunset. Four hours later, twenty miles from home, an inside rear tire on the lorry went flat and we were stuck at a service station for an hour waiting for the tire to be changed. Shannon and Troll were dropped off first at Aston le Walls and we then headed to Hill Farm. We rolled in an approximately 1:30am to a village party at the yard (which quickly dispersed upon our arrival- sorry Swalcliffe). We unloaded and went to fetch our rental car keys only to find someone had moved them from their set location. By 2:45am, Colleen and I were both too tired to care and grabbed some coolers and did some quality car camping until the yard manager arrived around 7:30am. A weird ending to a bad week.
The first week after our whirl-wind trip to Germany was spent recovering, trying to make sense of it all, and making an attack plan for Burghley (now only two and a half weeks away). Multiple field trips were made to Aston le Walls to jump school with Lauren and the new bit as well as get both Colleen and CR's confidence back. CR had torqued himself quite badly when he caught his knee, and although he stayed upright, he was quite sore and uncomfortable for most of our stay in Banbury. We did our best with what we had until our in-house chiropractor (Sallie) and massage therapist (Angie) would arrive at Burghley to relieve CR of his discomfort. Seeing CR so out-of-sorts was the hardest part of my job those few weeks. It acted as the constant reminder of Germany that both held us back, but also pushed us forward looking for a better solution. Those few weeks were the perfect example of "when the going gets tough, the tough get going". I was one of very few to witness the grit and determination Colleen put into her riding and her horse after a less than stellar weekend at Aachen. I couldn't be more humbled or more proud of the horsemanship I saw when no one else was watching. As much as we both wanted to fall to the ground and wave our fists in the air quitting, we pushed through. We made changes. We tried new things. And you know what? It paid off…just in time for a little show called BURGHLEY.
Alex Ambelang is an H-A Traditional member of Five Valleys Pony Club in the Big Sky Region. She joined Pony Club at the age of 8 and has been an active member ever since. She has competed in Eventing through Preliminary and in jumpers and dressage. Alex has been a working student for two National Examiners and was a member of the USPC National Youth Congress in 2010. She served as a member of the USPC National Youth Board from 2012 to 2014 and is part of the USPC Visiting Instructor Program as well as the Regional Instructor Coordinator for the Big Sky Region. She received her Bachelor of Arts in Cultural and Medical Anthropology in December of 2014 and is currently working as head girl for Colleen Rutledge Eventing in Maryland.