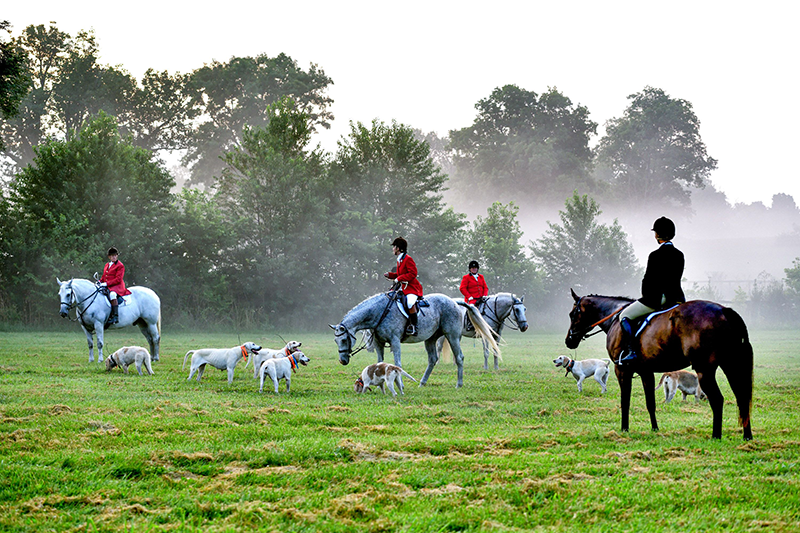 Discover New Activities and Disciplines with Pony Club
By Sue Beth Bunn, USPC Activities Discipline Promotion Committee
Are you a Pony Club leader looking for new ideas for meetings? Has your club/center or your own riding fallen into a rut? Are you looking for a rainy-day activity for your lesson program, a way to make your days at the barn more dynamic, or a new discipline for you and your horse? The United States Pony Clubs (USPC) offers mounted and unmounted opportunities and education in 15 different equestrian disciplines.
Unmounted Pony Club Activities
Pony Club is an excellent resource for finding unmounted subjects and lesson plans when riding is not possible or to switch things up. The basics of any discipline can be taught as an unmounted lesson without needing horses.
For example, the introduction to Polocrosse usually begins with learning how to handle the racquet. Mounted Games can easily be taught with simple props as members learn individual games and the teamwork of a relay team. Driving education can begin as an unmounted lesson by working with a horse, bridle, longing surcingle, and driving reins (or two longe lines).
Quiz provides the perfect format for teaching any topic in a broad manner. Each phase of Quiz is created to present material in various ways for a complete approach to teaching. By using different Quiz phases to teach a subject, you can go beyond what is tested on the Standard of Proficiencies (SOPs) and teach the information of the SOPs in a more comprehensive manner. Quiz asks the member to discuss, identify, demonstrate, and problem solve on each subject.
Teaching bits can become more detailed than just identifying the different options, like in Mega Room. The Station phase creates scenarios requiring the choice of bit to fit the description of the bit's action, while the Barn phase may give a scenario describing a horse's behavior and actions and request the member to pick the best bit to address that scenario. This approach to teaching unmounted subjects creates a more developed understanding of the topic.
If you are looking for new topics to teach, the SOPs and the Horse Management Handbook and Competition Rules can provide countless unmounted lesson ideas.
More Dynamic Pony Club Meetings
USPC is unique in our ability to provide our members the opportunity to try something new without investing too deeply financially. Many members have discovered a new discipline that they would never have had access to had it not been for a Pony Club meeting.
Exposing members to a new discipline can be as easy as inviting an instructor or group to provide a clinic at a club/center meeting or taking a field trip for a meeting. Many local equine groups are excited to introduce their sport to more people, and they can provide the necessary equipment. Always look for ways for members to participate in a new discipline at an introductory level.
Try inviting a Trail group to your meeting, especially if they will provide obstacles and teach members how to maneuver obstacles. Many Vaulting schools and Driving instructors will offer demonstrations, host a group, or travel to you with equipment and experienced horses. Tetrathlon can also be introduced away from the barn. Between swimming, running, and shooting, Tetrathlon makes for a fun summer meeting at a pool or in the winter at an indoor shooting range.
Members could also enter a competitive trail ride or a distance ride to learn more about conditioning. Also, many local equine riding groups often offer charity trail rides or obstacle courses that are open to the public. Find a Gymkhana or play day in your area and select some races for you and your horse to try. And finally, most foxhunts welcome juniors (and adults). Participating in an event as a group can be less intimidating and more fun for all, so find a hunt, participate in point-to-points, and/or work to qualify for the annual Junior North American Field Hunter Championships.
To pursue an interest and find opportunities in any specific discipline, simply visit the related national organization's website, follow the USPC discipline-related Facebook pages, and check out the discipline page on the USPC website here.
This article about discovering new activities and disciplines with Pony Club was originally published in the Spring/Summer issue of Discover USPC magazine. Read more content from that issue.