Join the Plus 1 Challenge! Cypress Springs Pony Club has!
The United States Pony Clubs, Inc. is hosting a Plus 1 Challenge for the 2015/2016 years. The Plus 1 Challenge was created to encourage members to stay in Pony Club and to improve recruitment of new members. Making growth a priority will benefit everyone in your club or center and increase a base of parents and volunteers willing to share in the duties needed to run a successful club or center. Membership for 2015 is tallied from September 1st, 2014 through August 31, 2015. The region with the largest increase in membership during 2015 will receive a $1,500 grant towards a Horse Management Clinic/Activity of their choice. The top 10 clubs and centers gaining the most members will receive $100 to be used for an item/activity of their choice.
Cypress Springs Pony Club in the Sunshine Region is one of a few clubs who has achieved 10 new members so far in the Plus 1 Challenge. New DC, Simone Cormier was interviewed to see what approach her club took to adding new members.
Simone shared that a lot of their new members came by word of mouth. Pam Johnson, their head of Games programs did a lot of the recruiting. Pam encouraged working students, students, and anyone interested in games to join. Simone also told us the Sunshine Regions Junior Council put on a "D day" recruitment event at a local tack shop that attracted many new members. She truly feels the new alternative progressions and horsemasters programs have helped grow the regions and clubs. She says, " it making Pony Club more of a family thing." Cypress Pony Club strives to establish good communication with members and member families. "We encourage members to set goals. We offer support for those goals and help their achievement."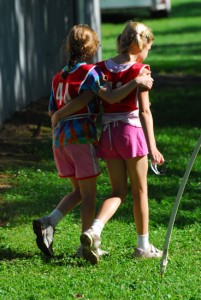 Be the next club to reach the top ten of clubs and centers for the Plus 1 Challenge! For more information click HERE!