Pony Club member Alex Ambelang is back with more life lessons our members learn in Pony Club which help them in the real world. Alex is the head groom for Colleen Rutledge Eventing in Maryland. Follow along as she tells us how Pony Club has prepared her for this position as well as what she has learned since starting out. Alex will be a regular guest blogger, so if you have questions feel free to send them to us for her at Mandy@ponyclub.org.
Tips, Tricks, and Hints from an Amateur Professional Groom
Since I have only been at this whole being a groom things for (almost) 5 months, I hesitate to call this "Tips, Tricks and Hints from a Professional Groom" or something more official like that. So, these are some of the things I have have learned in my few short months as a groom that may or may not be useful to all of you!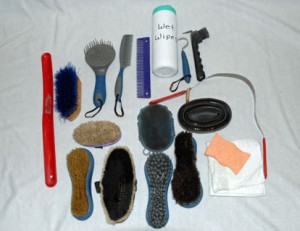 My first discovery was during the colder months, facing the challenge of keeping the horse's muscles warm while they were tacked and/or waiting in cross ties. Initially, the saddle was put on and we would throw their winter blankets back on over to warm the saddle pads and keep the muscles warm. However, this often redeposited dirt and shavings back onto the horse and the tack as well, essentially undoing the majority of the work that had just been done. On a whim, I threw a thermal blanket over a horses' back one day; it ended up keeping the horse warmer and it kept the tack clean because it wasn't being used everyday. After that, I keep a clean thermal in the tacking area at all times. Whenever there is a chilly breeze or the barn is still damp and cool, I throw the thermal blanket over the horses' back to keep them warm while they are standing in the cross ties. I have also taken to trying to keep the covers on the saddles underneath the thermal to make sure they stay as clean as possible. Having the thermal also allows for the half pads to warm up, as they get stiff and cold sitting in the tack room or aisle and do not serve their purpose well in that state. In lieu of a thermal blanket, a clean cooler will also work in this circumstance, too! Also on cold days, I will brush the major parts of the body, put the saddle on, throw the thermal over the horses' back and then focus on grooming the legs, and face, brushing the forelock, mane and tail, picking hooves, and applying boots and/or studs. This helps the muscles stay warm while standing and minimizes the time the body has contact with the cold air. If it is cold enough, the horses will be ridden in quarter sheets to hep them stay warm and comfortable. At Colleen's operation we prefer the Back on Track quarter sheets to others because they are heavier than most quarter sheets and don't blow around as much. At shows, we will put a Back on Track sheet on the first horse to compete and then rotate the sheet over to the next horse to compete. We put the BOT sheets on when grooming and also after the saddle has been put on, again, to keep the muscles warm and the horse comfortable prior to their ride.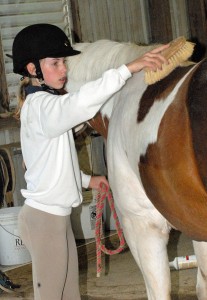 I wanted to share some products that I have come to use on a day to day basis that I feel work well. For everyday grooming, I use good old show sheen on their tails. I spray some in just as I start grooming and let it set into the tail. When I go back to brush, the tail is detangled and easy to brush through. Every two or three days, I apply a good bath detangler to their tails, as those add more conditioner in. It also adds a bit more strength to the tail and prevents breakage. I don't use it everyday because it does tend to build up and make the tail waxy. For the hoof, I apply Kevlar Tuff Hoof Guard to their hooves every two to three days as well to encourage stronger hooves and prevent cracking or chipping. It is pretty strong smelling stuff and is sticky, so I recommend a clean area to apply it and to keep it away from your face! Keratin hoof products are also great! For the daily scrapes and rubs that come with horses, we use an ointment that has Vitamins A & D in it, found at any drug or grocery store. Its easy to apply and gets the job done!
Tune in next time as Alex tells us more about grooming tips at shows!
Alex Ambelang is an H-A Traditional member of Five Valleys Pony Club in the Big Sky Region. She joined Pony Club at the age of 8 and has been an active member ever since. She has competed in Eventing through Preliminary and in jumpers and dressage. Alex has been a working student for two National Examiners and was a member of the USPC National Youth Congress in 2010. She served as a member of the USPC National Youth Board from 2012 to 2014 and is part of the USPC Visiting Instructor Program as well as the Regional Instructor Coordinator for the Big Sky Region. She received her Bachelor of Arts in Cultural and Medical Anthropology in December of 2014 and is currently working as head girl for Colleen Rutledge Eventing in Maryland.