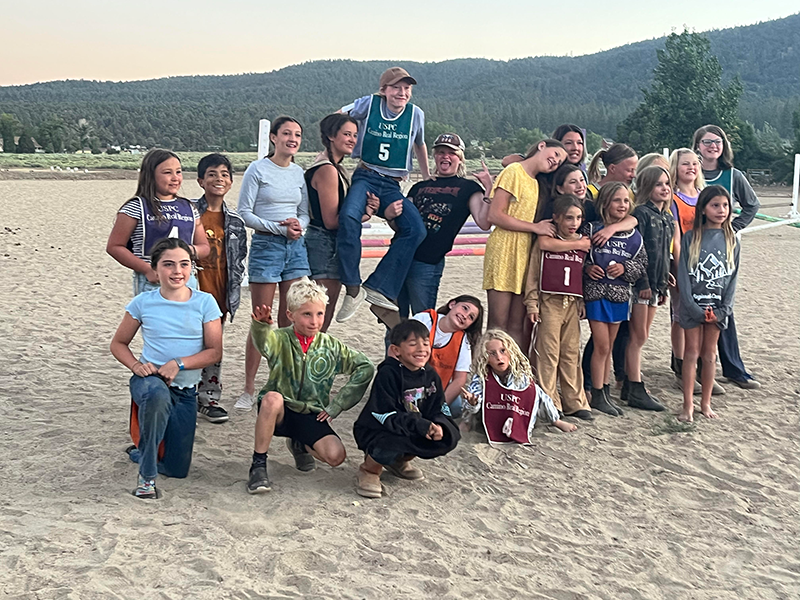 Why You Should Attend a Pony Club Regional Camp
By Aiden Beaubien
I have found that attending a Pony Club regional camp is important for Pony Club members to attend because it provides youth and adults with a higher level of education for their riding and horse management, along with a mix of fun activities. For instance, based on my experience, the regional camp's lessons are not like your typical riding lessons. These lessons may be more finely detailed and challenging, but in an exciting way. Another reason why attending regional camp is important is for all the knowledge that is shared. Aside from all the learning and lessons, regional camp offers the opportunity to create lifelong memories with amazing friends.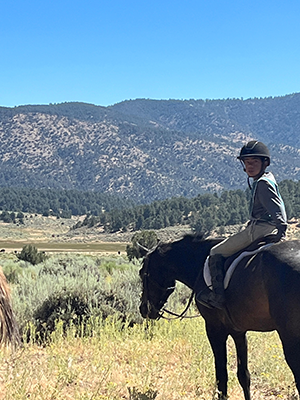 Most regular Pony Club meetings I have attended are two hours and focus on one topic on horse management for the first hour and the second hour focuses on a riding discipline. Whereas at regional camp, the focus is on all aspects of riding. You get about 13 hours a day of educational fun—both mounted and unmounted. At the regional camp I attended, I rode for an hour-and-a-half twice a day, which was my favorite part. Just being in the saddle is always fun!
The safety and turnout inspections were really intense and detailed. Not only did I have to make sure that all my tack and my pony were spotless, but that included myself, which is a great way to help train yourself for shows. The lessons were intensive, but I do enjoy the challenge. One of my flat lessons pushed me to complete 20-meter circles more efficiently. I am not the best in Dressage, so the instructor also challenged me and my pony, Proteus, to learn a turn on the haunches. These lessons were tough, but I feel as though any Pony Club member or even non-Pony Club members, would greatly benefit from regional camp lessons because the riding instructors push each rider individually to grow in their own riding capability.
For Pony Club members, and even non-members, regional camp is a great opportunity to soak in all the amazing knowledge that the instructors give out. While I was at camp, I learned so many new things about equestrian sport that can help me at a Quiz rally or for my next certification. The horse management instructor was so knowledgeable and always had a lesson plan ready to go. She taught about bandages, horse anatomy, and how to properly clean our tack, which really helped when I took my C-1 Horse Management and D-3 Eventing certification tests. Thankfully I passed. All the instructors shared so much valuable information that I could share with my fellow Pony Club members. I am also a junior leader at my local 4-H horse project, and I was able to teach my class all about turnout inspections. Even though 4-H does not do turnout inspections, it is a great way to prepare for shows.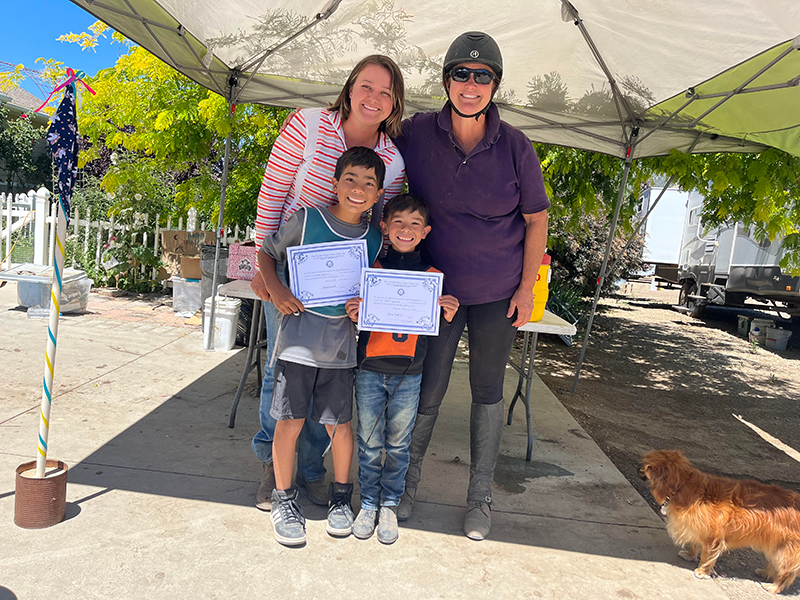 Aside from mounted and horse management activities, we got to play so many games. On the first night of camp, we ate s'mores and played telephone by the campfire. We also completed some fun crafts. We not only got to decorate our own browband, but we cut a piece of hair off of our horse's tail and turned it into a bracelet. We also played "foxhunting" with each other. The instructors split up all of us into two groups, the foxes and the hounds. Then when an instructor told us to go, we all ran extremely fast and chased each other with so much excitement. On the final day of camp, we all went on the most amazing trail that I have ever been on. While we were on our trail ride, we saw cows and rock climbed with our horses along a seven-mile trail through Frazier Park.
Regional camp was one of the best experiences that I have ever had because of all the amazing opportunities, challenges, and the friendships I built. I cannot say enough kind words about Sharon and Sarah Bonfield, who put the camp together and helped everyone to reach a higher level of education for the horse sport.
Lastly, I want to say that attending a regional camp can really benefit you. It can help you gain more experience and knowledge, or even help you certify up. And honestly, who wouldn't want to go camping with their horse?