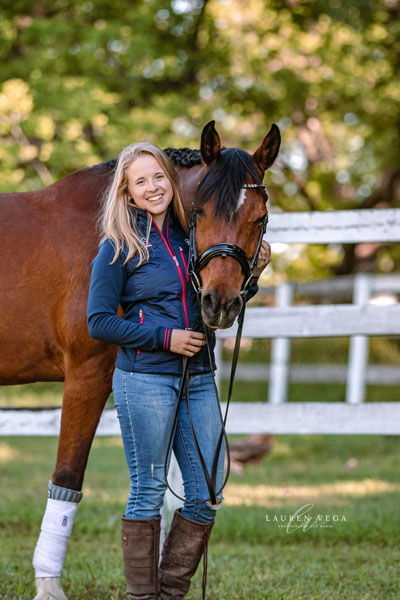 Katrina Natwick Awarded Grant from The Dressage Foundation's Trip Harting Fund for Pony Club Members and Graduates
Edited Press Release
The Dressage Foundation (TDF) is pleased to award a $1,000 grant from its Trip Harting Fund for Pony Club Members and Graduates to Katrina Natwick of Copperas Cove, Texas.
Katrina holds United States Pony Clubs certifications of C-2 in Eventing, C-1 in Dressage, and H-B in Horse Management. She has continued her Pony Club journey as an adult member and is currently working toward her A certification. Katrina is an instructor with the Texas Outlaws Pony Club and plans to use her funding to attend the USDF "L" Program with the hopes of continuing to become a licensed judge. Katrina is a member of the United States Pony Clubs, United States Eventing Association, the United States Dressage Federation, and the Central Texas Dressage Society. Recently, Katrina started a Pony Club Riding Center and became the Center Administrator for Creekside Eventing Pony Club Riding Center in Georgetown, Texas.  
"I feel an overwhelming sense of gratitude and disbelief for receiving this grant," she said. "I am thankful and honored. Horses are a tough sport/career path, and it takes grit, perseverance, and funding to keep going. Receiving this grant is a prayer answered. Being a young professional, I have to be strategic about where funds go. This grant will help me continue to train my eyes so I can help my students and myself and continue to become a judge in the future. I am so excited to keep learning!"
Trip Harting's friends and colleagues established this Fund at The Dressage Foundation when he passed away in August 2008. The purpose of the fund is to provide financial assistance for a Pony Club rider to attend an educational event of his or her choice. Applicants must be current or graduate Pony Club members with preference given to those with a B or A certification.  Applications are due March 25 of each year.
 
For more information about this fund, contact Sara Weiss, TDF's Director of Grants and Programs, at (402) 434-8585 or sara@dressagefoundation.org.
To help grow this fund through donations, visit www.dressagefoundation.org or contact Jenny Johnson, TDF's Executive Director, at (402) 434-8585 or jenny@dressagefoundation.org.

The Dressage Foundation is a 501(c)(3), non-profit, tax-exempt, donor-driven organization that is dedicated to educating, supporting, and advancing the sport of dressage. The organization solicits contributions, appropriately allocates the donations, and awards grants to dressage riders, judges, instructors, breeders, high-performance teams, nonprofit equestrian organizations, and more. For more information, please visit www.dressagefoundation.org.