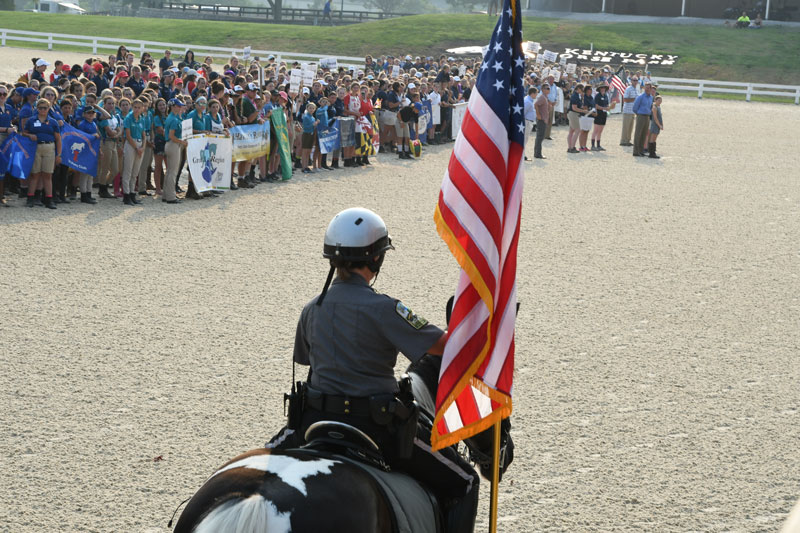 Save the Dates for the 2024 USPC Festival
The USPC Festival is an incredibly special event for the United States Pony Clubs (USPC or Pony Club). Held every three years at the iconic Kentucky Horse Park in Lexington, Ky., it's a celebration of the best that Pony Club has to offer with a weeklong schedule of Championships competition, education, and plenty of fun with Pony Club friends and family, and spectators, as well.
The 2024 event promises to be even more special since USPC will be celebrating its 70th anniversary. Plans and preparations for the 2024 USPC Festival are well underway–be sure to save the dates of July 15–22 on your calendar for Pony Club.
Festival Championships: July 15–19
Festival kicks off with USPC Championships, where members from across the country compete for USPC national championship titles in eight disciplines. Championships competition runs July 15–19 and includes Dressage, Eventing, Mounted Games, Polocrosse, Quiz, Show Jumping, Tetrathlon, and Western Dressage, with Horse Management incorporated into the mounted competitions. Members who meet the age, certification, and discipline's competition requirements anywhere between April 1, 2023, and June 23, 2024, may be eligible for the 2024 USPC Festival Championships.
USPC will also be offering open competitions in Gymkhana and Trail during Festival Championships.
Festival Education: July 20–22
Festival Education offers a three-day weekend (July 20–22) packed full of hands-on learning opportunities for Pony Club members of all horsemanship levels. Mounted clinics and unmounted workshops are taught by a wide range of experts, including judges, discipline-specific clinicians, coaches, equine professionals, and many USPC A-level instructors. Festival instruction covers a variety of riding disciplines, as well as Horse Management topics, groundwork, and much more. The youngest members can sign up for D Camp, and a mock fox hunt is another popular Festival tradition. Festival education offers an amazing opportunity to bring your horse, ride, and learn at the Kentucky Horse Park. For those unable to bring a horse, there are a number of educational opportunities available.
Location, Location, Location
The Kentucky Horse Park is like Disneyland for horse lovers, with live horses of all breeds to meet and greet, from draft horses to retired racing champions, plus museums and multimedia exhibits dedicated to all things equine. Festival offers a chance to both visit and ride at this legendary venue.
Lexington is known as the Horse Capital of the World for good reason. Located in the heart of Kentucky's beautiful bluegrass horse country, the city showcases horses everywhere you turn, and the surrounding area is an equine paradise home to more than 450 horse farms.
Pony Club Connections
Headquartered at the Kentucky Horse Park, the United States Pony Clubs is a national 501(c)(3) organization that encompasses 41 Pony Club regions and nearly 500 local clubs and riding centers. Festival is the one event that brings members from all regions across the country to ride, compete, learn, and celebrate what Pony Club is all about.
Learn more about the 2024 USPC Festival at www.ponyclub.org/Events/Festival/Default.aspx.