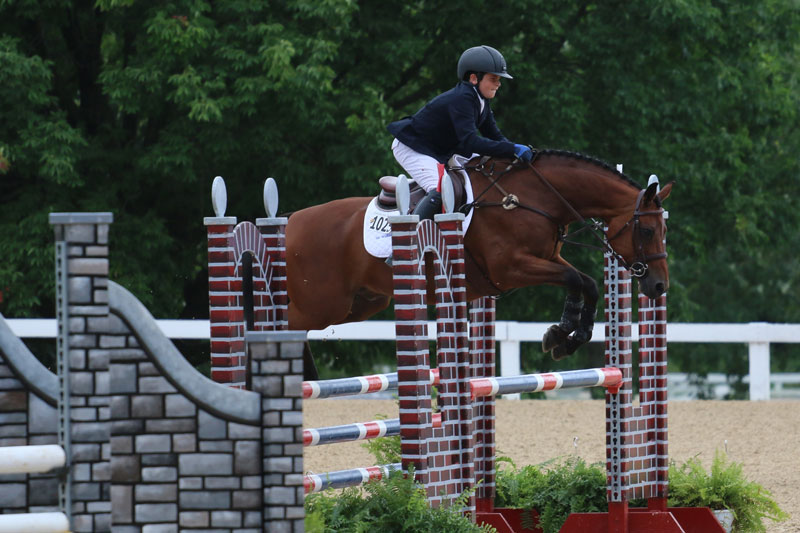 A Q and A with This Year's USPC Rider in the USEF Pony Jumper Championships
By Sarah Evers Conrad, with William Slater, D-3 Eventing, Mr. Stewart's Cheshire Foxhounds Pony Club
At age 11 years old, William Slater will represent the United States Pony Clubs (USPC or Pony Club) as he competes at this year's USEF Pony Jumper Championships, which will be held in conjunction with the USEF Pony Finals, August 8-13, at the Kentucky Horse Park in Lexington, Ky. The event provides an opportunity for junior pony riders to compete against their peers over several days of competition at fence heights up to 1.15 meters. This year, William will be the solo representative for Pony Club. Each zone within USEF is represented, and USEF graciously allows USPC to send a team or individuals each year.
William started riding when he was really young and did his first starter trials at age 6. He started show jumping when he was 7 years old. He started competing with his pony, Sir Wallace, in the 1.05 and 1.10 meter events at the end of 2022. William also enjoys pony racing and Foxhunting. He is now a D-3 in Eventing and a member of Mr. Stewart Cheshire Foxhounds Pony Club in the Eastern Pennsylvania Region.
Can you tell us about your pony, Sir Wallace?
We call him Wallace or Wally. He is a bay 14.1-hand Thoroughbred/Welsh Pony-cross. He is 13 years old. He likes to eat a lot and is very friendly. He also likes to lick you, because he thinks you might have treats for him.
What made you originally want to join Pony Club?
To meet other kids my age that ride
What is your favorite thing about Pony Club?
My favorite thing is being on a team. It's fun to be on a team, because everyone works together to get things done, and everyone is really encouraging towards each other.
Why did you want to represent USPC in the USEF Pony Jumper Championships?
Because I like Pony Club, and it is very supportive. Pony Club sends a team to Pony Jumper Finals every year. The chef d'equipe, Richard Lamb, came to Pennsylvania last fall to watch me show at Devon and has been super helpful to my mom, helping her with anything we need to know about USEF Pony Finals. The USPC has helped financially, as well. It cost a lot to get there, and they help out with some of that. Also, Pony Club is supposed to be getting me some cool swag, as well!!
If you could have the perfect experience there, what would it look like?
My first goal is to have fun, but I also want to do well. Wally is a very good jumper and is pretty honest as long as I ride well. So hopefully I will sit up and push him forward with my legs. If I can get him in a rhythm over the first couple of fences, I should have a good round.
Have you ever been in the Pony Jumper Championships or USEF Pony Finals before?
No, this is my first year.
What does this experience mean to you?
This means a lot to me because it's a national competition with some of the best pony jumpers in the country. I like doing the pony jumpers because I get to go fast and jump high. I'm not a big fan of Dressage, even though I know I have to do flat work. A friend of my mom owns Wallace and told us I could ride him a few years ago, and he loves to jump and go fast, as well.
What tips would you have for other Pony Club members in general?
Have fun. And always take care of your pony. You have to take care of your pony, or he won't take care of you when you need him to. I wouldn't be here without Wallace.
Why should more boys join Pony Club?
It gives riders a lot of opportunities to try different disciplines, and you get to have fun on a co-ed team. Also, sometimes the girls will clean your tack!!!
To donate toward the USPC Pony Jumper Team Fundraiser and help William to reach his goal, click here. For those interested in representing USPC at next year's team or individual USEF Pony Jumper Championships, you must declare your intent to represent USPC and submit a form by March 10. Riders must be current members in good standing, have a minimum of a D-3 certification, and be members of USEF with ponies recorded with USEF at the time of declaring. Team members are chosen by USEF by June 15. More information can be found under the orange Show Jumping header on the Special Opportunities page on the Pony Club website.