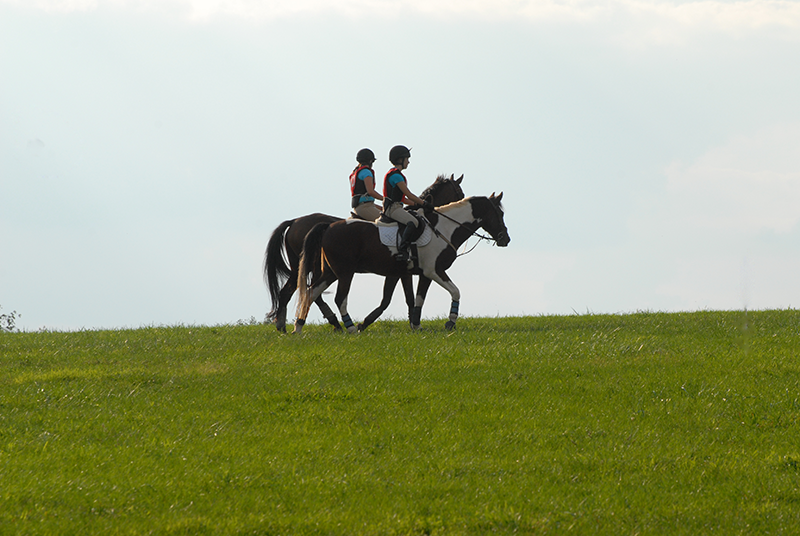 6 Activities You Can Try This Summer
By Emily Harris, National Youth Board Advisor
The telltale signs can already be seen; longer days, 80-plus-degree weather, fruits like watermelon and strawberries in the store, and more flies. Summer is here! There is summer break embrace, for those who are still in school. It's the perfect season to get in plenty of riding time. But, might I suggest that it is also the perfect time to pick up something new! Here are six activities you can do with your horse this summer.
1. Try Horse Agility
Horse agility is very similar to dog agility; you just use horses instead. This is an activity that you can do in hand with your horse. It is perfect for any equine of any age and any size. Horse agility involves an obstacle course where you, the handler, guide your horse through it using either a halter and leadrope or nothing at all except hand cues. Horse agility is a great activity to do with your horse, because you will solidify his ground training and manners in a way that is fun and engaging. Not to mention, it is a lot of fun for you and your horse! You get to create an obstacle course that is fun and get to challenge yourself to complete it as quickly as possible.
2. Start a Drill Team
Starting a drill team is something that is LOADS OF FUN and very rewarding! This is the perfect activity to do with your barn family or barn friends. Drill, also known as equestrian drill, is where a group of riders perform a choreographed pattern or freestyle to music. Riding a drill can be very challenging because of having to ride synchronized with multiple horses and riders, but it is also very beneficial, because it makes you more aware of timing, maneuverability, teamwork, and horsemanship. And you can personalize your drill routine and add outfits to your team. So make sure you all get creative and artistic!
3. Have a Mounted Water Gun Battle
Because the days are growing sunnier and hotter, having a way to cool down is crucial. Swimming is always fun with your horse, but you can really take things up a notch with a water gun battle. This is the perfect activity to do with a friend, your barn family, or even at camp! Get some water guns, buckets filled with extra water, two flags, and a few ground markers, and you are good to go for a good game of skirmish, water gun style. Capture the flag, jail tag, elimination, king of the hill, and fox and hounds are all good games to play with your water guns. You can even make up your own game and rules to have fun. The possibilities are endless! Just make sure to where sunglasses to protect your eyes, and make sure everyone knows not to aim for the face.
4. Go Horse Camping
Horse camping is one of those things that often is a bucket-list item for equestrians. And what better time than the summer to finally go camping with your horse! Camping with your horse does take some planning and consideration, but you will have a ton of fun being out in nature with your horse! You can do horse camping at a campground and rent some stalls for your horse, or you could just go totally off the grid and camp with a tent for yourself and highlining equipment for your horse. You will need to pack the essentials, like food, water, a first-aid kit, and sleeping gear. Don't forget to make sure that you understand and know the lay of the land where you are camping, and think about making camp near a water source for your horse, as well. It's also important to ensure you can take your horse to the land you plan to camp on. Wherever you decide to go, always make sure that you go in a group, whether it be with family or friends. It is safer that way, and safety should still come first, even during summer activities.
5. Have a Picnic with your Horse
Having a picnic with your horse is one of those things that you don't hear about very often. But what does a horse picnic look like? It literally can be anything you want it to be! Pack a delicious lunch for yourself and a special treat for your horse and sit in front of their stall just enjoying each other's company. You could even take your lunch and a stool and hand graze your horse while you eat. Or if you are planning a trail ride, plan a short break for you and your horse to eat and recuperate. A horse picnic can happen anywhere, anytime! Just make sure not to feed your horse human picnic food and only feed him horse-appropriate treats, like apples and carrots, and maybe a few (but only a few) peppermints (as long as he doesn't have any conditions that restrict his sugar intake).
6. Teach Your Horse to Paint
Teaching your horse to paint is one of those activities that is fun and unique! One person who immediately comes to mind is Sandra Beaulieu. Sandra teaches horses to paint, loves to combine riding with art by riding her horse during a painting session, and even sells some of her artwork. Painting is fun, calming, colorful, and creative. Teaching your horse to paint is a trick that once mastered, will keep you laughing, smiling, and in high spirits, as you watch your horse get creative!
Everyone wants to enjoy a great summer! Some of the best memories are made during this time. It is easy to get lost in the hustle and bustle of show season, which is a big part of an equestrian's summer. But that doesn't mean that you can't let loose a little bit and have a different kind of fun. So, are you ready to try one of these activities?
If you do any of the above, feel free to comment below and tell us how it went.