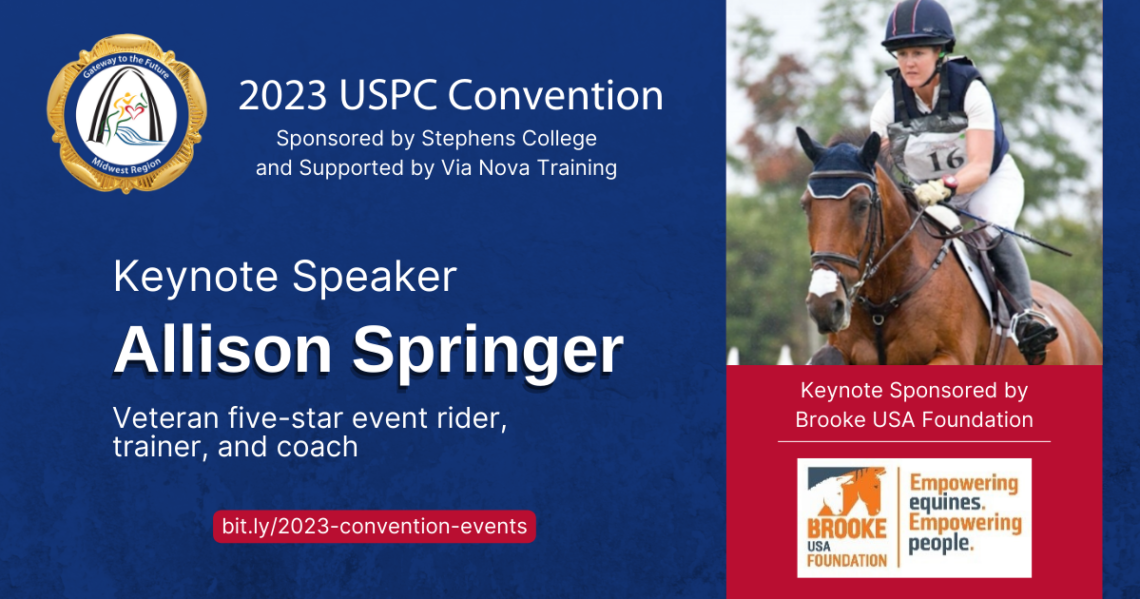 Meet Allison Springer, the 2023 USPC Convention Keynote Speaker Sponsored by Brooke USA Foundation
By Elizabeth Moyer, USPC Fundraising and Marketing Coordinator
Pony Club is proud to introduce Allison Springer as the keynote speaker, thanks to support from Brooke USA Foundation, at the 2023 USPC Convention Sponsored by Stephens College and Supported by Via Nova Training, to be held Jan. 18–22 in St. Louis, Mo. Be sure to reserve your tickets by noon on January 5 for the Saturday night banquet on January 21 to hear her story—she's one speaker you don't want to miss!
Springer is a Pony Club Eventing A alumni of Fox River Valley Pony Club and is a well-known five-star eventer, trainer, and coach with an impressive commitment to the sport of Eventing. She has been named multiple times to the United States Equestrian Team's High-Performance List and was shortlisted for the 2012 Olympic Games, as well as an alternate for the 2010 Alltech FEI World Equestrian Games. Not only has she shown her commitment to the sport through her competition successes, but also as the head coach for the Area 4 FEI North American Youth Championships (NAYC) team and as head coach for Haiti (Central American and Caribbean Games), and through the many successes of her students.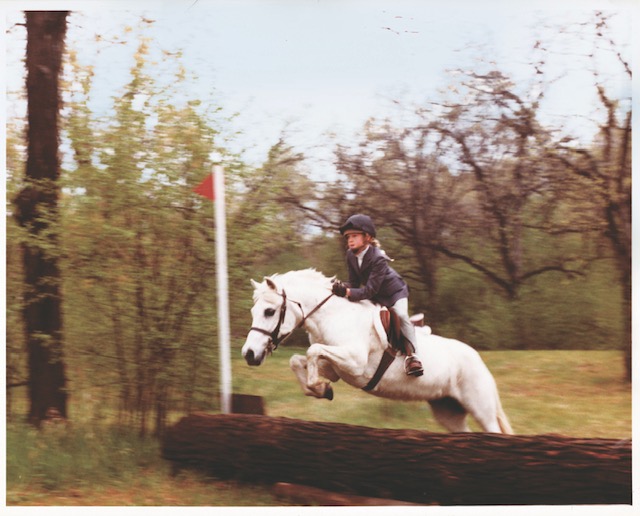 "I owe so much to the United States Pony Clubs for starting me on this amazing life that I have had with horses," said Springer. "Prior to Pony Club I literally knew nothing about the care of horses; it was Pony Club that not only gave me an incredible foundation in horsemanship and riding, but it also taught me so much more about being a good human being and living a full life. From Pony Club, I have gained lasting friendships, some of which have turned into important owners and sponsors in my competitive riding career, and it has compelled me to become a steward and advocate for horses around the world as a proud ambassador for Brooke USA."
Pony Club's commitment to equine welfare and focus on providing education about horse care was a natural fit for Brooke USA Foundation to support Allison as the keynote speaker for the 2023 USPC Convention.
"I was delighted to learn that our very own Brooke USA Ambassador Allison Springer was a Pony Club graduate," says Emily Dulin, Chief Executive Officer of Brooke USA. "Her success as a rider and her compassion for others—humans and animals—make her a perfect role model for Pony Club members everywhere. The USPC Convention is the perfect place for Allison to connect and have an impact on those who share her passion for equestrian sport, love of horses and other equids, and her commitment to always helping others through volunteerism."
Brooke USA's mission is to significantly improve the health, welfare, and productivity of working horses, donkeys, and mules, and the people who depend on them for survival worldwide. The organization is committed to sustainable economic development by reducing poverty, increasing food security, providing access to water, and raising basic standards of living through improved equine health and welfare.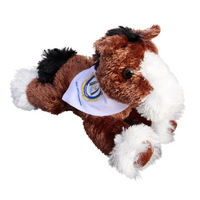 "I would like to thank the United States Pony Clubs for asking me to be the keynote speaker and to Brooke USA for bringing me to you," says Springer. "I am looking forward to seeing everyone in St. Louis and making more lasting friendships!"
To register for the 2023 USPC Convention and to reserve banquet tickets, click here. The final deadline to purchase tickets for the Saturday night banquet is January 5, 2023.