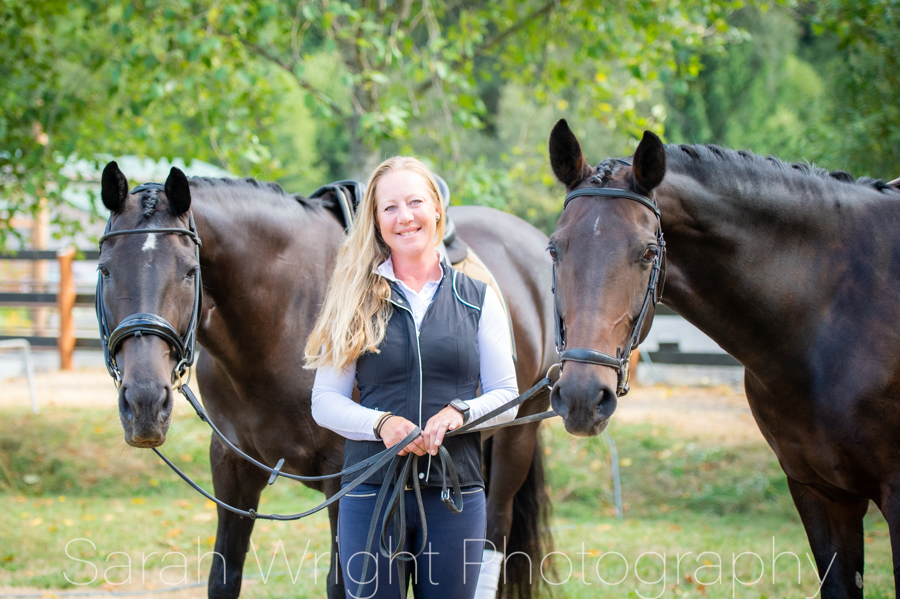 Trip Harting Fund for Pony Club Members and Graduates Awarded to Christine Headley
Photo by Sarah Wright Photography/Courtesy of Christine Headley
The Dressage Foundation (TDF) has awarded a $1,000 grant from its Trip Harting Fund, designated for Pony Club members and graduates, to Christine Headley of Port Townsend, Wash.
Headley is a USPC 'A' graduate and teaches mounted lessons at several Pony Clubs in her area. She enjoys coaching at Pony Club rallies and has coached teams that qualified for the USPC Championships West. She is also a United States Dressage Federation (USDF) certified instructor and bronze medalist. She recently completed part 1 of the USDF 'L' education program and will use her grant funding to attend part 2.
"Growing up as a member of the United States Pony Clubs has largely shaped who I am today, and I am thrilled that there are grants such as this one to recognize the hard work and dedication that is required to become an upper-level Pony Club [member]," says Headley.
Headley joined Equitese Pony Club in the Northwest Region at a young age and earned her 'A' certification in 2000. The experience is one she still takes pride in today, with many lessons to last a lifetime.
"Achieving my 'A' certification was a huge accomplishment that has prepared me for many things in life, including the 'superpower' of conveying information under pressure," she says. "I think that the biggest life skill that I forged in my youth was how to work diligently toward big goals. Testing at the national level took a ton of focus, grit, and hard work, but to this day, achieving my 'A' certification was one of the best feelings of accomplishment. I had put so much of myself into that goal, and it felt incredible when I was told that I passed."
Where It All Begins
Headley says that Pony Club is not for the faint of heart if you decide to go far, but the hard work pays off, because everything that you gain will stick with you for the rest of your life.
"The skills in horse management that Pony Club fosters are so important—it creates empathy, paying attention to detail, and putting something else before yourself. These animals give us so much and deserve our utmost respect and dedication to their wellbeing. If you want to set yourself up for success in this sport, Pony Club is the only organization that will truly prepare you for the future."
In addition to the skills she learned in Pony Club, Headley cherishes the many lasting connections made through the organization.
"I loved the friendships that were created by my experiences as a Pony Club member. Going to regional rallies and the national level certifications for so many years, I made so many friends and lots who I'm still happy to see at Pony Club events and regional competitions to this day."
Headley's love of learning began with Pony Club and is something she enjoys sharing with others.
"I will always support Pony Club as it holds a special place in my heart for all of the life skills that it taught me, and I will continue to teach the fundamentals that this amazing program fosters."
Continuing Education
Education is a priority for Headley, a dressage trainer who works with students of all ages through the program at her facility and as a visiting instructor and clinician.
"I love to teach and train horses! My No. 1 passion is my riding, and I'm excited to use this grant towards furthering my education so that I can better serve my clients for years to come," she says. "Continuing one's education is paramount for success."
Headley is eager to add to her body of knowledge as a professional through the USDF's education programs thanks to this opportunity provided by The Dressage Foundation and the Trip Harting Fund.
About the Trip Harting Fund—Trip Harting's friends and colleagues established this fund at The Dressage Foundation to provide financial assistance for a Pony Club rider to attend an educational event of their choice. Applicants must be current or graduate Pony Club members with preference given to those with a 'B' or 'A' certification. Applications are due March 25 of each year. Click here to learn more and apply.
About the Dressage Foundation—The Dressage Foundation is a 501(c)(3) non-profit, tax-exempt, donor-driven organization that is dedicated to educating, supporting, and advancing the sport of dressage. The organization solicits contributions, appropriately allocates the donations, and awards grants to dressage riders, judges, instructors, breeders, high-performance teams, non-profit equestrian organizations, and more. For more information, visit www.dressagefoundation.org.