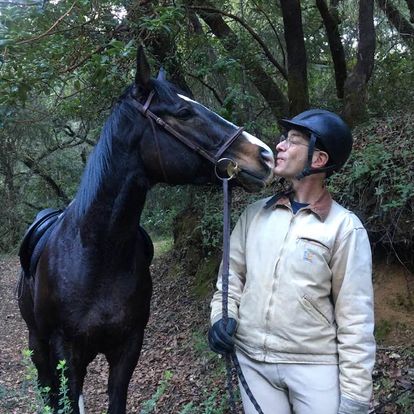 A Pony Club Dad's Love of Horses Passes on to the Next Generation
By Talia Byrne-Haber
"Most people join Pony Club because they are a horse-obsessed child whose sibling, friend, or mom was or had been involved with it; that was not the case for me. Although I was that horse-obsessed child—now a horse-obsessed young adult—neither my older sisters nor my mom rode. I had a handful of friends who vaulted—as did I for a while—but none of them knew anything about Pony Club. It was only after my dad and I got our first shared horse, Comet, that I began to learn about Pony Club.
My dad joined the horse world in a way I don't think anyone else could claim. His father was a renowned cardiologist and immunologist who had helped identify a misdiagnosis for the Prince of Bhutan. As a thank you, the Queen Mother invited him and his family to this small country in South Asia. At the time, there was no airport in the country or any good, direct way to get there. The most direct path was flying into India, driving a ways, and then riding yaks. To this day, my dad is a little disappointed that the yaks were in higher pastures that time of year, but it did mean that he and his family had taken riding lessons before the trip, which is how my dad fell in love with horses.
He returned to New England and ended up taking riding lessons, leasing and then buying his own horse, Roy, and completing his H-B and B certifications. I'm not sure whether it was the love he felt for his first horse, the life lessons he learned from Pony Club, or a combination of all of the above, but shortly after we got Comet, I joined, and he returned to the world of Pony Club. For most of my pre-teen and teenage years, my dad drove us to lessons, rallies, certifications, and C-Camp.
In the summer of 2016, I qualified for Quiz at USPC Championships in Iowa, so my dad was my scramble team's chaperone, and we went. Everyone was rather amused that that was the first time I had seen a major rainstorm in the summer, but we made it through, and I was the individual Senior D Champion.
In 2017, we went to the Kentucky Horse Park for USPC Festival as I had again qualified for Quiz. In 2020, after my dad insisted Comet was enough horse for him to take care of when I went off to college, he purchased a 6-year-old off-track Thoroughbred named Legacy who had been staying with us after a bad round of white line.
If you have not met him, my dad truly is the epitome of a parent who says they don't want the pet but then falls in love with the same pet. As he put it, "Some people got pandemic puppies or cars; I got a pandemic pony."
In 2021, we both competed in and were quizmasters for Virtual Quiz Rally, where I would like to point out that I did place higher individually. More recently, my dad is now our club's DC, the region's HMO, and most recently, a chief horse management judge. He also often looks at the national testing emails, asking if he would like to take his H-A or A, and says I think I'm okay without those and laughs.
Now that I am away working on a Bachelor's degree in microbiology and infectious disease, our shared—and very grouchy—horse, Comet, is in semi-retirement while my dad goes off to rallies and works with Legacy (who I regularly refer to as a baby brain). While I often feel like I'm going through horse withdrawal when I'm at school, I am so lucky to be able to come out to some of the rallies my dad is Chief at and sometimes even get to borrow a horse there and compete! So thank you to my dad's first horse, Roy, for making him love horses, and thank you to my dad for passing that love on to me."
Check out additional entries from USPC's "Honoring Pony Club Dads" Contest below.